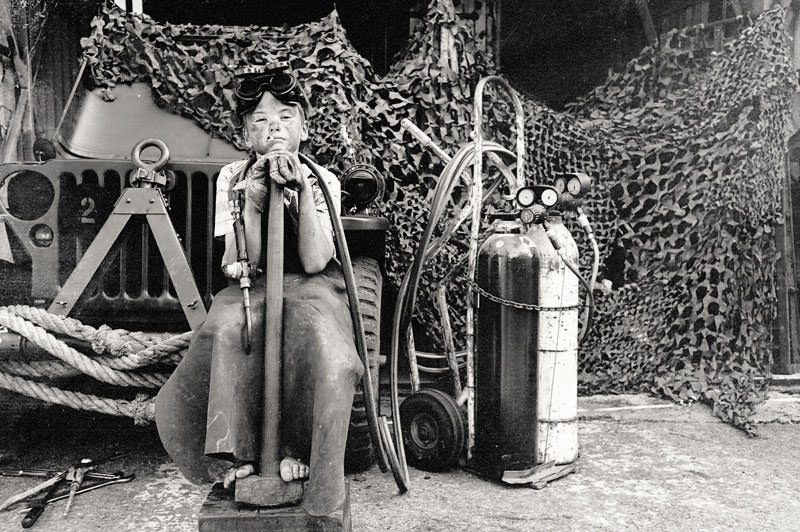 Ni Dieu Ni Maitre | For Whom The Hammer Tolls - The Cigarette We Smoke At The Democratic Dawn
Limited Edition of 3 ▪ € 9.000 ▪
2 Left
He's like a hero come back from the war, a poor maimed bastard living out the reality of his dreams. Those whom society rejects, under the pretext that they may have -- no Gods, no Masters. Wherever he sits himself the chair collapses; whatever door he enters the room is empty; whatever he puts in his mouth leaves a bad taste. Everything is just the same as it was before; the elements are unchanged, the dream is no different than the reality. Only, between the time he went to sleep and the time he woke up, his body was stolen. It is very queer that the unhappiness of the world is so often brought on by small men. We were young, and we had just begun to love the world and to love being in it, but we had to shoot it to pieces. We've been cut off from real action, from getting on, from progress. We don't believe in those things anymore; we believe in the war. The cigarette we smoke at the democratic dawn; the dawn that puts a veil for tears that may have -- no Gods, no Masters. You take it from me, we are losing our democratic freedom because we can salute too well. The word of the prophet, I claim it and I wish you -- no more Gods, no more Masters!
Needful Things | I'm A Sinner First And An Angel Second And I'm Not Here For Long
Limited Edition of 3 ▪ € 7.000
He sees himself as an artist. He does have an obsessive eye for beauty. Molded to his tastes she allows for the moment of elusive perfection, mirroring his darkest desires, to be captured precisely. It is the beauty of art, he thinks. To allow for feeling, or intuition to be expressed. The little limbs of perfection are positioned in just the right way easier now that the struggling has stopped. The textured silkiness of her hair fanned on the still damp grass, her carmine mouth his alone. He works with a passion radiating from his eyes and an insatiable hunger fueled by the moment. This is a beautiful location. It mirrors a town that does not tell its name or its past, thought the photographer seeking inspiration. That's when he noticed a beautiful little doll nestled in the grass. It sparked his eye, and he started capturing the image. A man's rapid, desperate voice is heard. The sound radiating from a soulless room, mirroring an ugly reality. The voice stems from a bruised and bloodied face. His expression desperate and with the look of murder in his eyes, he tells, bored from depersonalization, how it was his job to protect his younger sister. An entire wall in this place covered with the grainy photographs of missing persons, all but one or two, are beautiful, young women and girls. The police pin the latest one. She was a commodity. An asset. Her trafficker exists in a place where humanity is lost. She was desperate, used and abused in unimaginable ways and, she is not alone. My sister, says the man, was carrying a little doll. ~ Kalahari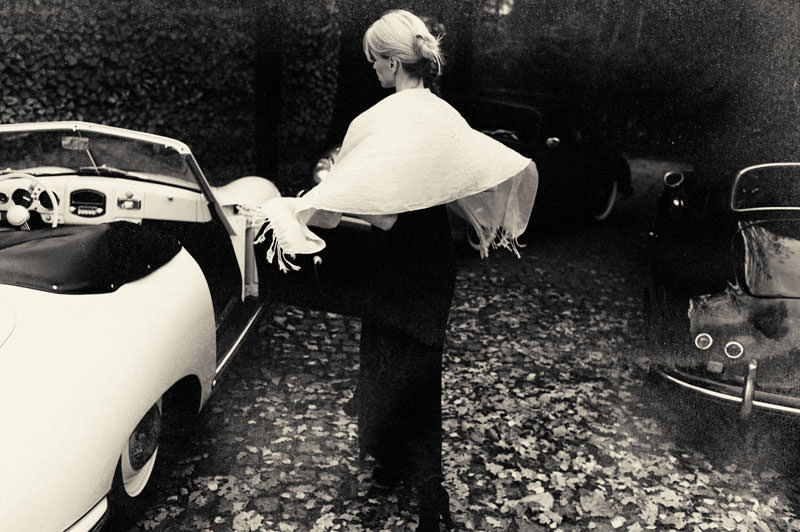 Silk Scarf Coming | No Telegram Today Only More Leaves Fell
Limited Edition of 3 ▪ € 7.000
The air is heavy this evening, thicker than usual for this time of year. We expect a hint of crispness when leaves start falling like the wind's telling us secrets about days to come. But all I feel is muggy. Maybe it's my mood. She's projecting again, despite my chagrin. How I'd give anything to go back in her history, to solve the mystery. What fool could have played so loosely with a hand like this? Never mind that line, his loss is my gain. And now I follow behind, ready to pick up the pieces should any break free. My only purpose, to save her from another carbon copy scene. I'll know it's time when I see the chill set in, when social graces raise goose bumps on her ivory skin. That scarf, the white one, she wears it like armor when forced to do battle on the fields of society. I watch as it slips lower and lower. A glimpse of her shoulder reminds me of the delicate flower that lies beneath. Despite the hard edge she's attempting to display, I see only soft curves and her womanly ways. I know in mere moments, we'll be on the open road. I'll reach to her hair and let it flow, the pardoned cascade setting her free -- and just like that, she'll be back with me. ~ Francesca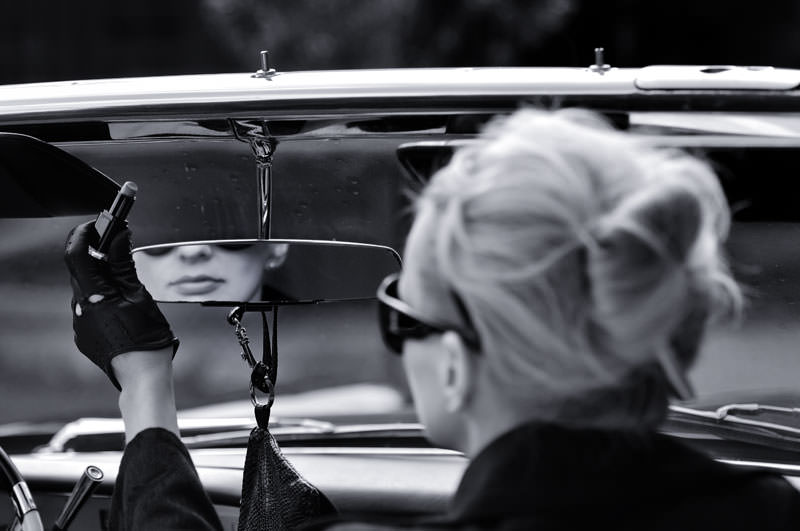 Film Noir | The World Is The Mirror Of Myself Dying
Limited Edition of 3 ▪
1 Left
▪ Not for sale
Three o'clock in the morning. The highway is empty, under a malignant moon. The oil drippings make the roadway gleam like a blue-satin ribbon. The night is still but for the engine's humming noise. There is something unbearably sexy about cars at night. The way the fenders twist the light and reflect the road, the way every driver becomes anonymous. The inside of the old Lincoln smells like asphalt, gasoline and dreams – and desire. The road is straight. The way is long. But the night is short. The humming burgeons into a roar. The car is going so fast it sways from side to side. The backseat produced the sexual revolution but all males chase women they have no intention of marrying for the same reason dogs chase cars they have no intention of driving. My tears were not allowed to cry. At that very special night, after the last picture show, driving my car along the country roads, I began to wonder how real the landscape truly was, and how much of a dream is a dream. I dreamed of driving off bridges, into the moonshine river, into the dried-up reservoir on the country road to home, into the lake beneath some twisting highway of my youth -- Film Noir.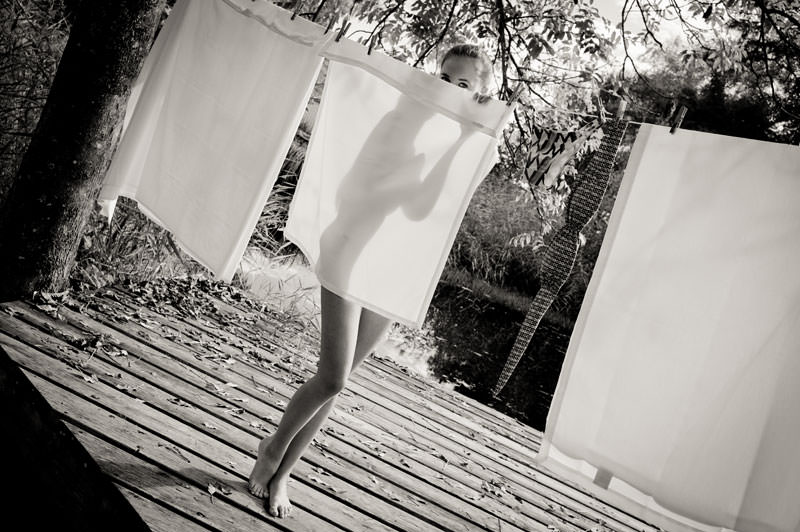 Inno Saint | I Used To Think A Bird Couldn't Fly If Its Wings Got Wet
Limited Edition of 3 ▪ € 12.000
The land and the water make numbers joined, through the endless night the earth whirls toward a creation unknown – a poem written in flesh and stronger than steel or granite. For years I went about, day and night, with only one thing on my mind – her! She rises up out of a sea of faces and embraces me, embraces me passionately – a thousand eyes, noses, fingers, legs. I could see only the eyes shining through; eyes so big and bright, as if they saw more than they could comprehend. That's what made them so beautifully bright. One can wait a whole lifetime for a moment like this. The woman whom you never hoped to meet now stands before you and she looks exactly like the person you dreamed about. But the strangest of all is that you never realized before that you had dreamed about her. Your whole past is like a long sleep, which would have been forgotten had there been no dream to become reality. I sit down beside her and she talks. I hear not a word because she is beautiful and I love her and now I am happy and willing to die. But she even wouldn't remember that at a certain corner I had stopped to pick up her hairpin, or that, when I bent down to tie her laces, I remarked the spot on which her foot had rested and that it would remain there in Perpetuum, even after the cathedrals had been demolished and the whole Latin civilization wiped out forever and ever. I loved -- and I lost.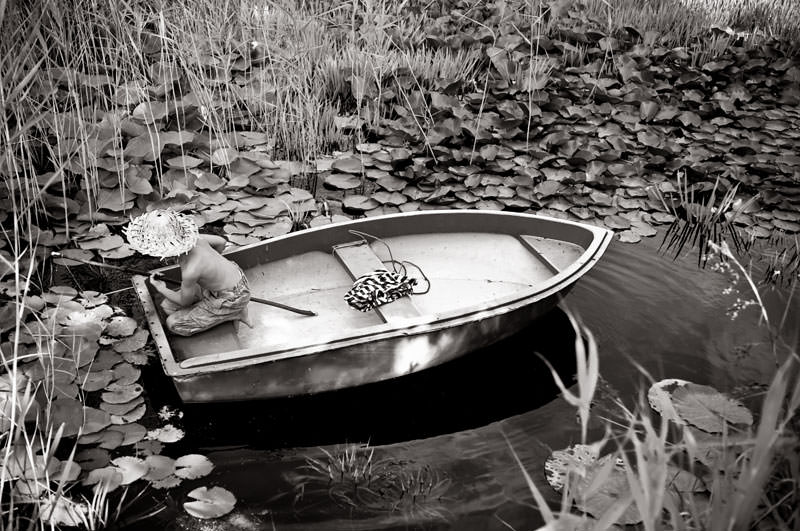 Sea Of Life | The Biggest Truths Are Few Indeed
Fishing provides time to think, and reason not to. If you have the virtue of patience, an hour or two of casting alone is plenty of time to review all you've learned about the grand themes of life. It's time enough to realize that every generalization stands opposed by a mosaic of exceptions and that the biggest truths are few indeed. Meanwhile, you feel the wind shift and the temperature change. You might simply decide to be present, and observe a few facts about the drifting clouds. Fishing in a place is a meditation on the rhythm of a tide, the arc of a year, and the seasons of life. To scratch the surface of those mysteries, for nearness to the beautiful, and to reassure that the world remains. To wash off some of the grief for the peace we so squander; to dip into that great and awesome pool of power that propels these epic migrations and to feel, and steal, a little of that energy. If you went through life refusing all the bait dangled in front of you, that would be no life at all. No changes would be made and you would have nothing to fight against -- and life would be as dull as ditchwater.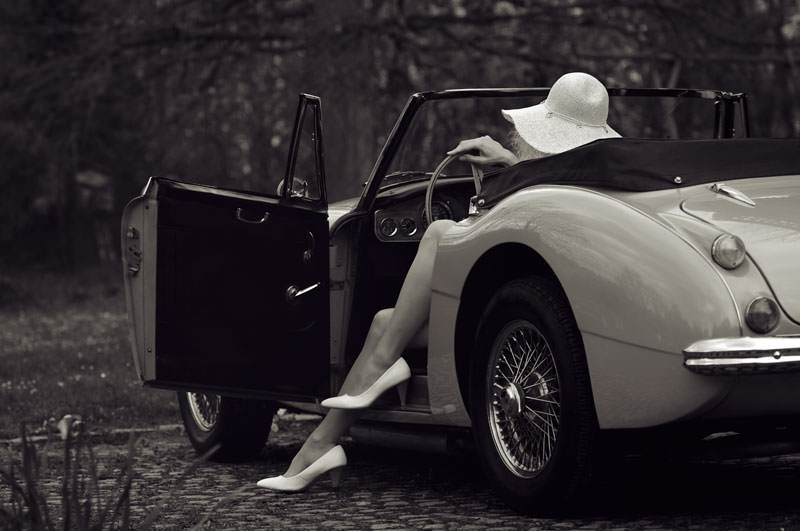 Road's End | No Motorized Girls Beyond This Point
Man really loves nothing but his automobile; not his wife his child nor his country nor even his bank-account first but his motor-car. The automobile has become a national sex symbol. We cannot really enjoy anything unless we can go up an alley for it. Yet our whole background and raising and training forbids the sub rosa and surreptitious. So we have to divorce our wife today in order to remove from our mistress the odium of mistress in order to divorce our wife tomorrow in order to remove from our mistress and so on. As a result of which the woman has become cold and undersexed; she has projected her libido on to the automobile. So in order to capture and master anything at all of her anymore the man has got to make that car his own. Which is why let him live in a rented rat hole though he must he will not only own one but renew it each year in pristine virginity, lending it to no one, letting no other hand ever know the last secret forever chaste forever wanton intimacy of its pedals and levers, having nowhere to go in it himself and even if he did he would not go where scratch or blemish might deface it, spending all Sunday morning washing and polishing and waxing it because in doing that he is caressing the body of the woman who has long since now denied him her bed.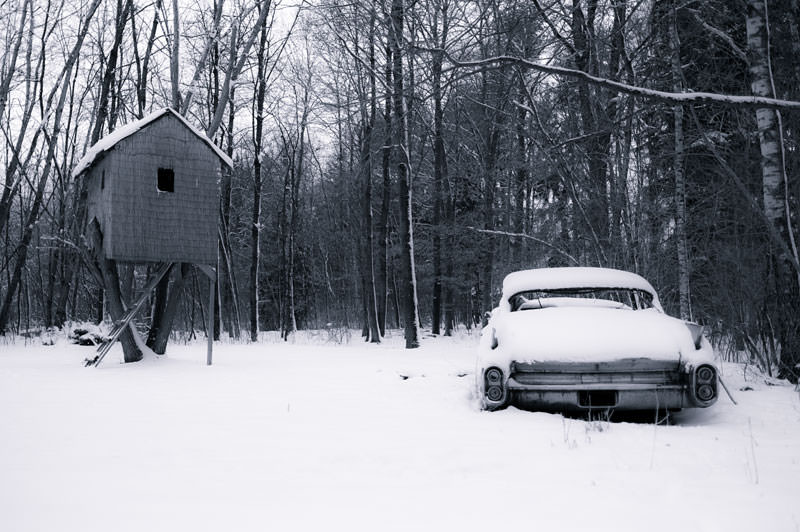 White Trash | Detroit's American Dream Without Miss Saigon
Cars are like rolling diaries, metal and plastic and paint tableaux of the last years of their lives. Every dent, every drooping slice of chrome, has a story behind it. The Fifties in the automotive industry were awesome. The cars were heavy, huge, rolling works of art. Now your soul is bowed down to the dust and your belly is stuck to the ground. A garden gnome, that is what you have become. Here you are, forgotten, rusted, sick, wrecked. What a destiny! White trash? A winter's bone? Meth or snow? No no no! Attracted by this sleeping old beauty, thrilled by this rare garden find, the camera went around the sealed white body, studying the cold, white coffin where the Cadillac S. De Ville resides in a safe slumber. Dear Caddilac S. De Ville, you are hiding layers and layers of hot dreams and riches, oh, if only I could be the one to break through your winter sleep and crank your engine to burning life again; to help you to remember the when and where you came from, the era, the spirit – and the dream peddlers – who had created you. But the classic beauty just wearily yawned: "Why would you care to wake me? If a dream is meant to die -- shall it live again?"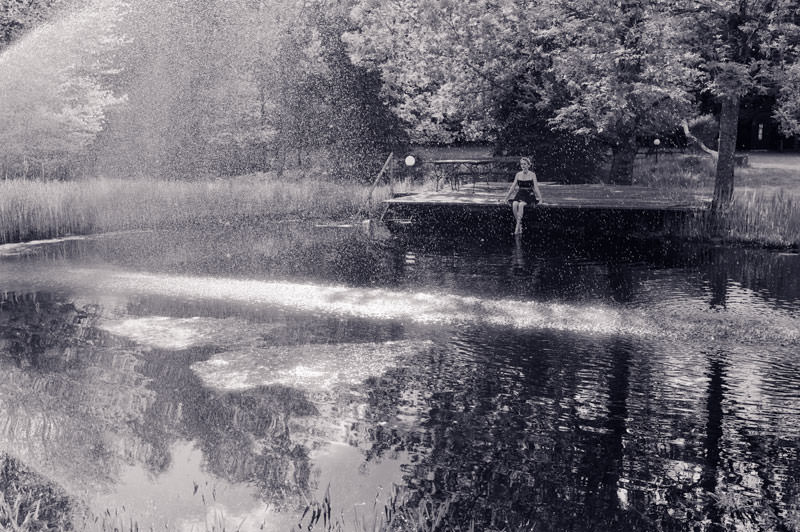 La Piscina | I like The Monologue Even More Than The Duet
Limited Edition of 3 ▪ € 5.000 ▪
2 Left
I live in perpetual expectancy. You come and the time slips away in a dream. It is only when you go that I realize completely your presence. And then it is too late. You numb me. I am saying to myself: here is the first woman with whom I can be absolutely sincere. You could fool me, I wouldn't know it. I can't fool you – and yet I would like to. I mean that I can never be absolutely loyal – it's not in me. I love women, or life, too much – which it is, I don't know. I don't know what to expect of you, but it is something in the way of a miracle. I am going to demand everything of you – even the impossible because you encourage it. You are really strong. I even like your deceit, your treachery. It seems aristocratic to me. You make me tremendously happy to hold me undivided – to let me be the artist, as it were, and yet not forgo the man, the animal, the hungry, insatiable lover. No woman has ever granted me all the privileges I need – and you, why you sing out so blithely, so boldly, with a laugh even – yes, you invite me to go ahead, be myself, venture anything. That is where you are truly regal, a woman extraordinary -- I laugh to myself now when I think of you.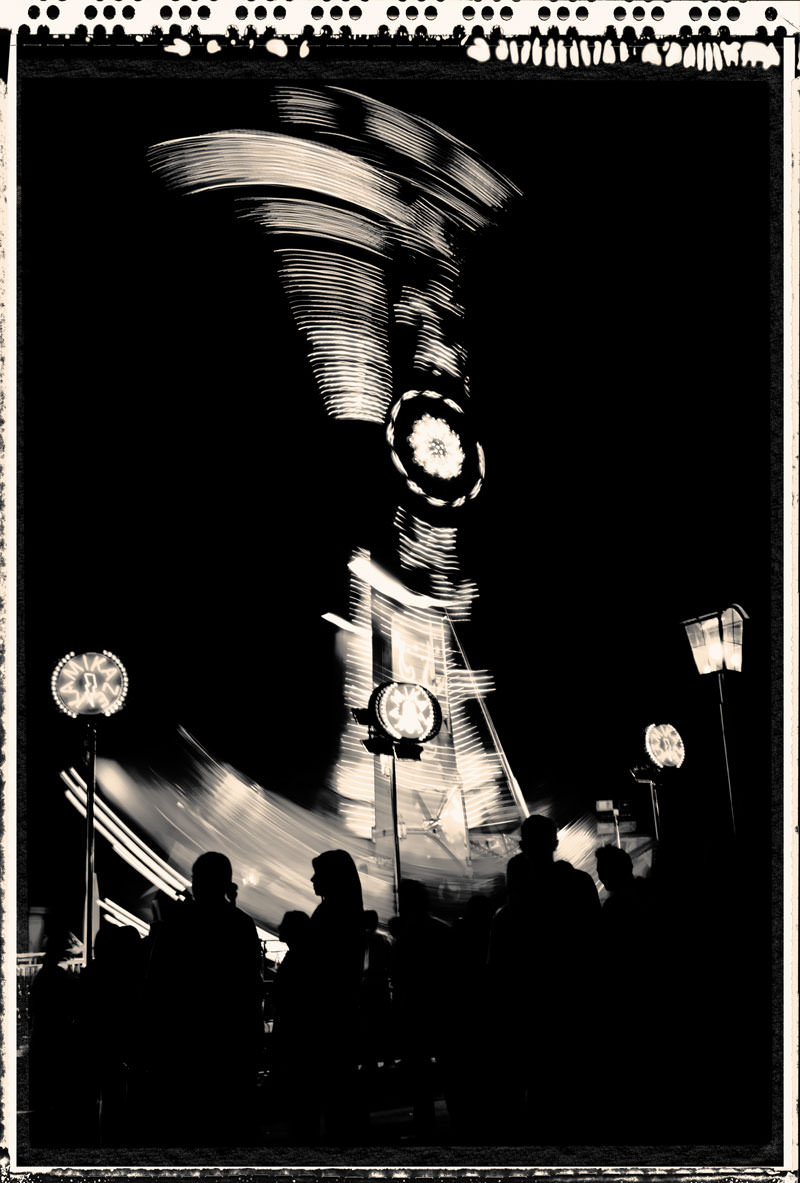 The Carousel | The Light Of The Bright World Dies With The Sun
It was, you know, one of those nights where the only sound is of you drinking and the people outside who have each other to drink with. The cityscape was dark except for some building lights. Well, the lights, they can't give me the sunset, but they can give me the night and I will rather walk alone in the light than to live in the dark. By night each thing creeps back into its own nature within the shelter of the dark and even the most commonplace and familiar objects take on another character. People group themselves differently - they draw closer together, as if in fear. But down there, at the carousel, the nights are bright and nobody believes in the Devil. Like a wheel of fortune, the carousel starts to spin. Step aboard and we will fly through the sky. Rien ne va plus. Laughter illuminates the darkness. All over there lights were coming on in the purple-blue dusk. Colored lights blink on and off, racing across the deepening sky. Shadows follow, joyful, laughing sprites. Long twirling ribbons of light, red, green, violet, all flashing like fire. The street lights looked delicate and frail, as though they might suddenly float away from their lamp posts like balloons. Everything was beautiful. It was hard to tell which was real and which was a reflection, as if there were two displays, above and below, going on simultaneously. And the painted wagons go up and down. We're captive on the carousel of time. We can't return; we can only look behind from where we came. And go round and round and round in the circle game. The seasons change, things change, but the old carousel is always here -- it reminds people of the good times.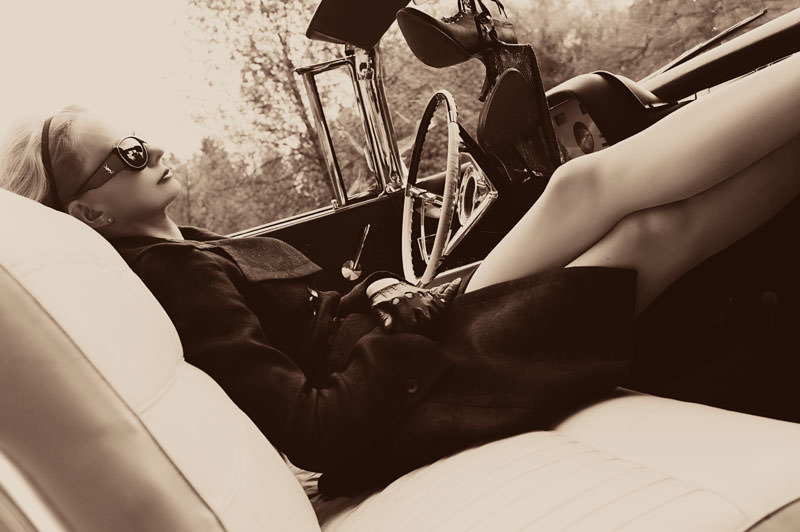 Daguerre'd | I Got An Eight-Track Tape And A Spare Tire In The Back But That's Flat
I drove all night and arrived at yesterday. Or could it be the day before? The daguerre'd past can grow foggy for a girl that does not check rear-view mirrors. Planning for this trip never occurred to me, so here I am pondering what I will do with this rare chance at rewriting my story. I knew it was a trip I would have to undertake, my heart would not have it any other way; this stubborn part of me that refuses defeat, that stays here, that refuses to leave, to fade. I feel him here in this place, a lingering phantom. Oh, I might say many things, but I very well may turn this car around and go find a new company. After all, we already tried this, didn't we? I think I will venture out on my own. Maybe there is something in yesterday that I missed the first time around. It would be a shame to waste this opportunity. Although, I would have to drive far to find a day that does not have his scent. I am not sure if the road will ever lead away from him. I will not fight destiny, if I end up on his street, I will take love's gift to me. For now, I am laid back. I will stay in this moment and soak up yesterday's sun, feeling his revenant eyes on my bare thighs, our hearts on the run. ~ Francesca