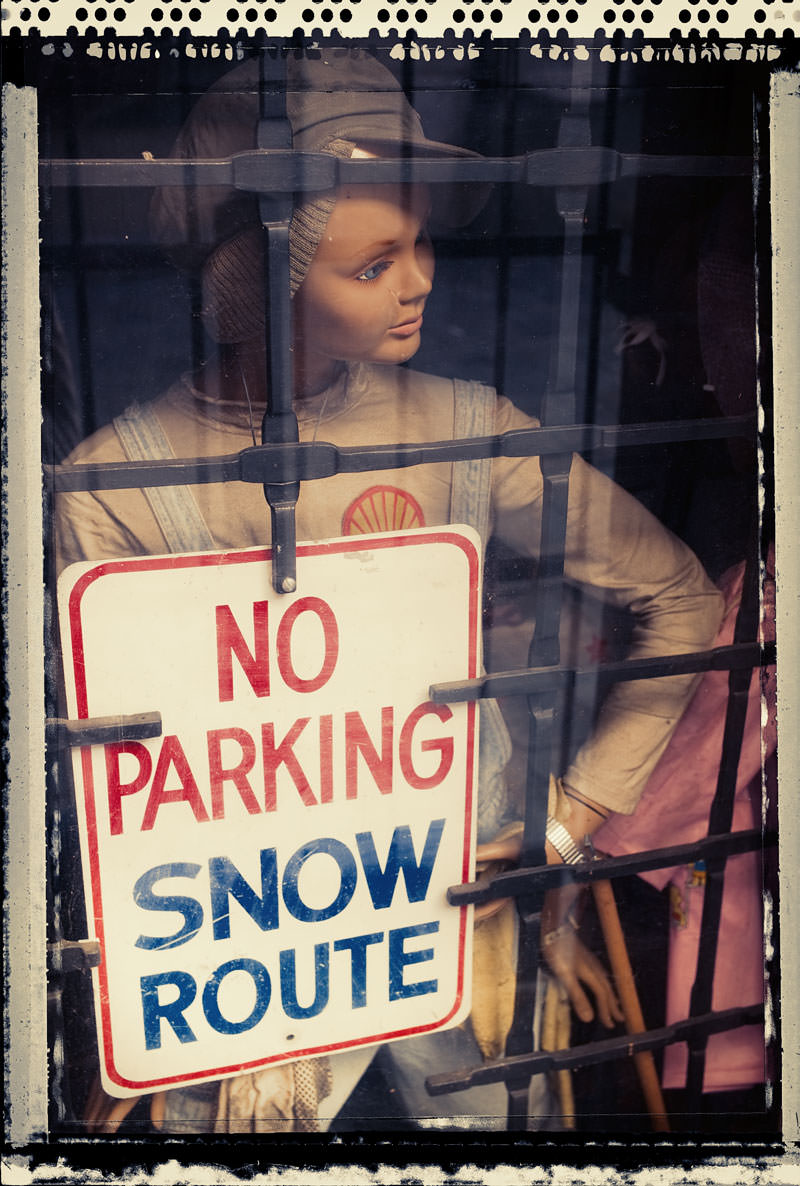 Window Mannequin | If You Wanna See Me Naked You're Going To Have To Buy The Clothes On My Body
Limited Edition of 3 ▪ € 5.000
I wandered in the streets of a port, in the low quarter of some city. I wandered through the long, somber corridors in the emptiness of a deserted district: a quarter which might almost have been dead, abruptly abandoned. I was alone, subjected to the stares of mannequins seated in their tall shop windows or huddled in doorways, whose eyes seemed to ransack my very soul. They did not speak to me. They were silent. And they were all exactly alike! They might have been huge marionettes, left behind in a panic - for I divined that some plague, some frightful epidemic, had swept through the town and emptied it of its inhabitants. I was alone with these simulacra of femininity. I had already been wandering for hours without being able to find a way out of that miserable quarter, obsessed by the fixed and varnished eyes of all those automata, when I was seized by the sudden thought that all these puppets were dead women, plague-stricken and putrefied by cholera where they stood, in the solitude, beneath their plaster masks. And my entrails were liquefied by cold. In spite of that harrowing chill, I was drawn closer to a motionless girl. I saw that she was indeed wearing a mask, and the one in the next window was also masked, and all of them were horribly alike under their identical crude coloring. I was alone with the masks, with the masked corpses, when, all of a sudden, I perceived that beneath the false faces of plaster and cardboard, the eyes of these dead dolls were alive; their vitreous eyes were looking at me. In that moment I had recognized all the women in this world.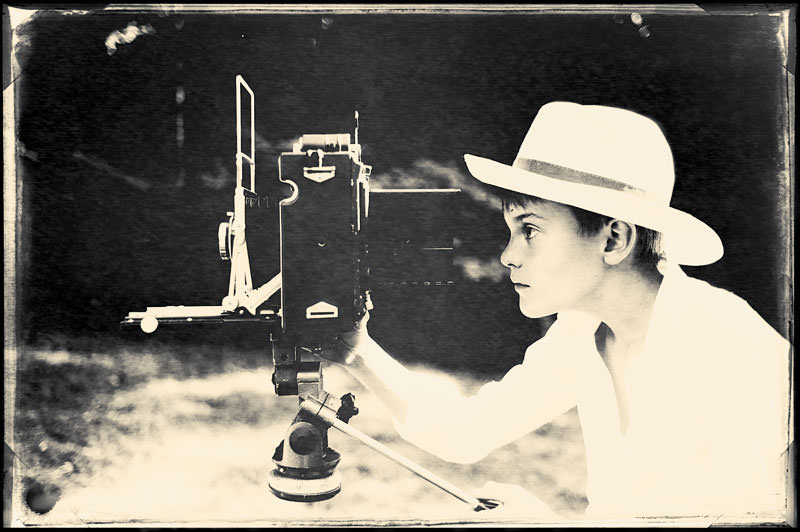 Big Shot | Choose Your Subject Selectively, Intuitively, And The Camera Can Write Poetry
Limited Edition of 3 ▪ € 7.000
Looking into the lens I ask myself: "People spot a big black lens, and they worry about what they are doing, or how their hair looks, but nobody sees the person holding the camera." I had fallen hard for the whole gadgetry, eye-like nature of the thing. A piece of glass slowing, bending, organizing light, the film keeping the image like a secret, tucked neatly into the sleek black box. The first cameras had only inventors, buffs and enthusiasts to operate them. Since there were then no professional photographers, there couldn't be amateurs either. It was a gratuitous, that is, an artistic activity, though with few pretensions to being an art. It was only with its industrialization that photography came into its own as art. What it once took a very intelligent eye to see, anyone can see now. Recently, photography has become almost as widely practiced an amusement as sex and dancing, which means that, like every mass art form, photography is not practiced as an art. Photographers think that everything that is not photographed is lost, as if it never existed, and therefore in order to really live you must photograph as much as you can, and to photograph as much as you can you must either live in the most photographable way possible, or else consider photographable every moment of your life.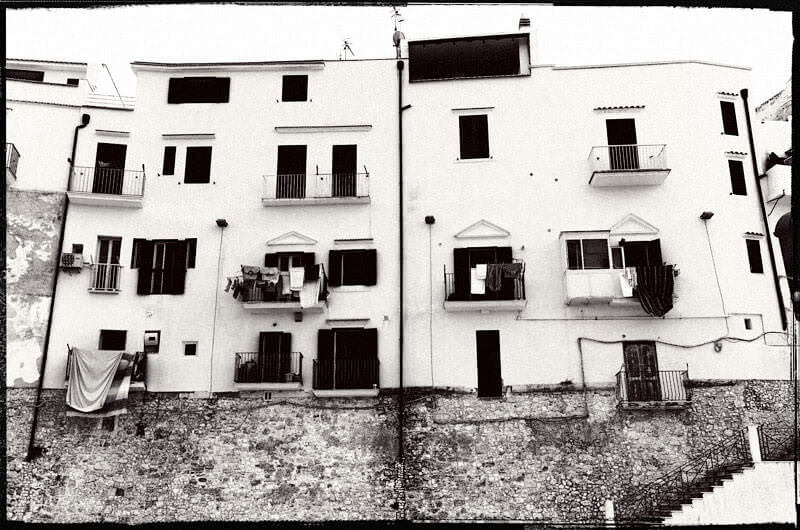 Invisible Lives | Open The Venetian Blinds And Kiss The Air Goodnight
Limited Edition of 3 ▪ € 5.000
And I see all the houses of the human race perched on the edge of the sea, shipwrecked in their false neighborliness. Cold has a thousand ways of moving in the world: on the sea, it gallops like a troop of horses, on the countryside it falls like a swarm of locusts, in the cities like a knife-blade it slashes the streets and penetrates the chinks of unheated houses. Many miles away there exists a small stairway leading upwards to flats unfolding like a book; every single life is an encyclopedia, a comprehensive library, an inventory of objects, a series of styles, and everything can be constantly shuffled and reordered in every way conceivable. Each of us is the object of the other's reading, one reads in the other the unwritten story. By separating the individual human chapters, rain gutters scar over the house's facade and leading off, just like veins, the myriads of the tears not cried. There are no lighted ground-floor windows, each with a woman combing her hair, but at night, putting your ear to the ground, you can sometimes hear a door slam. And thus, when some people happen to find themselves together, meetings, seductions, copulations and orgies are consummated among them without a single word exchanged, and without a finger touching anything and almost without an eye raised.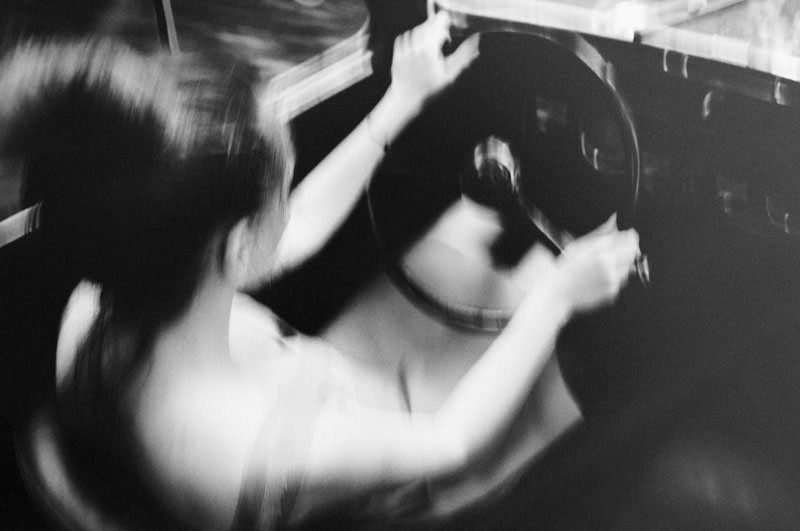 Vertigo | The Pedal To The Metal She Floors It To 140 And Screams
Limited Edition of 3 ▪ € 5.000
He lifted her to heights she'd never known, now her fall from his grace finds her with vertigo. Unable to focus, the world passing in a blur, her mind spinning faster than these blackwall tires. Reeling from the whiplash of his final impact, she leans on an old friend that never looks back. The road never wavers, he shares her desire. Give and receive, a mutual fire. The more she gives he simply opens wider. There are days so breathtaking she must share them with him alone. Let him lead her to places she never dreamed she could go. Nights so lonely she's nowhere else to turn, they ride in comfortable silence, nothing but miles to burn. She always comes back to him when she needs to escape. He eagerly accepts her, never hesitates. Listens intently to her unspoken fears, wipes away each of her lingering tears. Brings her horizons painted just for her eyes and shares with her vistas words can't describe. As daylight wanes and her grip on life fades, he brings the stars into sight and she can finally breathe. Letting out a sigh of liberated relief, she lets the night air of Spring set her free. ~ Francesca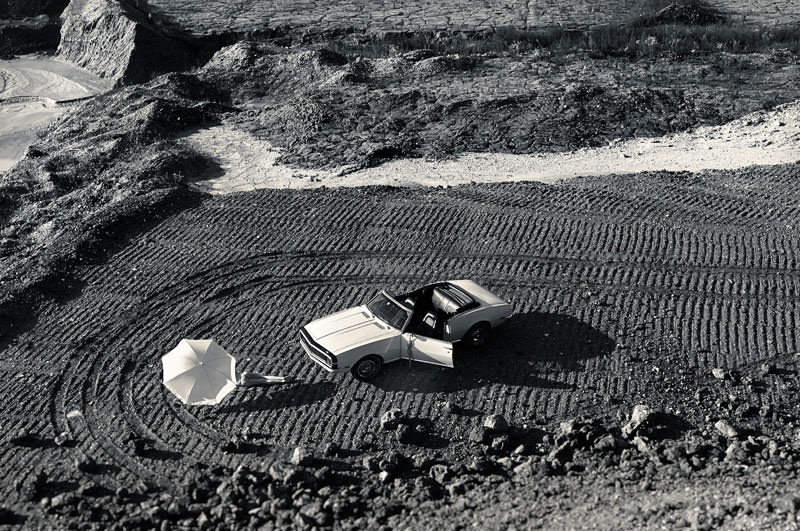 Miss American Pie | The Heartbeat of America
Limited Edition of 3 ▪ € 5.000
Is a dream a lie if it doesn't come true, or is it something worse? 'Wall Street' once has turned into 'Route 66'. The Great Depression answered the financial crash of '29 followed by the 'Dust Bowl', formerly the greatest natural catastrophe caused by man's excess. Homes for sale or rent. Rooms to let - fifty cents. The world has enough for everyone's need, but not enough for everyone's greed. Miss American Pie drove her Chevy to the levee, but the levee was dry. Eight miles a gallon and driving fast, she landed foul on the grass. No James Dean to borrow her a coat. Moss grows fat on a rolling stone and while we were looking down, the jester stole the thorny crown. Jack is nimble, Jack is quick, Jack Flash sits on a candlestick. No angel born in Hell and fire is the Devil's only friend, and the three men we admire most, The Father, Son, the Holy Ghost, they caught the last train to the coast. There we are, all in one place. A generation lost in space. No time left to start again, but them good old boys are drinking Whiskey and Rye, singing "Bye-bye, Miss American Pie, this will be the day that we die."
Beneath The Leaves | Sometimes You Can Tell A Large Story With A Tiny Subject
Limited Edition of 3 ▪ € 5.000
It is about that moment. The perfect moment, stolen to tempt the appetite of time. The allure is in detail. The stillness. The light. Light is the way the story is told. It is the narrative, and in certain moments its effect is poetic, and that fascinates giving a transformative quality, a power of turning ugly, the ordinary or the insignificant into something scintillating. It interests. Feel the nostalgia that exists somewhere between the beauty and sadness, create the suspended tension of the stolen moment as you feel the longing of time searching for that which you've taken. This photograph tastes like the back of a fucking L.A school bus crushed up with leaves and mice leaving a taste of rancid tar and turpentine bullshit. Fuckin' Raid, but a sensation that to time becomes insatiable in its unattainability. A photograph fuels the hunger, and this is delightfully naughty. How arrogant to dare to flirt with the monster of time. Pictures allow us to savour. To slow down. Go back to it again and again. Let a photograph affect you and do not anticipate. It will resonate long after you walk away.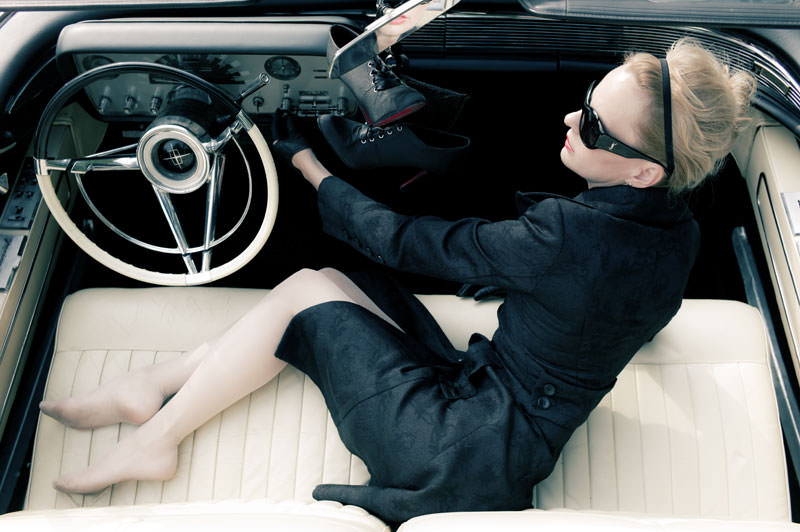 Les Louboutin | Collars Are Buttoned Down So They Don't Flap In Your Face When You're Playing Polo
Open Edition ▪ € 100 to € 600
"I'll stop wearing black when they invent a darker color!" There was an immediately perceptible vitality about her as if the nerves of her body were continually smoldering. She smiled slowly and, walking through her husband as if he were a ghost, shook hands looking him flush in the eye. Then she wet her lips, and without turning around spoke to him in a soft, coarse voice: "If you want to be safe, go back to your tiny house - the night sky isn't for you. If you want to be torn apart, let's go and you will be broken open and devoured, set ablaze in my fire not leaving well dressed, in finely-threaded clothing that keeps out the cold. I will leave you naked and biting in the backseat. So, come to me, and be healed of the unbearable white and black of all that you are. I'll become a raging river, and spill myself upon your thoughts, can you love me under the starry sky, shaved and smooth, my skin like liquid moonlight?" Perception is everything and she drove him to distraction as he intimately pictured her in his dreams. She is the quintessential instinctual criatura and her style is her expression. Her style is a silent speech, a certain flow of mind-to-skin that must be understood. Black has it all, white too, their beauty is absolute. Her style is her sentiment, it's what she shares, it's those intimate words she shares every time she looks into the mirror or every time she looks at her photographs.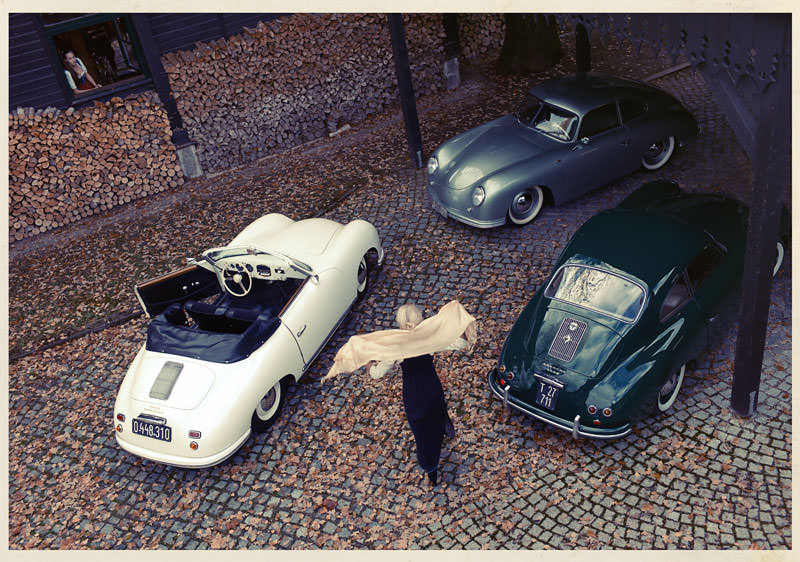 356, Brick Lane | I Spread My Wings And The Airstream Does The Rest
Limited Edition of 3 ▪ € 5.000
Observe, if you will, our curious cardinal upon the window sill. A more magnificent creature, impossible to find. Yet she looks out on the courtyard with lust in her eyes. What could it be that she covets so hungrily? Is she imagining passion or leaning toward envy? Fallen leaves and brick laced street create a breathtaking portrait indeed, but her eyes are drawn to classic beauty. Each fine machine commanding her attention. After all, they have turned heads for decades, no matter where they go. A form originated from their creator's own feel of a woman. Unique curves, distinctive purrs, there is nothing more thrill inducing than a moment inside such a one-of-a-kind ride. Push her to the limits and you soon will realize: the problem is not getting cool air to her rear, it is getting the hot air away from her. But our pretty bird is focused elsewhere, her soul whispering desires only her body can hear. A cloak of white silk, wrapped around elegance and light; imagining the glow beneath the sophisticated guise. Her mind drawn to the thought of ivory thighs. Blush finds her face, her chest overwhelmed with beats and she silently wishes to be seen. To be seen and received. ~ Francesca