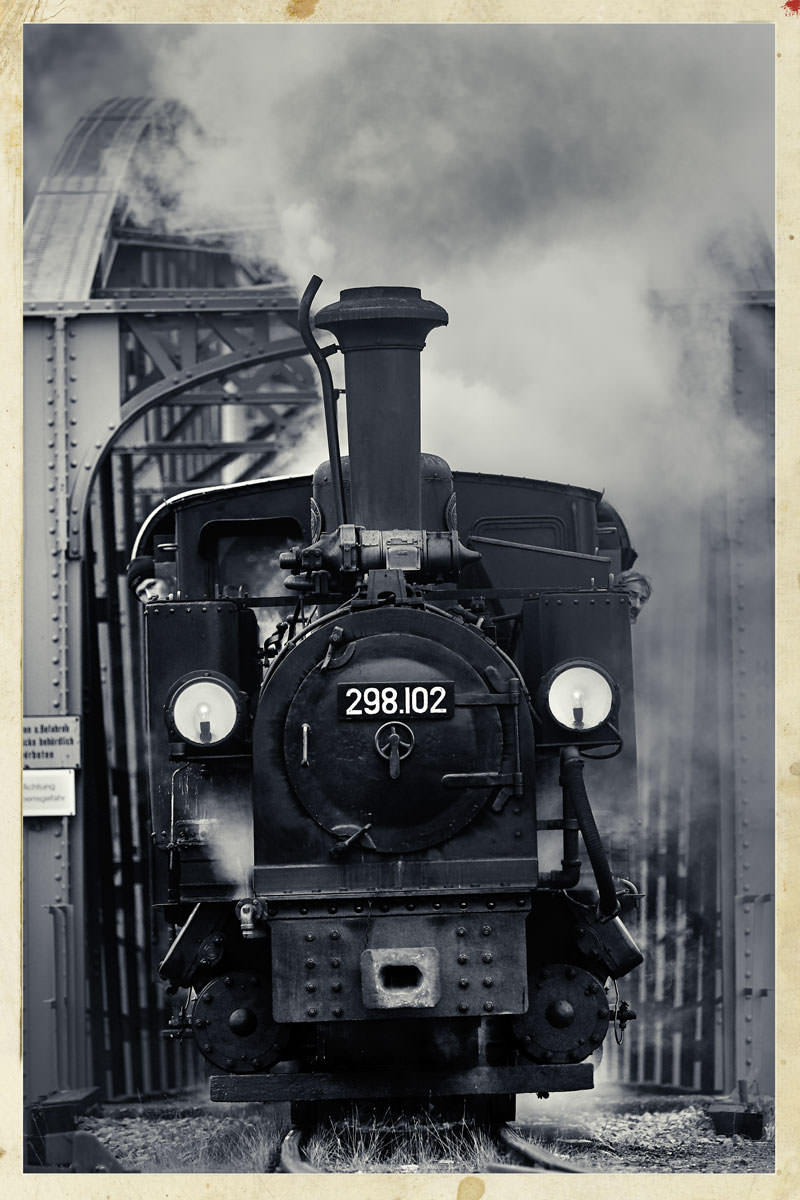 Flat Penny | Sit On Railway Tracks And Really Believe A Train Won't Come
Limited Edition of 3 ▪ € 7.000
The grime was no man's grime but death and human locomotives, dead men were on that train, wearing all that dress of dust, that veil of darkened railroad skin, that smog of cheek, that eyelid of black misery, that sooty hand or phallus or protuberance of artificial worse-than-dirt. Industrial, modern. All that civilization spotting your crazy golden crown. Those blear thoughts of death and dusty loveless eyes and ends and withered roots below, on the home-pile of rotten railway sleepers and sawdust, bath of steam, skin of machinery, the guts and innards of the weeping coughing car, the empty lonely overheated tin cans with rusty tongues alack, what more could I name, the smoked ashes of wood stacks, the noise of wheelbarrows and the milky breasts of iron, bloated espresso machine balancing on thin tracks and sphincters of dynamos - all these entangled in your mummied roots. And you there rolling towards me in the steamy sunset; all your glory in your form. The nightmare train went on through the milky sunlight its whistle screeching and the dead men inside laughing.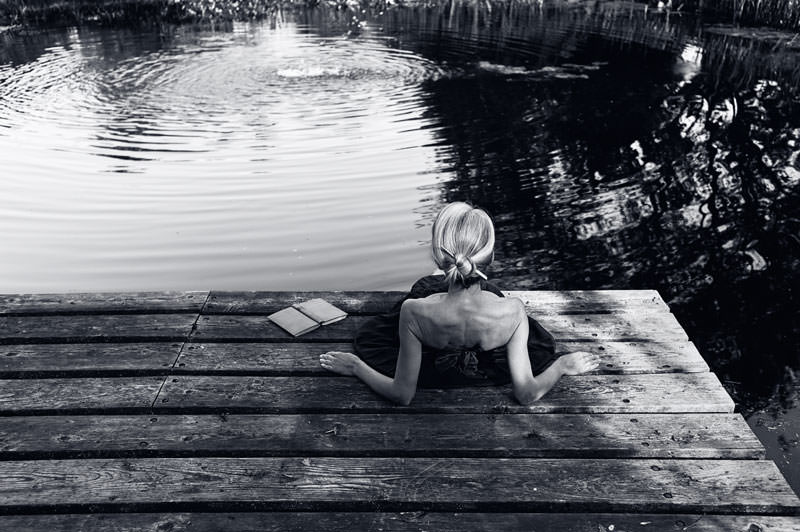 Pond Of Tears | An Old Silent Pond - A Tear Drops Into The Pond - Splash - Silence Again
Limited Edition of 3 ▪ € 5.000
"What have I become?" she asked in softly whispered tune while laying the unknown depths of her thoughts down beside her. Life has become lifeless and disheartening. In her hiding place, there is no soul to be smelled, not even a fowl in the air. The expanding deep sighs hurt the void within her, holding secrets that are withheld from others eyes. Only yesterdays sweeps upon the shores of her eyelids, refusing to let them shut. Not another sun shall rise that can't be seen. As her sight starts to fade to the colorless end of hues, so there on the dock in death's hands she waits for time to receive her, the black cloth upon her skin reluctant to the coldness of silent winds that brush against her shoulders in a sweeping manner. The sweetness of memories has been cast away within the ripples of the water. No longer are they soothing as the salt from her gaze stream like fire down the high rises of her cheeks. Every single one that plunged into her hands was added to her pond of many tears.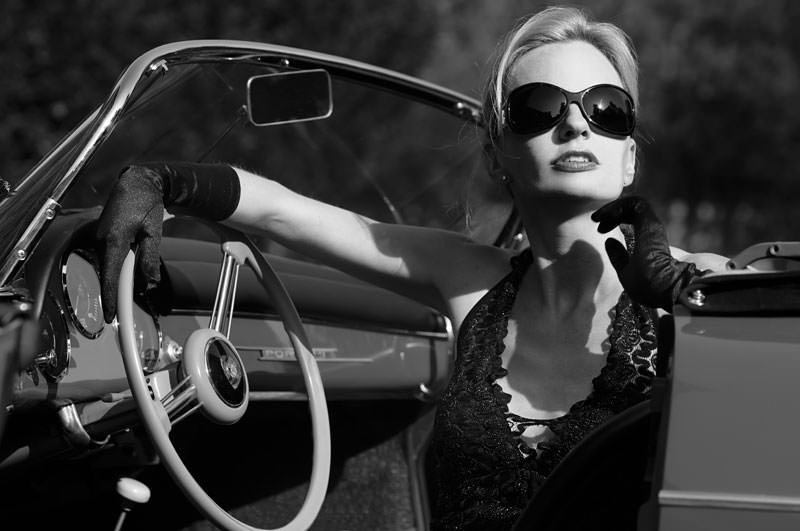 Lady Carrera | I'm Planning On Buying 20 Porsche And Crashing Them All Just For The Extravagance
Limited Edition of 3 ▪ € 5.000
There are some girls, that never become women. And some women that never become ladies. Females are innately the more vulnerable species, though saying so out loud just pisses them off. But it's the truth. Leading with emotion, hearts on sleeves, timid and subservient due to low self-worth; low self-esteem. Those that are happy to remain girls don't question their inner strength. They have not been tempted by the fruits of their own minds, by the ache of their untouched souls, by the places deep within the female body that once touched, must be touched again and again, or she'll fade away. Those girls kneel before life, without the call to submission, but simply because that is where they fit comfortably in their own existence. What makes a woman a woman, is the ability to allow the call of her inner Goddess to be heard by all parts of her being. Finding her inner masochist, her inner witch, her inner Aphrodite, by allowing temptations of the mind and flesh to seep into her soul. That woman craves the strength her power instills in her. And she craves even more a man that can take her power and make her even stronger, by relieving her of it. The burden of power can be heavy for a female, and sometimes a woman needs to be a girl. And as for the woman that may never be a lady, she is unique. Some women can turn off the inner beast, present themselves with a certain level of reservation, in the right company. But some, those truly wild creatures, are of the rawest natural state. Those are the women that need to be tamed, by one that holds their best interest, within his reins. ~ Francesca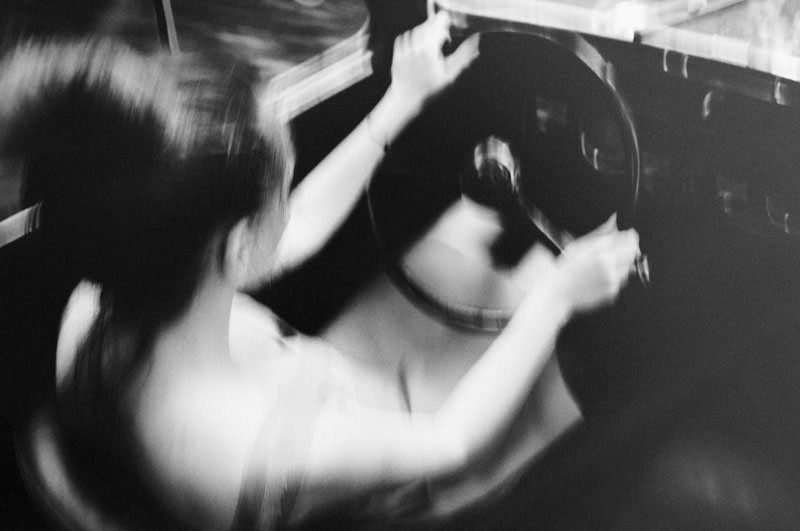 Vertigo | The Pedal To The Metal She Floors It To 140 And Screams
Limited Edition of 3 ▪ € 5.000
He lifted her to heights she'd never known, now her fall from his grace finds her with vertigo. Unable to focus, the world passing in a blur, her mind spinning faster than these blackwall tires. Reeling from the whiplash of his final impact, she leans on an old friend that never looks back. The road never wavers, he shares her desire. Give and receive, a mutual fire. The more she gives he simply opens wider. There are days so breathtaking she must share them with him alone. Let him lead her to places she never dreamed she could go. Nights so lonely she's nowhere else to turn, they ride in comfortable silence, nothing but miles to burn. She always comes back to him when she needs to escape. He eagerly accepts her, never hesitates. Listens intently to her unspoken fears, wipes away each of her lingering tears. Brings her horizons painted just for her eyes and shares with her vistas words can't describe. As daylight wanes and her grip on life fades, he brings the stars into sight and she can finally breathe. Letting out a sigh of liberated relief, she lets the night air of Spring set her free. ~ Francesca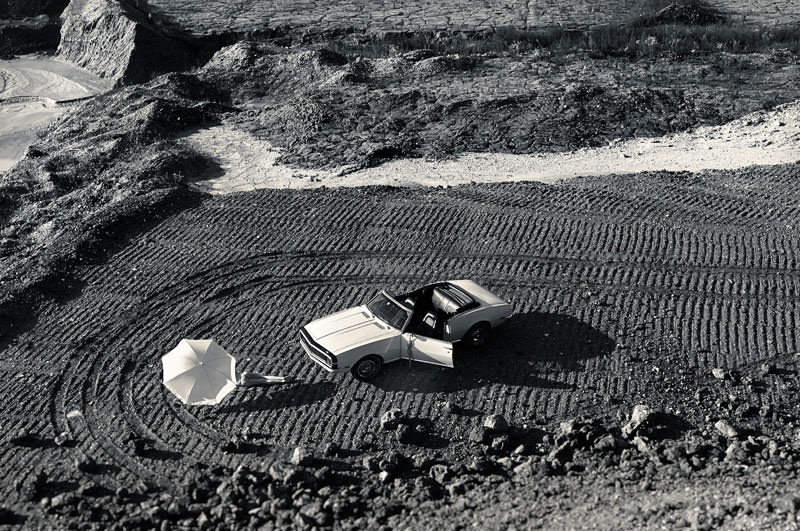 Miss American Pie | The Heartbeat of America
Limited Edition of 3 ▪ € 5.000
Is a dream a lie if it doesn't come true, or is it something worse? 'Wall Street' once has turned into 'Route 66'. The Great Depression answered the financial crash of '29 followed by the 'Dust Bowl', formerly the greatest natural catastrophe caused by man's excess. Homes for sale or rent. Rooms to let - fifty cents. The world has enough for everyone's need, but not enough for everyone's greed. Miss American Pie drove her Chevy to the levee, but the levee was dry. Eight miles a gallon and driving fast, she landed foul on the grass. No James Dean to borrow her a coat. Moss grows fat on a rolling stone and while we were looking down, the jester stole the thorny crown. Jack is nimble, Jack is quick, Jack Flash sits on a candlestick. No angel born in Hell and fire is the Devil's only friend, and the three men we admire most, The Father, Son, the Holy Ghost, they caught the last train to the coast. There we are, all in one place. A generation lost in space. No time left to start again, but them good old boys are drinking Whiskey and Rye, singing "Bye-bye, Miss American Pie, this will be the day that we die."
Beneath The Leaves | Sometimes You Can Tell A Large Story With A Tiny Subject
Limited Edition of 3 ▪ € 5.000
It is about that moment. The perfect moment, stolen to tempt the appetite of time. The allure is in detail. The stillness. The light. Light is the way the story is told. It is the narrative, and in certain moments its effect is poetic, and that fascinates giving a transformative quality, a power of turning ugly, the ordinary or the insignificant into something scintillating. It interests. Feel the nostalgia that exists somewhere between the beauty and sadness, create the suspended tension of the stolen moment as you feel the longing of time searching for that which you've taken. This photograph tastes like the back of a fucking L.A school bus crushed up with leaves and mice leaving a taste of rancid tar and turpentine bullshit. Fuckin' Raid, but a sensation that to time becomes insatiable in its unattainability. A photograph fuels the hunger, and this is delightfully naughty. How arrogant to dare to flirt with the monster of time. Pictures allow us to savour. To slow down. Go back to it again and again. Let a photograph affect you and do not anticipate. It will resonate long after you walk away.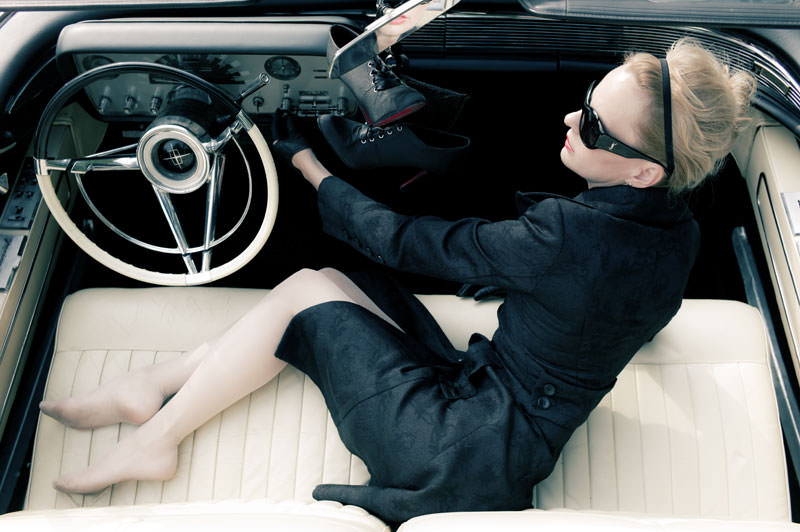 Les Louboutin | Collars Are Buttoned Down So They Don't Flap In Your Face When You're Playing Polo
Open Edition ▪ € 100 to € 600
"I'll stop wearing black when they invent a darker color!" There was an immediately perceptible vitality about her as if the nerves of her body were continually smoldering. She smiled slowly and, walking through her husband as if he were a ghost, shook hands looking him flush in the eye. Then she wet her lips, and without turning around spoke to him in a soft, coarse voice: "If you want to be safe, go back to your tiny house - the night sky isn't for you. If you want to be torn apart, let's go and you will be broken open and devoured, set ablaze in my fire not leaving well dressed, in finely-threaded clothing that keeps out the cold. I will leave you naked and biting in the backseat. So, come to me, and be healed of the unbearable white and black of all that you are. I'll become a raging river, and spill myself upon your thoughts, can you love me under the starry sky, shaved and smooth, my skin like liquid moonlight?" Perception is everything and she drove him to distraction as he intimately pictured her in his dreams. She is the quintessential instinctual criatura and her style is her expression. Her style is a silent speech, a certain flow of mind-to-skin that must be understood. Black has it all, white too, their beauty is absolute. Her style is her sentiment, it's what she shares, it's those intimate words she shares every time she looks into the mirror or every time she looks at her photographs.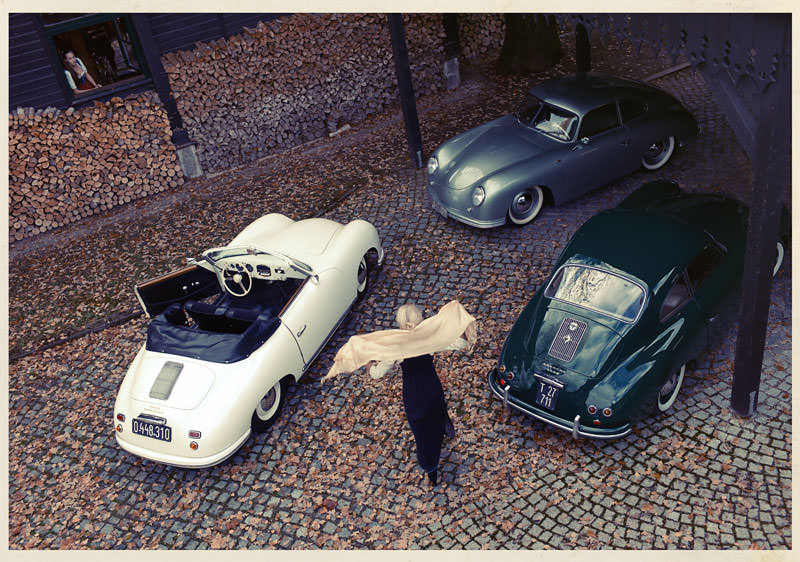 356, Brick Lane | I Spread My Wings And The Airstream Does The Rest
Limited Edition of 3 ▪ € 5.000
Observe, if you will, our curious cardinal upon the window sill. A more magnificent creature, impossible to find. Yet she looks out on the courtyard with lust in her eyes. What could it be that she covets so hungrily? Is she imagining passion or leaning toward envy? Fallen leaves and brick laced street create a breathtaking portrait indeed, but her eyes are drawn to classic beauty. Each fine machine commanding her attention. After all, they have turned heads for decades, no matter where they go. A form originated from their creator's own feel of a woman. Unique curves, distinctive purrs, there is nothing more thrill inducing than a moment inside such a one-of-a-kind ride. Push her to the limits and you soon will realize: the problem is not getting cool air to her rear, it is getting the hot air away from her. But our pretty bird is focused elsewhere, her soul whispering desires only her body can hear. A cloak of white silk, wrapped around elegance and light; imagining the glow beneath the sophisticated guise. Her mind drawn to the thought of ivory thighs. Blush finds her face, her chest overwhelmed with beats and she silently wishes to be seen. To be seen and received. ~ Francesca