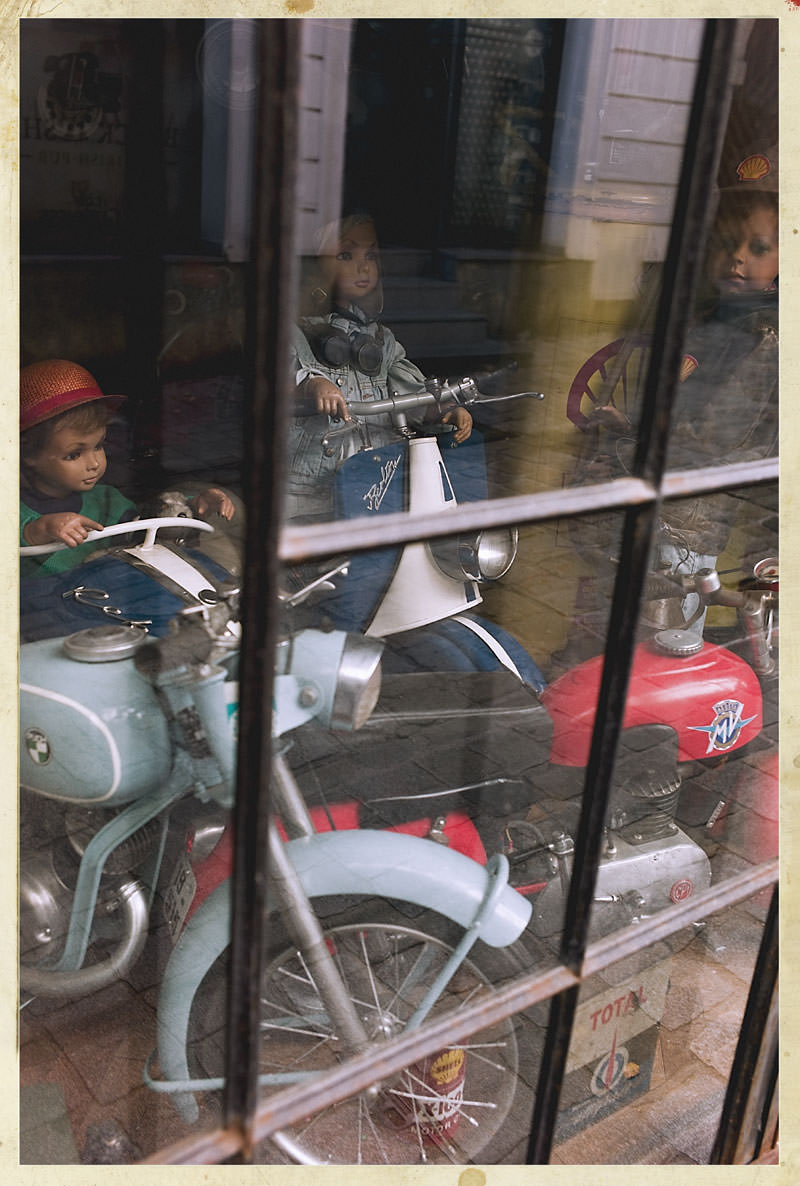 10 Souls Or Less | Their Lives Begin At 140 M.P.H.
Limited Edition of 3 ▪ € 5.000
It's a window and a mirror, as dark as the sins it conceals. A trading post, for souls that is. It shows the vacancy of the minds of those who are lost; the neat exchange of a soul for a lead role in the cage. The photograph evokes a sense of loneliness and therefore true freedom, and if it had to emit a sound, it would be the song of the wind that blows through these places. The winds can howl, or gently whisper but remain unheard to those who choose to disconnect and exist in this fantastic reality but do you think they can tell that smile from a veil? Can you? To make sense of it, to be safe you must tame a photograph like you must tame wild women because then they will comfortably fit in this ever-shrinking world of manipulated thought and expectation, but what if instead of taming it, you let it tell a thousand stories that it contains? Of course, doing this comes at a cost. Be warned. You would have to taste its wildness through your own imagination. For me, I love its irony. Photographs steal time yet this subject is timeless, it is a thief stealing from the thief. ~ Kalahari
Beneath The Leaves | Sometimes You Can Tell A Large Story With A Tiny Subject
Limited Edition of 3 ▪ € 5.000
It is about that moment. The perfect moment. The allure is in the detail. The stillness. The light. Light is the way the story is told. It's the narrative. Certain moments of light have a poetic condition that fascinates. It has a transformative quality and has the power of turning the ordinary into something scintillating. It interests. Feel the nostalgia that exists somewhere between the beauty and sadness. The tension of the moment. Time is a relentless melt that the photograph testifies to. Moments should be breathed, tasted a bit like a taste of wine. This photograph tastes like the back of a fucking L.A. school bus for they probably didn't de-stem, hoping for some semblance of concentration, crushed it up with leaves and mice, and then wound up with this rancid tar and turpentine bullshit. Fuckin' Raid. Time is hungry and greedy, insatiable but photographs steal its moments. This might render time frozen and mute, but do not be fooled. They are delightfully naughty. They dare to flirt with the monster of time. They allow us to savor and so slow it. Go back to it again and again. Let a photograph affect you and do not anticipate. It will resonate long after you walk away.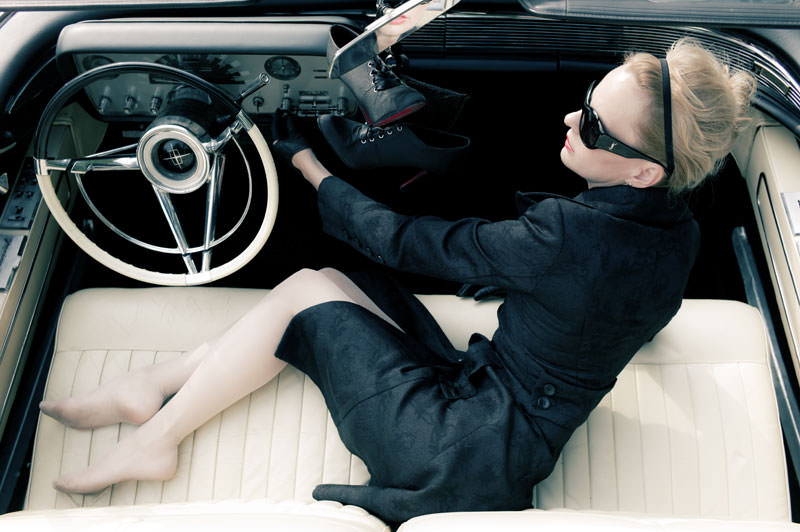 Les Louboutin | Collars Are Buttoned Down So They Don't Flap In Your Face When You're Playing Polo
Open Edition ▪ € 100 to € 600
"I will stop wearing black when they invent a darker color!" There was an immediately perceptible vitality about her as if the nerves of her body were continually smoldering. She smiled slowly and, walking through her husband as if he were a ghost, shook hands looking him flush in the eye. Then she wet her lips, and without turning around spoke to him in a soft, coarse voice: "If you want to be safe, go back to your tiny house. If you want to be torn apart, let's go and you will be broken open and devoured, set ablaze in my fire not leaving well dressed, in finely-threaded clothing that keeps out the cold. I will leave you naked and biting in the backseat. So, come to me, and be healed of the unbearable white and black of all that you are. I will become a raging river, and spill myself upon your thoughts, can you love me under the starry sky, shaved and smooth, my skin like liquid moonlight?" Perception is everything and she drove him to distraction as he intimately pictured her in his dreams. She is the quintessential instinctual criatura and her style is her expression. Her style is her silent speech, a certain flow of mind-to-skin that must be understood. Black has it all, white too, their beauty is absolute. Her style is her sentiment, it is what she shares, it is those intimate words she shares every time she looks into the mirror or every time she looks at her photographs.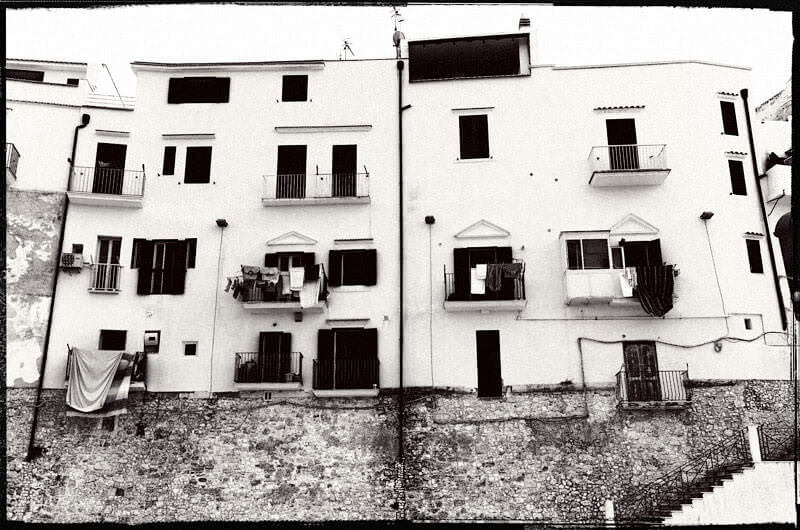 Invisible Lives | Open The Venetian Blinds And Kiss The Air Goodnight
Limited Edition of 3 ▪ € 5.000
And I see all the houses of the human race perched on the edge of the sea, shipwrecked in their false neighborliness. Cold has a thousand ways of moving in the world: on the sea, it gallops like a troop of horses, on the countryside it falls like a swarm of locusts, in the cities like a knife-blade it slashes the streets and penetrates the chinks of unheated houses. Many miles away there exists a small stairway leading upwards to flats unfolding like a book; every single life is an encyclopedia, a library, an inventory of objects, a series of styles, and everything can be constantly shuffled and reordered in every way conceivable. Each of us is the object of the other's reading, one reads in the other the unwritten story. By separating the individual human chapters, rain gutters scar over the house's facade and leading off, just like veins, the myriads of the tears not cried. There are no lighted ground-floor windows, each with a woman combing her hair, but at night, putting your ear to the ground, you can sometimes hear a door slam. And thus, when some people happen to find themselves together, meetings, seductions, copulations and orgies are consummated among them without a single word exchanged, and without a finger touching anything and almost without an eye raised.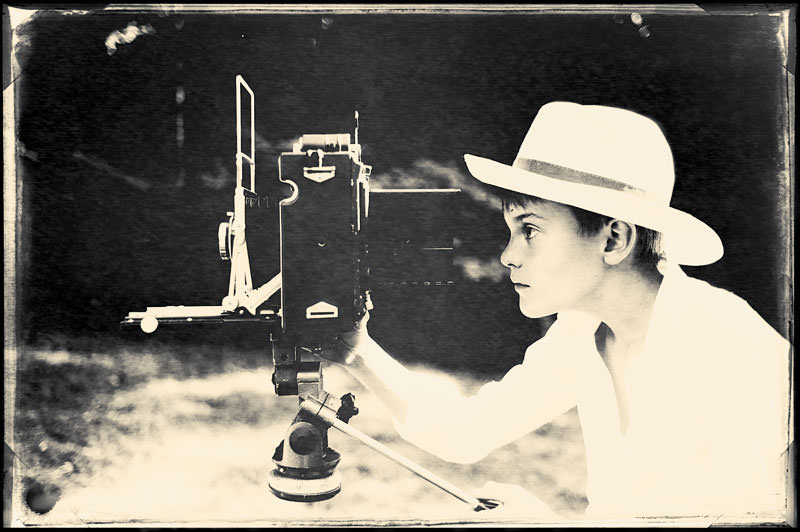 Big Shot | Choose Your Subject Selectively, Intuitively, And The Camera Can Write Poetry
Limited Edition of 3 ▪ € 7.000
Looking into the lens I ask myself: "People spot a big black lens, and they worry about what they are doing, or how their hair looks, but nobody sees the person holding the camera." I had fallen hard for the whole gadgetry, eye-like nature of the thing. A piece of glass slowing, bending, organizing light, the film keeping the image like a secret, tucked neatly into the sleek black box. The first cameras had only inventors, buffs and enthusiasts to operate them. Since there were then no professional photographers, there couldn't be amateurs either. It was a gratuitous, that is, an artistic activity, though with few pretensions to being an art. It was only with its industrialization that photography came into its own as art. What it once took a very intelligent eye to see, anyone can see now. Recently, photography has become almost as widely practiced an amusement as sex and dancing, which means that, like every mass art form, photography is not practiced as an art. Photographers think that everything that is not photographed is lost, as if it never existed, and therefore in order to really live you must photograph as much as you can, and to photograph as much as you can you must either live in the most photographable way possible, or else consider photographable every moment of your life.
Rider On The Rain | Could Ya Give Me A Lift, Mista?
Limited Edition of 3 ▪ € 5.000
Be ever mindful, dear Sir, that not all pretty faces have pretty intentions and not all lone travelers are lonesome. She was in the process of straightening her sundress and trying to appear not to notice him when she caught his attention and his foot found the brake. The car skidded on the gravel for a few feet before coming to an abrupt stop almost kissing her dress. She bit her full lip to resist the urge to grin, cut her obsidian eyes and lowered her delicate chin. The introductions were short as she was so exhausted and overcome from these hours on the road, helpless and stunned. He rose valiantly to the call of shining knight, scooping her up into his chariot to her carnal delight. Little did he know, this clueless stranger, that nothing going through his mind was a mystery to her. She knew what he was thinking, she knew that he was like all the others. A bee drawn to her nectar, not keen enough to realize that the more beautiful the flower, the sharper the thorn. She took great care to assure that her hem rode up just enough to keep him distracted, to shake him a bit, for his nervous chatter was quite revealing. He was not a knight after all, that much she knew. He would prove his worth eventually, his true colors would show and she would be free to take control. He never saw the glint of the blade, as the stars blinked as to not witness and her dagger set him straight. ~ Francesca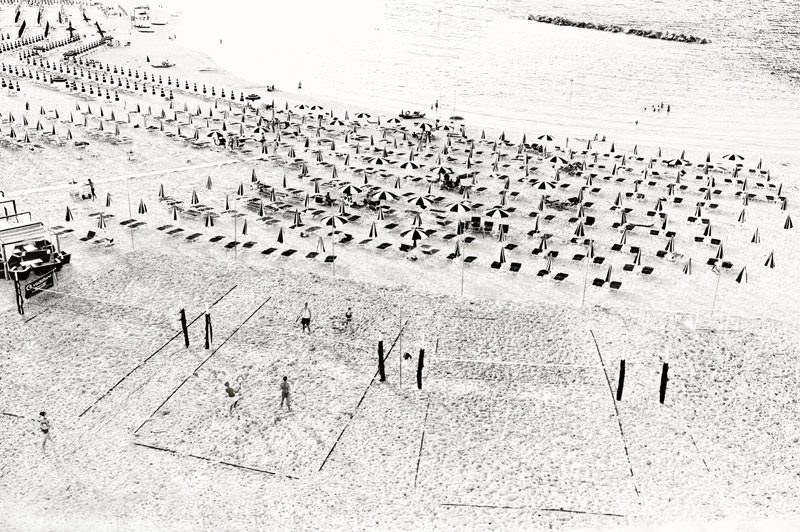 Cirque Du Soleil | Polka Dots Swept Ashore
Limited Edition of 3 ▪ € 5.000
Seeing a mother in her beach chair, reading a book under an umbrella by the water's edge while her children play beside her and she was suddenly and strangely reminded of being four years old at the beach, crying when the wind came up and blew away the castle she had made. Her mother had told her she could make another one if she liked, but it hadn't stopped her crying because what she had thought was permanent was not permanent after all, but only made out of sand that vanished at the touch of wind and water. Beauty - what is beauty, forsooth? Form and color, that is surface only. Fortune - what is fortune? Nothing is ever a pleasure to him who has to labor for it. Truth - you die in the pursuit, and the sea beats the beach as it did a thousand years ago. Some people might have a shallow understanding of what it means to be alive, but you don't need a whole lot. Being in the water and smelling that salt air and hearing the seagulls. Free in the soft sands of the beach by the sigh of the sea out there, with the fallopian virgin warm stars reflecting on the outer channel fluid belly waters. The beach becomes a kind of Utopia. The place where all your dreams might come true.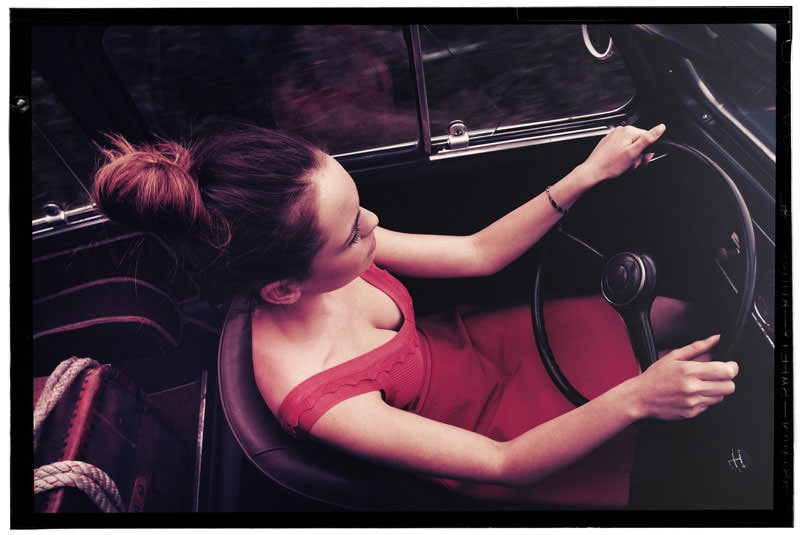 Rope | Riding With Cicciolina
Open Edition ▪ € 100 to € 600
Cicciolina takes you on a journey of revenge, lust, and sacrifice. What many would see as a stunning young woman turns out to be a cunning vixen, rotten as an apple hung too long on the tree well into fall. Left by her father too early in life, the victim of men and their lecherous eyes, scarred from years of broken hearts and lies, our darling Cicciolina takes to the road. With her suitcase in tow she hunts, patiently, innocently - driven by a well-calculated plan. Taking a man's car, his heart, and much more to make peace with the pagan Gods who haunt her night after night. Every lover a lamb to the slaughter. The roles were reversed and the wolf now slayed. A quick flick of the wrist and the tables turn, she claims his heart, his soul to burn. Sadness and anger the fertilizer for her growing orchard of mistrust, deceit, and revenge. Revenge upon the entire species. The pedal to the metal, every mile adding to her intoxicating allure. In search of an oblation, a sacrificial lamb to cleanse her dark soul. If you have wheels that catch her eye and a selfish hunger that you can't disguise, be warned, you will be next to find the burn that comes from meeting her rope. The rope that bound it all, that kept her secrets wrapped up tight, was the one thing that onlookers could see but few could truly know just how special it really was. Much more than a rope, a trusted tool, a friend to the end. ~ Francesca