La Ragazza Con La Valigia | She's A Highway Canvas Making Her Life An Art
Limited Edition of 3 ▪ € 5.000.-
That which comes naturally is often magnified exponentially, for better or for worse, without us even realizing it. All it takes is a little spark. In Cicciolina's case, worse seemed to own most days. This one started as any other, ready for escape, bored of the doldrums of everyday life. Waking to the taunting sneer of the sun as it celebrated freedom with a shining smile on its face, she rose from the bed on the wrong side as if to challenge the fates. Gathering up her effects, not in the least bit concerned of waking her lifeless companion or giving explanation, she stormed from the stale room, not quite big enough for two. Setting off to find a new adventure, keys in hand, she took to the open road with needs and no plan. If only the little Topolino and the road would have cooperated. Now she sits roadside, her thoughts as dark as her vixen eyes. No need to thumb a ride, she finds a spot in the shade and lets her curb appeal woo the right prey. The sultry breeze sticking angelic hairs to her damp neck only adding to her appeal. Seated on her case of secrets, waiting to catch the eye of the right passerby. It was becoming a bit uncomfortable; after all this case was not meant for leisurely spells under shade trees. It was hard and heavy, not easy to carry. How she did love her treasure chest though. Often times she chose men and cars just because they could accommodate it, and avoided the same if they couldn't. Reorganizing her trinkets would help pass the time. Dragging it beneath the shade of the now sad little car, she sat in the dirt and kicked off her shoes. Pulling things from within placing them by her side, unpacking her memories, all the things that she hides. The delicate pearl-gripped pistol that she had never fired but she kept anyway because it felt good in her hand. Mementos from cities where she could never return, pieces of her past that any smart woman would burn. She kept them all, tucked among the silk and lace, her favorite, a dagger that had a special place. ~ Francesca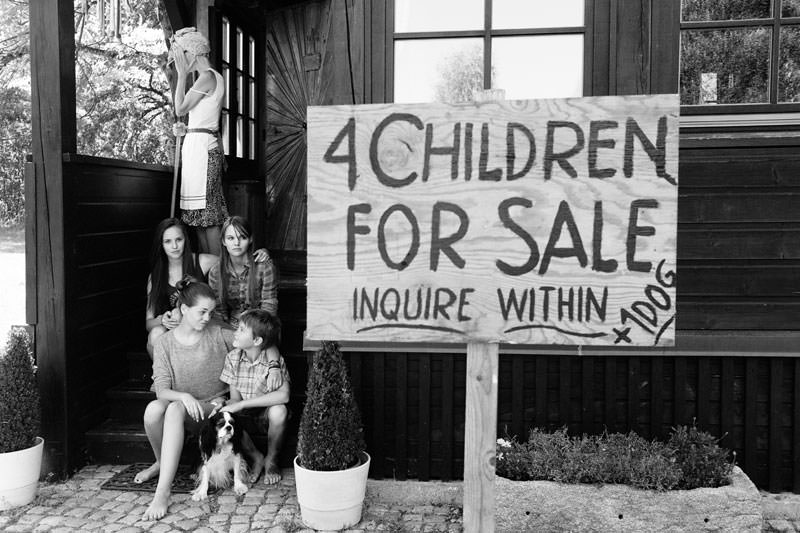 4 Children For Sale | The Camera Is A Diabolic Instrument To Reflect Reality At Lightning Speed
Limited Edition of 3 ▪ € 9.000.-
Through photographs, each family constructs a portrait-chronicle of itself; a portable kit of images that bears witness to its connectedness. Now they are on the auction block; a big '4 Children For Sale - Inquire Within' sign in a Chicago / Illinois yard mutely tells a family's tragic story. For long months the family waged a desperate but losing battle to keep food in the mouth and a roof over their heads. With no place to turn, they decide to sell their four children. The mother was shielding her eyes from the camera while her four small children stare wonderingly sitting huddled on the steps outside. This photograph is the remake of an infamous historical photo originally taken in 1948, that made its way into many U.S. newspapers. Redone to put a focus on the tragic case again because things have not changed that much. Human trafficking is still around in many countries and numerous children are still sold throughout the world. Many of them abused by child labor and kept in child slavery; not to mention sexual abuse and child prostitution. The little checkered dog was not part of the original story but was added to the scenery to make its own, personal statement on animal abuse and cruelty.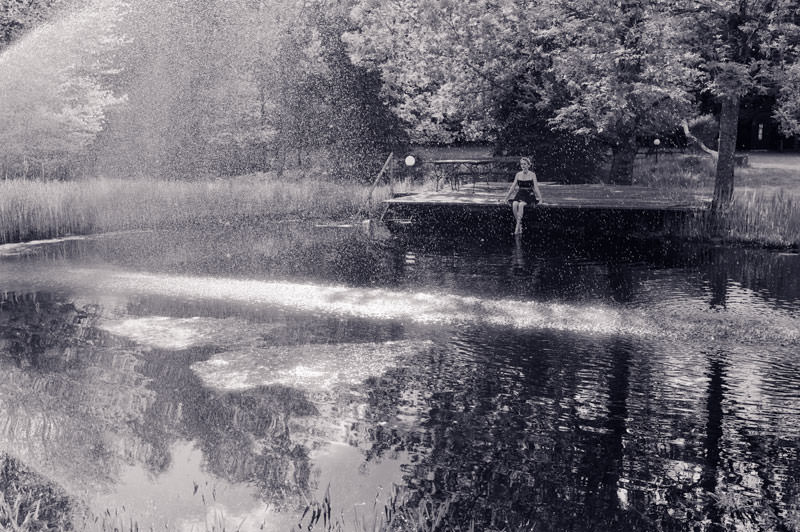 La Piscina | I like The Monologue Even More Than The Duet
Limited Edition of 3 ▪ € 5.000.- ▪
2 Left
I live in perpetual expectancy. You come and the time slips away in a dream. It is only when you go that I realize completely your presence. And then it is too late. You numb me. I am saying to myself: here is the first woman with whom I can be absolutely sincere. You could fool me, I wouldn't know it. I can't fool you – and yet I would like to. I mean that I can never be absolutely loyal – it's not in me. I love women, or life, too much – which it is, I don't know. I don't know what to expect of you, but it is something in the way of a miracle. I am going to demand everything of you – even the impossible because you encourage it. You are really strong. I even like your deceit, your treachery. It seems aristocratic to me. You make me tremendously happy to hold me undivided – to let me be the artist, as it were, and yet not forgo the man, the animal, the hungry, insatiable lover. No woman has ever granted me all the privileges I need – and you, why you sing out so blithely, so boldly, with a laugh even – yes, you invite me to go ahead, be myself, venture anything. That is where you are truly regal, a woman extraordinary -- I laugh to myself now when I think of you.
Pretentious | I'm Planning On Buying 20 Porsche And Crashing Them All Just For The Extravagance
Limited Edition of 3 ▪ € 5.000.-
There are some girls, that never become women. And some women that never become ladies. Females are innately the more vulnerable species, though saying so out loud just pisses them off. But it's the truth. Leading with emotion, hearts on sleeves, timid and subservient due to low self-worth; low self-esteem. Those that are happy to remain girls don't question their inner strength. They have not been tempted by the fruits of their own minds, by the ache of their untouched souls, by the places deep within the female body that once touched, must be touched again and again, or she'll fade away. Those girls kneel before life, without the call to submission, but simply because that is where they fit comfortably in their own existence. What makes a woman a woman, is the ability to allow the call of her inner Goddess to be heard by all parts of her being. Finding her inner masochist, her inner witch, her inner Aphrodite, by allowing temptations of the mind and flesh to seep into her soul. That woman craves the strength her power instills in her. And she craves even more a man that can take her power and make her even stronger, by relieving her of it. The burden of power can be heavy for a female, and sometimes a woman needs to be a girl. And as for the woman that may never be a lady, she is unique. Some women can turn off the inner beast, present themselves with a certain level of reservation, in the right company. But some, those truly wild creatures, are of the rawest natural state -- those are the women that need to be tamed, by one that holds their best interest, within his reins. ~ Francesca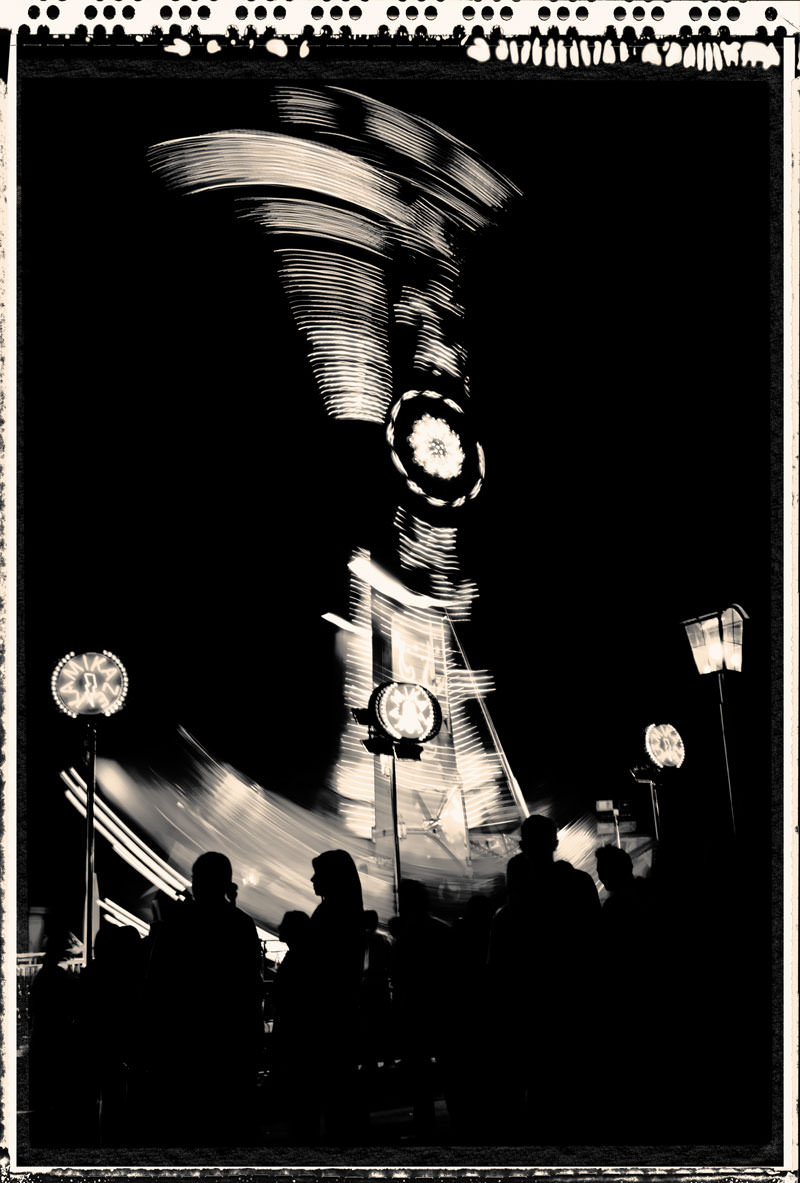 The Carousel | The Light Of The Bright World Dies With The Sun
It was, you know, one of those nights where the only sound is of you drinking and the people outside who have each other to drink with. The cityscape was dark except for some building lights. Well, the lights, they can't give me the sunset, but they can give me the night and I will rather walk alone in the light than to live in the dark. By night each thing creeps back into its own nature within the shelter of the dark and even the most commonplace and familiar objects take on another character. People group themselves differently - they draw closer together, as if in fear. But down there, at the carousel, the nights are bright and nobody believes in the Devil. Like a wheel of fortune, the carousel starts to spin. Step aboard and we will fly through the sky. Rien ne va plus. Laughter illuminates the darkness. All over there lights were coming on in the purple-blue dusk. Colored lights blink on and off, racing across the deepening sky. Shadows follow, joyful, laughing sprites. Long twirling ribbons of light, red, green, violet, all flashing like fire. The street lights looked delicate and frail, as though they might suddenly float away from their lamp posts like balloons. Everything was beautiful. It was hard to tell which was real and which was a reflection, as if there were two displays, above and below, going on simultaneously. And the painted wagons go up and down. We're captive on the carousel of time. We can't return; we can only look behind from where we came. And go round and round and round in the circle game. The seasons change, things change, but the old carousel is always here -- it reminds people of the good times.
A Blossom's Smile | Mystery Is A Hidden Laugh Always Ready To Surface
Limited Edition of 3 ▪ € 5.000.-
It's not very easy to grow up into a woman. We are always taught, almost bombarded, with ideals of what we should be, but amidst all the many voices that bark all these orders and set all of these ideals for girls today, there lacks the voice of assurance. There is no comfort and assurance. I want to be able to say, that there are a few things admirable for a woman to be. It's always wonderful to be elegant -- elegance is a glowing inner peace. It's always fashionable to have grace -- grace is an ability to give as well as to receive and be thankful. It's always glamorous to be brave -- glamor only radiates if there is a sublime courage and bravery within. Glamour is like the sky; it only blazes because the clouds are there. And it's always important to own a delectable smile. Yes, wearing a beautiful smile is in style at any age. Wear it as you wear an exquisite perfume; to be wrapped and cradled in an enchanting scent upon your face is a magic all on its own. The notes in that precious smile will remind you that you love yourself and will tell other people that they ought to love you because you know that you're worth it. The love affair created by an alluring smile between you and other people, you and nature, you and yourself, you and your memories and anticipations and hopes and dreams; it is all too beautiful a thing -- woman is never overdressed or underdressed with a little seraphic smile.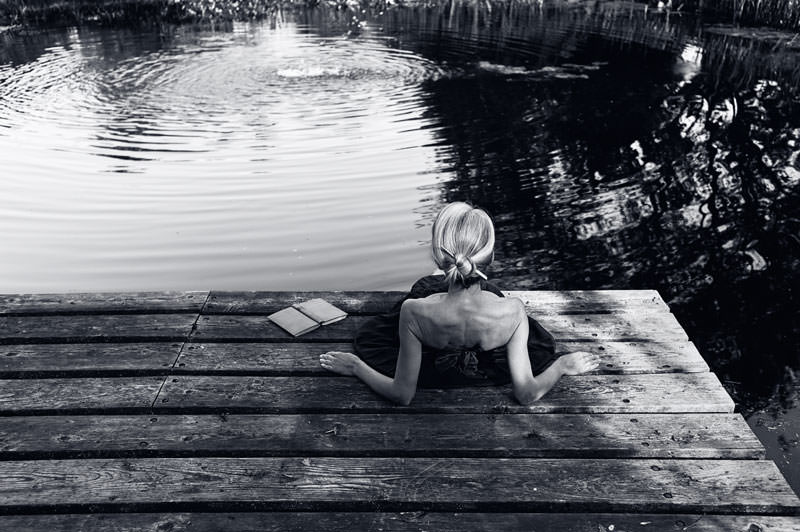 Pond Of Tears | An Old Silent Pond - A Tear Drops Into The Pond - Splash - Silence Again
Limited Edition of 3 ▪ € 5.000.-
"What have I become?" – she asked herself in softly whispered tune while laying the unknown depths of her thoughts down beside her. Life has become lifeless and disheartening. In her hiding place, there is no soul to be smelled, not even a fowl in the air. The expanding deep sighs hurt the void within her, holding secrets that are withheld from others eyes. Only yesterdays sweeps upon the shores of her eyelids, refusing to let them shut. Oh, not another sun shall rise that cannot be seen. As her sight starts to fade to the colorless end of hues, so there on the dock in death's hands she waits for time to receive her. She waits ... like the black cloth upon her delicate skin reluctant to the coldness of silent winds that brush against her shoulders in a sweeping manner. The sweetness of memories, at last, has been cast away within the ripples of the water. No longer are they soothing as the salt from her gaze stream like fire down the high rises of her cheeks -- and every single one that plunged into her hands was added to her pond of many tears.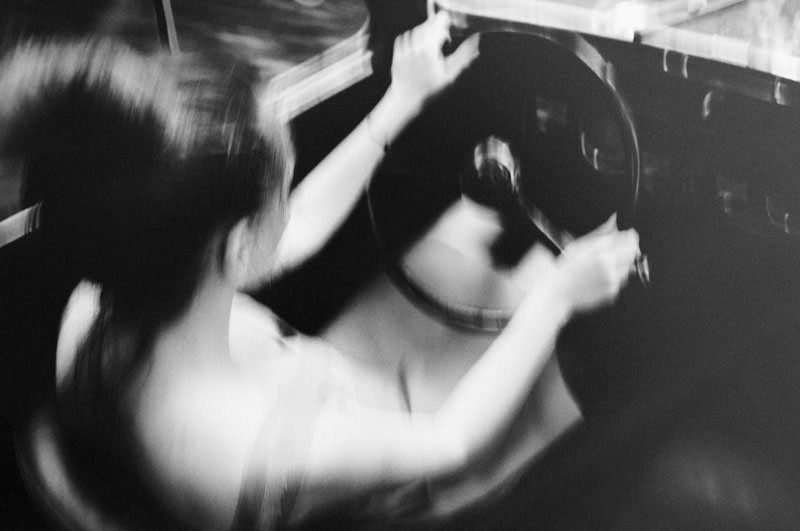 Vertigo | The Pedal To The Metal She Floors It To 140 And Screams
Limited Edition of 3 ▪ € 5.000.-
He lifted her to heights she'd never known, now her fall from his grace finds her with vertigo. Unable to focus, the world passing in a blur, her mind spinning faster than these blackwall tires. Reeling from the whiplash of his final impact, she leans on an old friend that never looks back. The road never wavers, he shares her desire. Give and receive, a mutual fire. The more she gives he simply opens wider. There are days so breathtaking she must share them with him alone. Let him lead her to places she never dreamed she could go. Nights so lonely she's nowhere else to turn, they ride in comfortable silence, nothing but miles to burn. She always comes back to him when she needs to escape. He eagerly accepts her, never hesitates. Listens intently to her unspoken fears, wipes away each of her lingering tears. Brings her horizons painted just for her eyes and shares with her vistas words can't describe. As daylight wanes and her grip on life fades, he brings the stars into sight and she can finally breathe. Letting out a sigh of liberated relief, she lets the night air of Spring set her free. ~ Francesca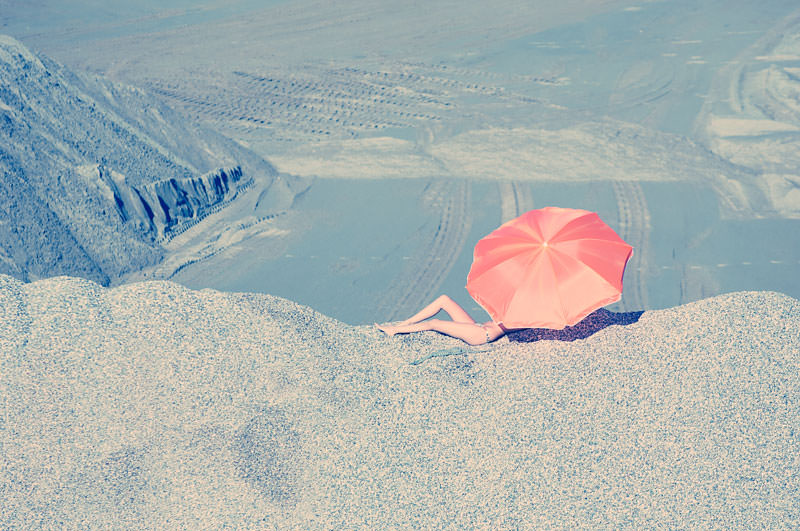 Polaroid Tanning | From Point To Line To Plain
Limited Edition of 3 ▪ € 7.000.- ▪
2 Left
Art should be functional. And art should tell a story. The art of storytelling, a narrative that places you in the situation of every photograph; allowing the viewer to be as closest to the soul of the subject as possible. The distinctive feature of the photographer is his ability to surprise and to exceed our expectations. But who really knows what is on in the photographer's mind when work is created? In spite of all the advances of civilization, woman has remained as she came out of the hand of nature. She has the nature of a savage, who is faithful or faithless, magnanimous or cruel, according to the impulse that dominates her at the moment. Decipher me or I will devour you! The female bloom, nearly stripped, but never obvious, nor offering little, rides lightly on the time's line where space opens into the high plain's depth. The feminine form factor, represented by the curves of elegance and playfulness, positioned in a barren, male landscape, symbolizing life's portraiture of relationships – the joining of the two human universes, male and female, merged in nature's perfect, but therefore also rare, Fibonacci harmony. But if men and women would begin to live their ephemeral dreams, every phantom would become a person with whom to begin a story of pursuits, pretenses, misunderstandings, clashes, and oppressions -- and the carousel of fantasies would come to a halt instantly.