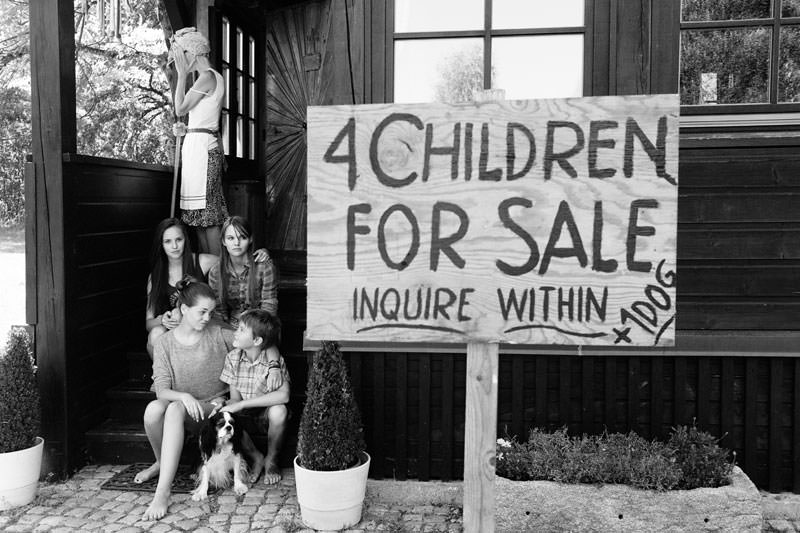 4 Children For Sale | The Camera Is A Diabolic Instrument To Reflect Reality At Lightning Speed
Limited Edition of 3 Prints ▪ € 9.000.-
Through photographs, each family constructs a portrait-chronicle of itself; a portable kit of images that bears witness to its connectedness. They are on the auction block; a big '4 Children For Sale – Inquire Within' sign in a Chicago / Illinois yard mutely tells a family's tragic story. For long months the family waged a desperate but losing battle to keep food in the mouth and a roof over their heads. With no place to turn, they decide to sell their four children. The mother was shielding her eyes from the camera while her four small children stare wonderingly sitting huddled on steps outside. This photograph is the remake of an infamous historical photo originally taken in 1948, that made its way into many U.S. newspapers. Redone to put focus on the tragic case again because things haven't changed very much. Human trafficking is still around in many countries and still numerous children are sold throughout the world. Many of them abused by child labor and kept in child slavery; not to mention sexual abuse and child prostitution.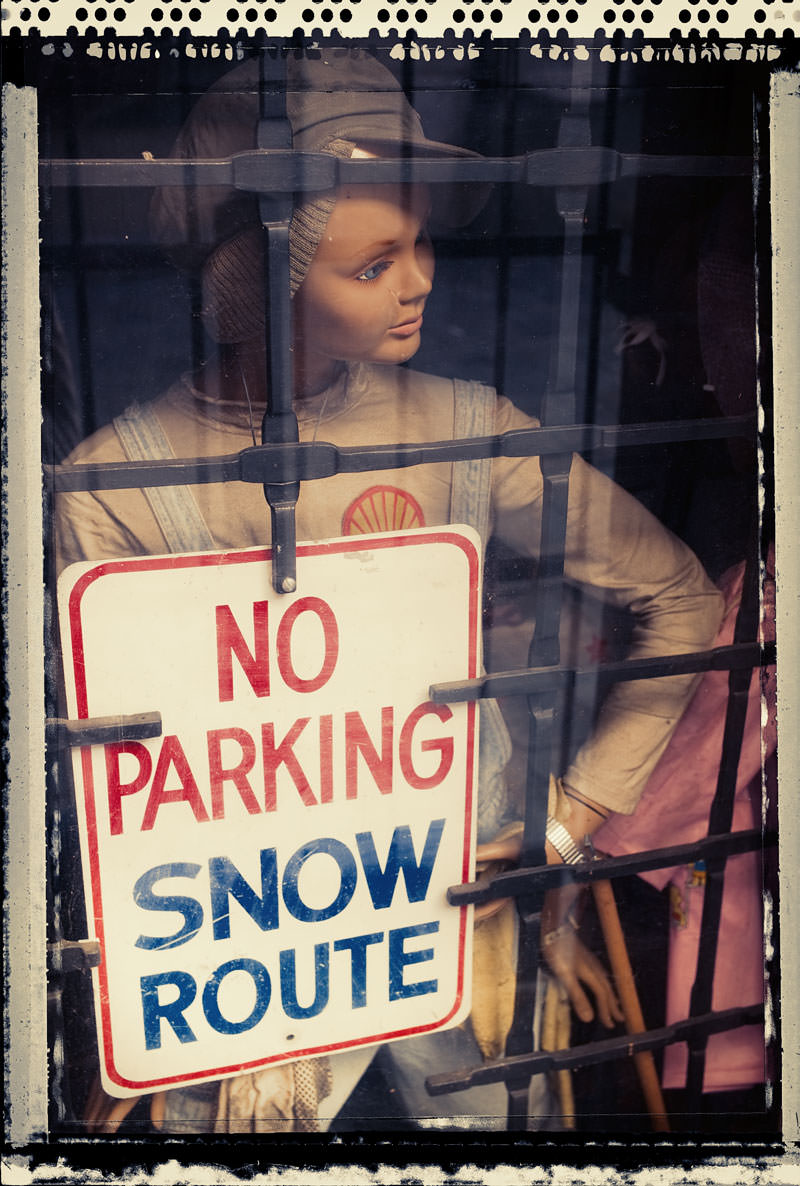 Window Mannequin | If You Wanna See Me Naked You're Going To Have To Buy The Clothes On My Body
Limited Edition of 3 Prints ▪ € 5.000.-
I wandered in the wintry streets of a port, in the low quarter of some city. The streets were muddy. I wandered through the long, frozen and sombre corridors in the emptiness of a deserted district: a quarter which might almost have been dead, abruptly abandoned. I was alone, subjected to the stares of mannequins seated in their tall shop windows or huddled in doorways, whose eyes seemed to ransack my very soul. They did not speak to me. They were silent. And they were all exactly alike! They might have been huge marionettes, left behind in panic – for I divined that some plague, some frightful epidemic, had swept through the town and emptied it of its inhabitants. I was alone with these simulacra of femininity. I had already been wandering for hours without being able to find a way out of that miserable quarter, obsessed by the fixed and varnished eyes of all those automata, when I was seized by the sudden thought that all these puppets were dead women, plague-stricken and putrefied by cholera where they stood, in the solitude, beneath their plaster masks. And my entrails were liquefied by cold. In spite of that harrowing chill, I was drawn closer to a motionless girl. I saw that she was indeed wearing a mask, and the one in the next window was also masked, and all of them were horribly alike under their identical crude coloring. I was alone with the masks, with the masked corpses, when, all of a sudden, I perceived that beneath the false faces of plaster and cardboard, the eyes of these dead dolls were alive; their vitreous eyes were looking at me. In that moment I had recognized all the women.
The Mechanic | Give Me The Childhood That Was Stolen From Me
Limited Edition of 3 Prints ▪ € 5.000.-
Hopeful eyes, happy smiles, soft hands, million dreams – is this not the identity of a child? Then why do I see tear filled eyes, terrified faces, rough hands and shattered dreams? Deprived of their childhood. Overloaded with work. Burdened with responsibility. At such a young age. Put a smile back on my face. Give me the childhood that was stolen from me. So much to learn. So much to accomplish. But not given enough time! I am young, I am seven years old; yet I know nothing of life but despair, fear, and fatuous superficiality cast over an abyss of sorrow. We are not youth any longer. We are no longer young men. We have lost any desire to conquer the world. We do not want to take the world by storm. We are refugees. We are fleeing. We are fleeing from ourselves. From our lives. We are forlorn like children, and experienced like old men. Now we would wander around like strangers in those landscapes of our youth. We have been consumed in the fires of reality, we are free of care no longer. We might be present in that world, but would we be alive in it?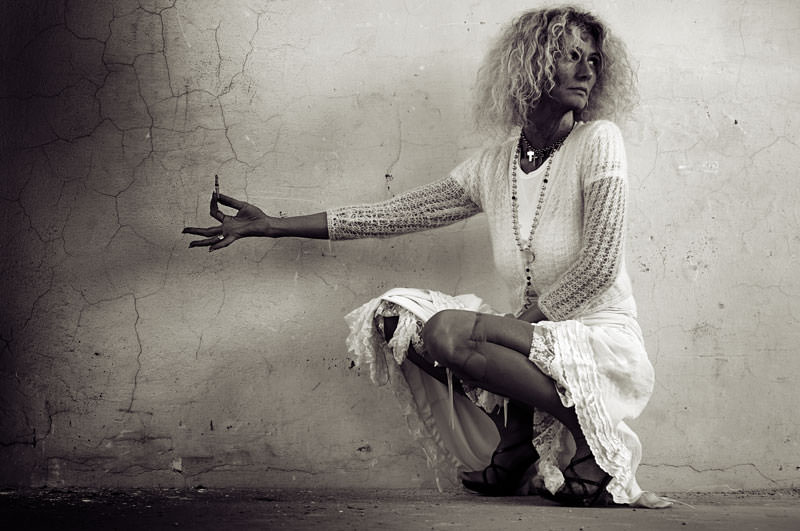 Welcome To Hell | To Photograph What You Know Is There Not What You Can See
Limited Edition of 3 Prints ▪ € 5.000.-
Did it start at the groundwork or did a chip from the upper ledge surrender to the force of nature? These veins along the wall are more than a distraction; they're a map that I study between slow drags and hazy dreams. A map to hell or blueprints to a maze with no escape. I watch him there watching me, but I can't find the strength to care about the run in my hose, my soul fully exposed. Not that he minds, all he sees are these legs that fit perfectly around his hips, the woman with words that rest easy on his lips. Let him stalk as I fight the battle inside, he won't step in unless I lose my way. In that case, it might be too late. Wait, I need a light. Now, back to this journey through my unraveling mind. Where am I exactly? This could be a secluded backstreet alley, where I'm able to rest my feet and reflect on the girl I used to be. Exploring the world with youth filled vigor, loving freely each thing that made my body tingle, my heart quiver. Or this could be a streetwalker's lover's lane, where I stop for a cigarette and weariness dissolves my refrain. What will tomorrow hold? That's where my thoughts settle as my limbs grow cold. I wear this crucifix around my neck, I know my voyeur is a few steps back, yet I feel unprotected ... alone. I know better than to let my weakness show. I'll plan to think about this later, but for now -- one more smoke. ~ Francesca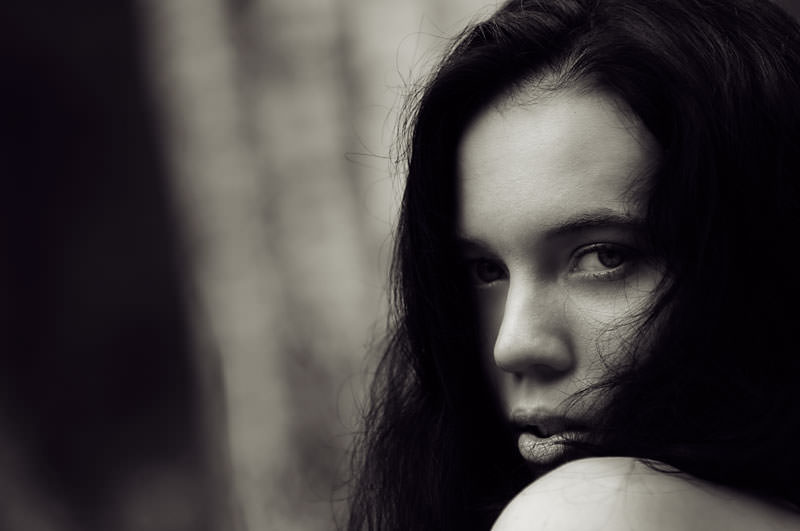 Shy | The Camera Obscura & The Girl Without A Pearl Earring
Limited Edition of 3 Prints ▪ € 5.000.- ▪
2 Left
Without the sincerity of your heart you would not be able to capture this moment of my being. What you were looking for, and what you found in me, and what you see, is just the sun at dawn. Shy, I get up with the morning light, innocent and natural. At this moment there is no color to distract us, black and white, so are our souls, motionless. I'm afraid of you; afraid of waking up in a world where man desires with violence. I stay away from your desires. Shy, wild, even rebellious, do not fool yourself – my youth doesn't lack of maturity. My hair covers my face as ivy covers the ruins of our ancestral ties. I am a woman. When you photograph me you immortalize our meeting, my eyes take you away to my mouth, I'd like to whisper 'I love you', for I perceive the truth in your heart. I would give everything, give my life, give up any vigilance towards you; but you still make me afraid – I do not understand your world. And I raise my shoulder to hide what I would tell you, yet I know I love you, like water flowing, like the wind that blows. But you cannot realize it; it's because of this distance that I have to put between you and me. That's why you see me shy at first – but I really am!
Miss Nice Saxing America | Out On That Open Road Swinging With The Old Cars
Limited Edition of 3 Prints ▪ € 5.000.-
The saxophone is the cocaine of the woodwind family. Saxophonists are admired because they are dangerous, because they have explored a darker, more sinister side of themselves. The saxophone speaks the language of the underground, the jaded melancholy of the half-light, grimy and sexy and sweaty and hard. It is the language of orphans and bastards and whores. I've been out on that open road, singing in the old bars, swinging with the old cars. That's the way the road dogs do it. That's the way I make my life an art. I grab my coat, I grab my sax, I'm restless. Things are calling me away. My hair is being pulled by the stars again. To hell, to hell with balance! I break glasses; I want to burn, even if I break myself. I want to live only for ecstasy. I'm neurotic, perverted, destructive, fiery, dangerous - lava, inflammable, unrestrained. Winter of my life, let's ride. Don't take me home again, take me to a new land. I've been traveling too long. I've been trying too hard, with one pretty song. I can escape to the great sunshine, make it out to the other side. Drugs, suck it up like Vanilla Ice-ys, treat me really nice-ys. My eyes are wide like cherry pies. I was born to live fast, die young, live my life on the run. Oh, my God, I feel it in the air. I'm on fire, I feel it everywhere, wonder if this is it, it's darkest before dawn. I fall asleep in an American flag. I'm Miss America, now I'm gone. I'm Miss America -- now I'm free.
A Blossom's Smile | Mystery Is A Hidden Laugh Always Ready To Surface
Limited Edition of 3 Prints ▪ € 5.000.-
It's not very easy to grow up into a woman. We are always taught, almost bombarded, with ideals of what we should be, but amidst all the many voices that bark all these orders and set all of these ideals for girls today, there lacks the voice of assurance. There is no comfort and assurance. I want to be able to say, that there are a few things admirable for a woman to be. It's always wonderful to be elegant -- elegance is a glowing inner peace. It's always fashionable to have grace -- grace is an ability to give as well as to receive and be thankful. It's always glamorous to be brave -- glamour only radiates if there is a sublime courage and bravery within. Glamour is like the sky; it only blazes because the clouds are there. And it's always important to own a delectable smile. Yes, wearing a beautiful smile is in style at any age. Wear it as you wear an exquisite perfum; to be wrapped and cradled in an enchanting scent upon your face is a magic all on its own. The notes in that precious smile will remind you that you love yourself and will tell other people that they ought to love you because you know that you're worth it. The love affair created by an alluring smile between you and other people, you and nature, you and yourself, you and your memories and anticipations and hopes and dreams; it is all too beautiful a thing -- woman is never overdressed or underdressed with a little seraphic smile.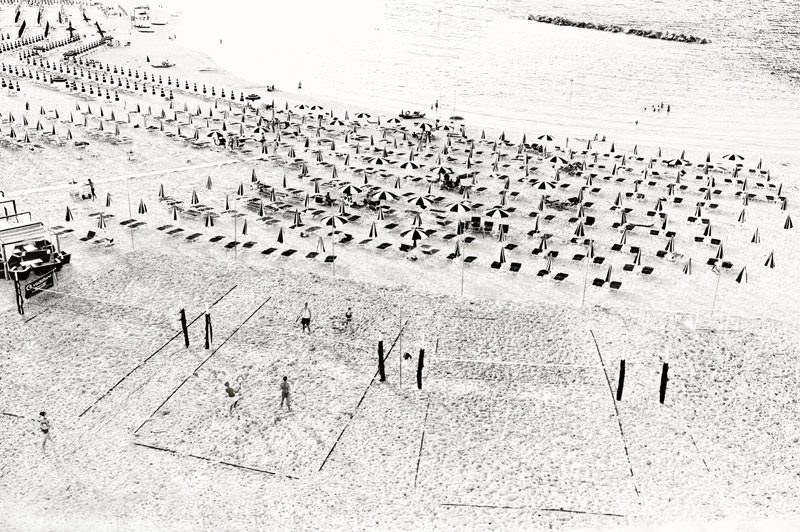 Cirque Du Soleil | Polka Dots Swept Ashore & Mr. Rossi Looks For Happiness
Limited Edition of 3 Prints ▪ € 5.000.-
Beauty – what is beauty, forsooth? Form and color; that is, surface only. Fortune – what is fortune? Nothing is ever a pleasure or a real profit to him who has to labour for it. Truth – you die in the pursuit, and the sea beats the beach as it did a thousand years ago. One cannot collect all the beautiful shells on the beach. One can collect only a few, and they are more beautiful if they are few. Some people might have a shallow understanding of what it means to be alive, but you don't need a whole lot. Barefoot on a beach, being in the water and smelling that salt air and hearing the seagulls. Running into the sea in the middle of the night. Seeing a mother in her beach chair, reading a book under an umbrella by the water's edge while her children play beside her. Take your time at a place you love, restore your spirit with books and the beach. The beach becomes a kind of Utopia -- the place where all your dreams might come true.