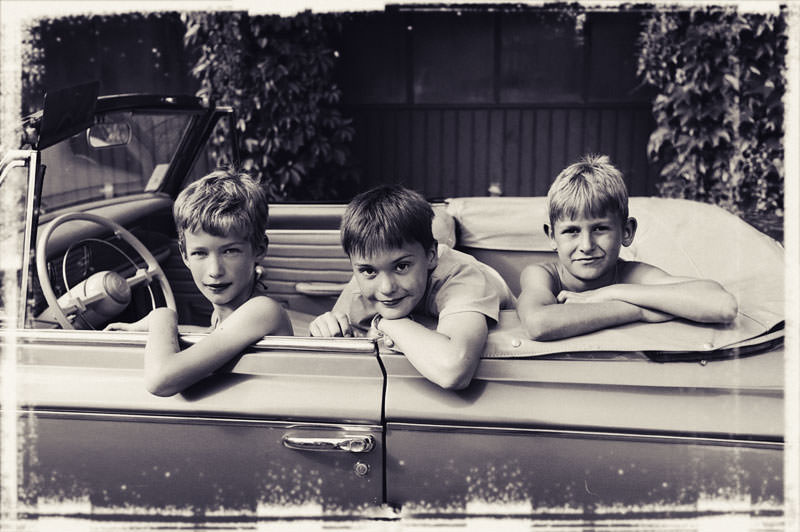 Three Flames | Look For A Man With The Heart Of A Boy And The Mind Of A Conqueror
Limited Edition of 3 ▪ € 5.000.-
The world is a heap of people, a sea of tiny flames. Persons shine with their own light. No two flames are alike; big flames and little flames, flames of every color. Some people's flames are so still they do not even flicker in the wind, while others have wild flames that fill the air with sparks. Some foolish flames neither burn nor shed light, but others blaze with life so fiercely that you can't look at them without blinking, and if you approach you shine in the fire. There are those of poor spirit and there are those of great spirit. None are without it but the flame flickers pretty low in some cases. The majority of people seem to be nothing but a little flickering flame. You know that when you match them against an individual who is all fire, all radiance. Those in whom the flame of the spirit runs high are extraordinary examples of human beings. If you are great you can stay that way and people will believe in you, swear by you, turn the world upside down for you. But if you are only partly great, or just a nobody -- then what happens to you is lost.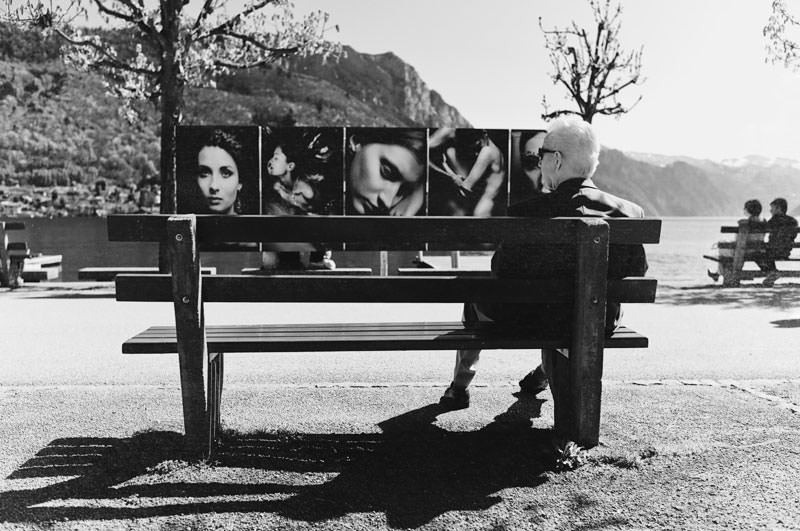 The Pictures Of Dorian Gray | Deceptive Images Of Youth Hover Before Us And We Search In Vain For Their Original
Limited Edition of 3 ▪ € 5.000.-
Youth is one of the great facts of the world, like sunlight, or springtime, or the reflection in dark waters of that silver shell we call the moon. It cannot be questioned. It has the divine right of sovereignty. You have only a few years in which to live really, perfectly, and fully. When your youth goes, you will fade with it, and then you will suddenly discover that there are no triumphs left for you. Time is jealous of you, and wars against your lilies and your roses. You will become sallow, and hollow-cheeked, and dull-eyed. Realize your youth while you have it. Don't squander the gold of your days, listening to the tedious, trying to improve the hopeless, or giving away your life to the ignorant, the common, and the vulgar. Live! Live the wonderful life that is in you! Let nothing be lost upon you. Be always searching for new sensations. Be afraid of nothing. The world belongs to you for a season, how tragic it would be if you were wasted. For there is such a little time that your youth will last. The common hill-flowers wither, but they blossom again. The laburnum will be as yellow next June as it is now. In a month there will be purple stars on the clematis, and year after year the green night of its leaves will hold its purple stars. But we never get back our youth. The pulse of joy that beats in us at twenty, becomes sluggish. Our limbs fail, our senses rot. We degenerate into hideous puppets, haunted by the memory of the passions of which we were too much afraid -- and the exquisite temptations that we had not the courage to yield to.
High Fashion | Dancing On Water Was Not Built In One Day
Limited Edition of 3 ▪ € 3.000.- ▪
2 Left
Now, everything above the horizon is clear to me. Death is behind me and birth too. I am going to live now among the life maladies. Tomorrow is the result of many yesterdays and comes with a potent, cumulative effect. I am tomorrow what I chose to be yesterday and the day before. It is not possible that tomorrow I may negate and nullify everything that led me to this present moment. The universe has dwindled; it is only a block long and there are no stars, no trees, no rivers. The people who live there are dead; they make chairs which other people sit on in their dreams. In the middle of the street is a wheel and in the hub of the wheel a gallows is fixed. People already dead are trying frantically to mount the gallows, but the wheel is turning too fast. Away with lamentation! Away with elegies and dirges! Let the dead eat the dead. Let us living ones dance about the rim of the crater, an expiring trampoline dance -- but a dance!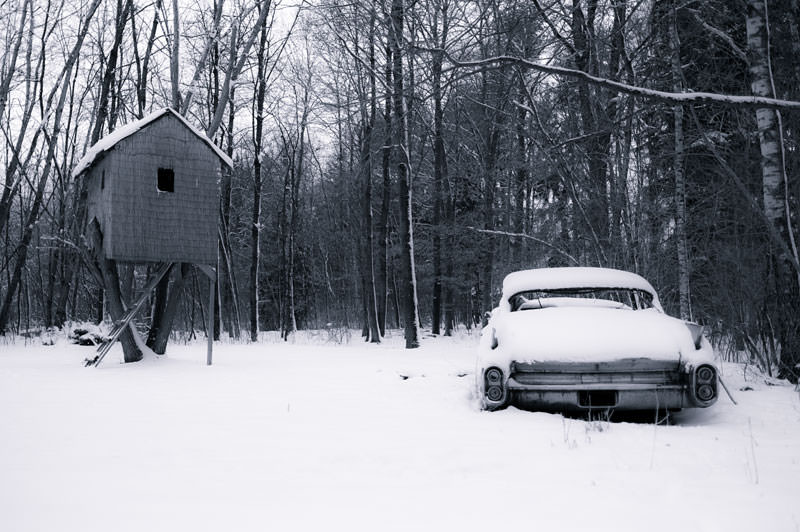 White Trash | Detroit's American Dream Without Miss Saigon
Cars are like rolling diaries, metal and plastic and paint tableaux of the last years of their lives. Every dent, every drooping slice of chrome, has a story behind it. The Fifties in the automotive industry were awesome. The cars were heavy, huge, rolling works of art. Now your soul is bowed down to the dust and your belly is stuck to the ground. A garden gnome, that is what you have become. Here you are, forgotten, rusted, sick, wrecked. What a destiny! White trash? A winter's bone? Meth or snow? No no no! Attracted by this sleeping old beauty, thrilled by this rare garden find, the camera went around the sealed white body, studying the cold, white coffin where the Cadillac S. De Ville resides in a safe slumber. Dear Caddilac S. De Ville, you are hiding layers and layers of hot dreams and riches, oh, if only I could be the one to break through your winter sleep and crank your engine to burning life again; to help you to remember the when and where you came from, the era, the spirit – and the dream peddlers – who had created you. But the classic beauty just wearily yawned: "Why would you care to wake me? If a dream is meant to die -- shall it live again?"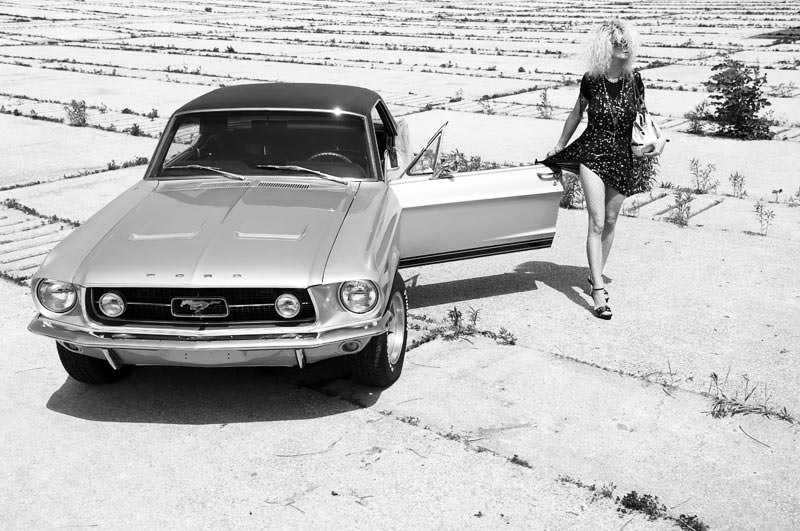 Vanishing Point | The Road Must Eventually Lead To The Whole World
Limited Edition of 3 ▪ € 5.000.-
Awakened by the pulse of the glittering asphalt jungle pounding in my ears. Sending up a silent invocation to any deity that might hear; let it be the thundering of wild horses just outside my window, knocking on my soul. And there it is again, a persistent summons; mount up girl, it's time to ride. I look outside, my naked frame is hidden behind drapes of black. The skeletal truth is there staring back. No wild Mustangs only metal and steel and dying dreams. I lick my lips, salty and dry, Whiskey's sweetness lingers in the cracks. Contemplating my next course of action, I slip on a short little number that feels like freedom on my flesh. I find the answer as my mind wanders by, it's glaringly clear; time to get out of here. Gonna venture to the desert, where it's as hot and bitter as me. My pony may be a bit more tamed, but he's a fierce metal steed, indeed. Waiting, salivating, hungry for deliverance, hungry for me. We race to the outskirts, devouring the open road. Yet, try as we may we can't seem to escape the concrete chains. At least we're finally alone, my horse with no name, and me. I dismount quickly, shedding the layers from my skin, no longer cloaked by choking inhibitions. The sun and the stallion, the only witnesses to my liberation -- the only companions I need. ~ Francesca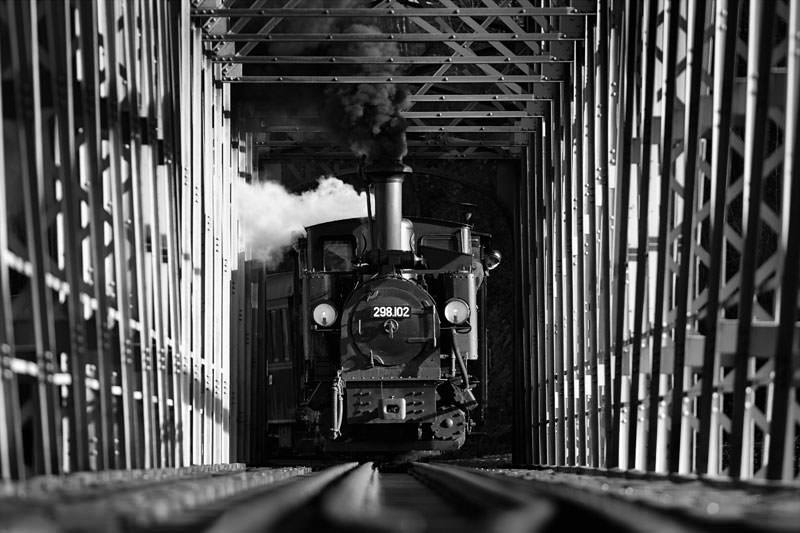 Steam and Steel | If You Miss The Train I'm On You Will Know That I'm Gone
Limited Edition of 3 ▪ € 5.000.-
I lie down on many a station platform; I squat on many a bench; the landscape glides past the waggon's windows with its villages, their thatched roofs like caps, pulled over the white-washed, half-timbered houses, its corn-fields, gleaming like mother-of-pearl in the slanting light, its orchards, its barns and old lime trees. It becomes disturbing, mysterious, and familiar. I stand at the rattling window and hold on to the frame. The train stamps and stamps onward. The names of the stations begin to take on meaning and my heart trembles. These names mark the boundaries of my youth. But youth is a baffling time. The present moment is nice but it does not last. Living in it is like waiting at a railway junction for the morning train; some day you will have to leave it and you do not know where the train will take you. Sooner or later you must move down an unknown road that leads beyond the range of the imagination, and the only certainty is that the trip has to be made. In this respect youth is exactly like old age; it's a time of waiting before a big trip to an unknown destination. The chief difference is that youth waits for the morning train -- and age waits for the night train.
Veritas | A Car Is Coming But The Cat Knows It's Not A Snake
Limited Edition of 3 ▪ € 5.000.- ▪
2 Left
Life is not a journey to the grave with the intention of arriving safely, but to skid in broadside, thoroughly used up, worn out, and defiantly shouting 'wow, what a ride!' There are only two mistakes one can make along the road to self-fulfillment; not going all the way, and not starting. Life is one big road with lots of signs. So when you riding through the ruts, don't complicate your mind. Don't bury your thoughts, put your vision to reality. Wake up and live. There are roads known by everyone and there are roads known by no one. Choose the second, the mysterious one where many glories are hidden. The middle of the road is where the white line is -- and that's the worst place to drive.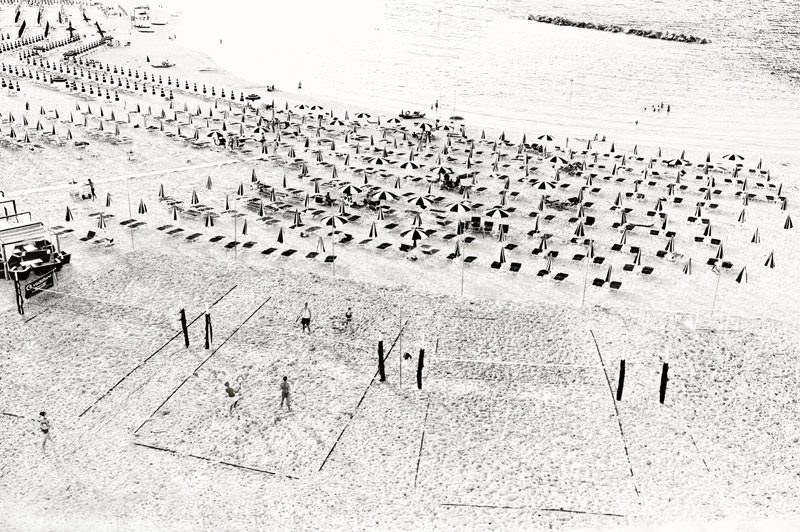 Cirque Du Soleil | Polka Dots Swept Ashore
Limited Edition of 3 ▪ € 5.000.-
Beauty – what is beauty, forsooth? Form and color; that is, surface only. Fortune – what is fortune? Nothing is ever a pleasure or a real profit to him who has to labor for it. Truth – you die in the pursuit, and the sea beats the beach as it did a thousand years ago. One cannot collect all the beautiful shells on the beach. One can collect only a few, and they are more beautiful if they are few. Some people might have a shallow understanding of what it means to be alive, but you don't need a whole lot. Barefoot on a beach, being in the water and smelling that salt air and hearing the seagulls. Running into the sea in the middle of the night. Seeing a mother in her beach chair, reading a book under an umbrella by the water's edge while her children play beside her. Take your time at a place you love, restore your spirit with books and the beach. The beach becomes a kind of Utopia -- the place where all your dreams might come true.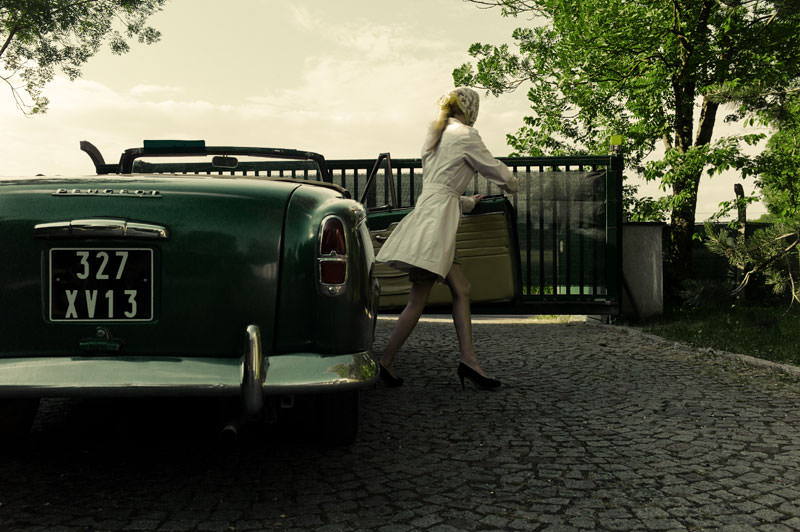 Mrs. Columbo | Where Is Your Wife, Lieutenant?
Limited Edition of 3 ▪ € 5.000.-
Do you ever wonder? Do you ever wonder if you're the only person that feels like a co-star in your own life story? I'm not afraid to tell you, I do. And it's not even a drama, far less than a saga. My angst is probably self-induced, like a self-inflicted gunshot wound. I'm a passenger behind the windshield of this borrowed ride. My persona, no more than a glorious piece of machinery that's stealing my spotlight. I can feel the tingle in my fingers and see the white of my knuckles, evidence of my death grip on the wheel. There's an ache in my calf that screams for me to let up, the pedal has nothing more to give. But wait, I see! The passenger surely can't be the driver. I'm in the wrong seat. It's time to kick up my heels and let my paparazzo undress me. I feel his prying eyes and temptation overcomes. I have a heated desire to lay myself bare beneath his microscope. To hit my accelerator and fly like the wind, right up to his lens. Let him tell the story of me. Let him define my strength. What will he do with the glimpse of the woman that is hidden behind the myth? Will his camera breathe life into the ghost of me or will the negatives reveal that I'm as shallow as I seem -- nothing more than a silhouette on a screen? ~ Francesca