Beach Dolls | I've A Huge Collection Of Barbies Scattered On Beaches All Over The World
Open Edition
While photographing some colorful and fanciful shaped beach dolls at dawn, stagnant in my work, I looked down the curving shore and, in the distance, I saw a human figure moving like a dancer. As it got closer, I noticed that the figure was that of a young man and that what he was doing was not dancing at all. The young man was reaching down to the shore, picking up small objects, and throwing them into the ocean. He kept on bending and throwing as he walked the endless stretch toward me. As he came near, I could see that he was throwing starfish, abandoned on the sand by the tide, back into the sea. When he was close enough I asked him why he was working so hard at this strange task. He replied that the tide is going out and that the sun is up and would dry the starfish and they would die. I said to him that I thought it was foolish and that he should realize that there are miles and miles of beach and there are starfish all along every mile. One man alone could never make a difference. He smiled as he picked up the next starfish, and while hurling it far into the sea he said: "Well, it makes a difference for this one!" -- I abandoned my work on the beach dolls and spent the morning throwing starfish.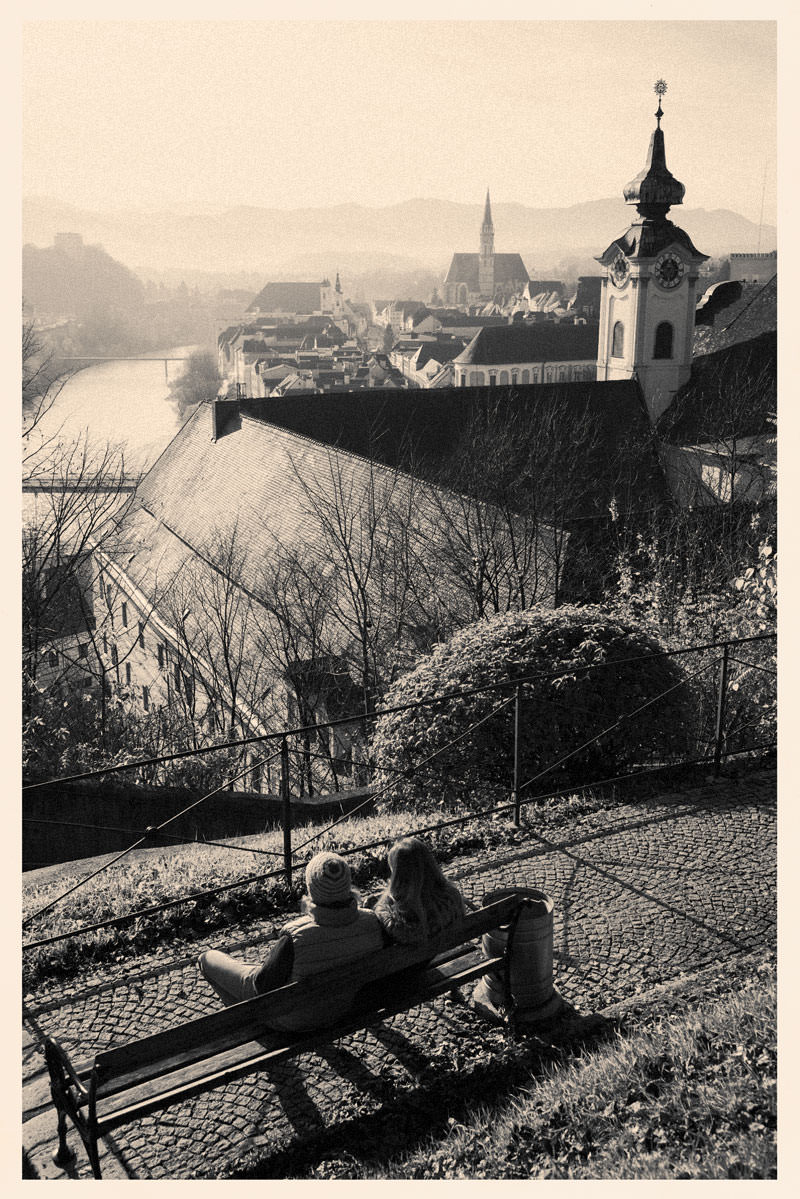 Bancs Publics | Memory's Images, Once They Are Fixed In Photographs, Are Erased
Open Edition
The catalogue of forms is endless: until every shape has found its city, new cities will continue to born. When the forms exhaust their variety and come apart, the end of cities begins. With cities, it is as with dreams: everything imaginable can be dreamed, but even the most unexpected dream is a rebus that conceals a desire or, its reverse, a fear. Cities, like dreams, are made of desires and fears, even if the thread of their discourse is secret, their rules are absurd, their perspectives deceitful, and everything conceals something else. It makes sense to divide cities into these two species: those that through the years and the changes continue to give their form to desires, and those in which desires either erase the city or are erased by it. The traveler is invited to visit the city and, at the same time, to examine some old postcards that show it as it used to be: the same identical square with a hen in the place of the bus station, a bandstand in the place of the overpass, young ladies with white parasols in the place of the factory. If the traveler does not wish to disappoint the inhabitants, he must praise the postcard city and prefer it to the present one, though he must be careful to contain his regret at the changes within definite limits: admitting that the magnificence and prosperity of the metropolis, when compared to the old, provincial region, cannot compensate for a certain lost grace, which, however, can be appreciated only now in the old postcards, whereas before, when that provincial town was before one's eyes, one saw absolutely nothing graceful and would see it even less today, if the city had remained unchanged; and in any case the metropolis has the added attraction that, through what it has become, one can look back with nostalgia at what it was.
Rider On The Rain | Could Ya Give Me A Lift, Mista?
Open Edition
Be ever mindful, dear Sir, that not all pretty faces have pretty intentions and not all lone travelers are lonesome. Gingerly she began placing the gimcracks away, and stood slowly, in a most refrained way. She was in the process of straightening her sundress and trying to appear not to notice him when she caught his attention and his foot found the brake. The car skidded on the gravel for a few feet before coming to an abrupt stop almost kissing her knees. She bit her full lip to resist the urge to grin, cut her obsidian eyes and lowered her delicate chin. The introductions were short as she was so exhausted and overcome from these hours on the road, helpless and stunned. He rose valiantly to the call of shining knight, scooping her up into his chariot to her carnal delight. And as he began to load her things from the ditch, she watched his muscles dance beneath his shirt and began to savor this latest hitch. Little did he know, this clueless stranger, that nothing going through his mind was a mystery to her. She knew what he was thinking, she knew that he was like all the others. A bee drawn to her nectar, not keen enough to realize that the more beautiful the flower, the sharper the thorn. She took great care to assure that her hem rode up just enough to keep him distracted, to shake him a bit, for his nervous chatter was quite revealing. He was not a knight after all, that much she knew. He would prove his worth eventually, his true colors would show and she would be free to take control. He never saw the glint of the blade, as the stars blinked as to not witness and her dagger set him straight. And so, dear knight of the road, take care when a sweet hitchhiker attracts you on the crossroad -- your name might already be written on Hell's gate! ~ Francesca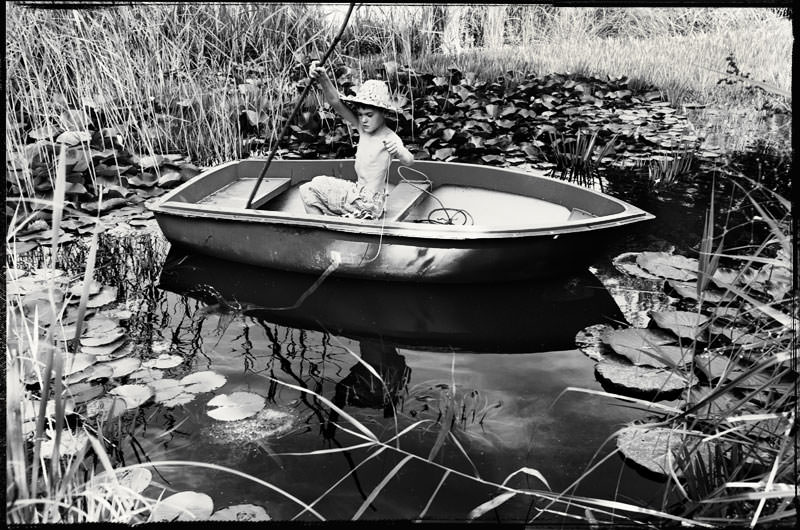 Fishing For Whales | The Depths Of Dark Ponds Hold The Mysteries Of Life
Open Edition
It is as important where a young man begins his journey with daydreams, as when. Fantasies spawned in youth, with lily pad squatters croaking out nature's secrets, stir the imagination and set a boy to wonderment. The depths of dark ponds hold the mysteries of life, none of which can be seen by the naked eye. Yet, the agile mind of boyhood finds caverns and creatures seemingly not of this world, not of these times. Silver scaled beasts diving and darting. Snake tailed salamanders lurking amongst the brush, glimpses of color against a black and white backdrop. The hum of a dragonfly, off on a mission, carrying precious information to woodland allies hidden nearby. The mystique of hard shelled guardians that rise to the surface in calming silence to offer a warning, stay up top to avoid the marsh monsters. As you can see, fishing for whales is not easy work, with their tall tails spinning even taller tales. The riddles of the life of a man begin with a boy, a pole, and rickety boat. ~ Francesca
A Bar At The Folies-Bergère | Where Black Silk Stockings And Red Skirts Are Expertly Used To Provoke
Open Edition
Not a soul in the world could be in despair when glancing at the fabulous stage des Folies Bergère. It is the locus of nocturnal pleasures drawing the artists, the men, whose masculinity filters through to the performers on the thick curling smoke of their cigars. The theater is smoldering, and backstage this season's guests, the American Ziegfeld 'Line Dancers' are warming up supple, nimble limbs. With much laughter, the women anticipate the enticement, excitement and jazzed-up fun that they command with their infinite, boot-clad legs showcased by the black silk stockings. Plush red skirts are expertly used to provoke the men, stir them into a feeding frenzy. Madame Suzon, Manet's favorite Folie, walks through the disarray of undergarments, perfume, costumes and partially naked girls, receiving sultry smiles as she passes. Women share the sensuality, fuel it, feed it. They prepare to deliver the promised experiences, tastes and flavors of the night. The penetrating bass sounds of the orchestra work them up to the point that as Offenbach beats they synchronize, dance, scream with a passion that elevates Orpheus' lover from the Underworld on his behalf. Yes! They all can dance the 'Can-Can' in Picasso's 'Jardin de Paris' but not Madame Suzon. She is the vendor of drinks and love and passion and she is the perfect illusionist. She removes her clothing and so slowly loses herself as she slips into the professional persona of the star of the Folies. Her corset tight - tighter - 'for she is the quintessential personification of Warhol's shapely designed Coke bottle and eyes the British 'Big Cat Jag' that just drove in. She smiles knowing she won't be denied because she is to the Folies like Polaroid is to color -- and hers is the original taste! ~ Kalahari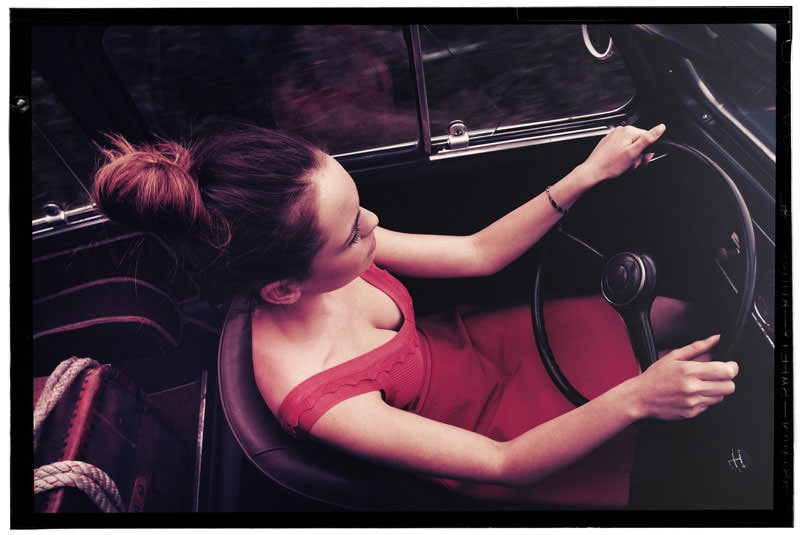 Rope | Riding With Cicciolina
Open Edition
Cicciolina takes you on a journey of revenge, lust, and sacrifice. What many would see as a stunning young woman turns out to be a cunning vixen, rotten as an apple hung too long on the tree well into fall. Left by her father too early in life, the victim of men and their lecherous eyes, scarred from years of broken hearts and lies, our darling Cicciolina takes to the road. With her suitcase in tow she hunts, patiently, innocently - driven by a well-calculated plan. Taking a man's car, his heart, and much more to make peace with the pagan Gods who haunt her night after night. Every lover a lamb to the slaughter. The roles were reversed and the wolf now slayed. A quick flick of the wrist and the tables turn, she claims his heart, his soul to burn. Sadness and anger the fertilizer for her growing orchard of mistrust, deceit, and revenge. Revenge upon the entire species. The pedal to the metal, every mile adding to her intoxicating allure. In search of an oblation, a sacrificial lamb to cleanse her dark soul. If you have wheels that catch her eye and a selfish hunger that you can't disguise, be warned, you will be next to find the burn that comes from meeting her rope. The rope that bound it all, that kept her secrets wrapped up tight, was the one thing that onlookers could see but few could truly know just how special it really was. Much more than a rope, a trusted tool, a friend to the end. ~ Francesca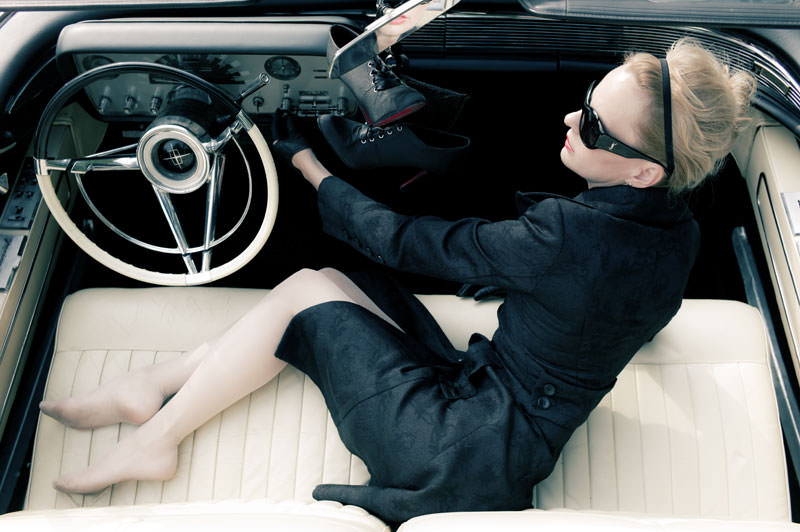 Les Louboutin | Collars Are Buttoned Down So They Don't Flap In Your Face When You're Playing Polo
Open Edition
"I'll stop wearing black when they invent a darker color!" There was an immediately perceptible vitality about her as if the nerves of her body were continually smoldering. She smiled slowly and, walking through her husband as if he were a ghost, shook hands looking him flush in the eye. Then she wet her lips, and without turning around spoke to him in a soft, coarse voice: "If you want to be safe, go back to your tiny house - the night sky is not for you. The road is life, if you want to be torn apart, let's go and you will be broken open and devoured, set ablaze in my fire not leaving well dressed, in finely-threaded clothing that keeps out the cold. I will leave you naked and biting in the backseat. So, come to me, and be healed of the unbearable white and black of all that you are. I will become a raging river, and spill myself upon your thoughts, can you love me under the starry sky, shaved and smooth, my skin like liquid moonlight?" Perception is everything and she drove him to distraction as he intimately pictured her in his dreams. She is the quintessential instinctual criatura and her style is her expression. Her style is her silent speech, a certain flow of mind-to-skin that must be understood. Black has it all, white too, their beauty is absolute. Her style is her sentiment, it is what she shares, it's those intimate words she shares every time she looks into the mirror -- or every time she looks at her photographs.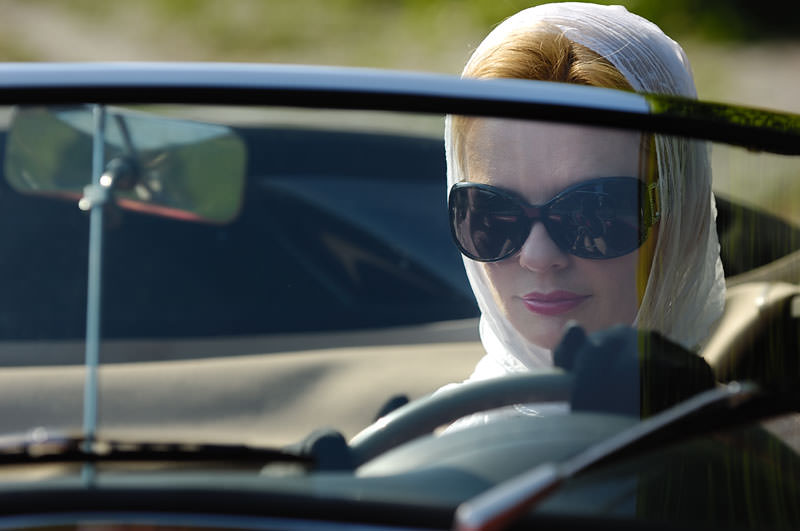 Movie Style | Chinese Porcelain Dolls Are Made Out Of Real Bones
Open Edition
Ordinary women never appeal to one's imagination. No glamor ever transfigures them. One can always find them, obtainable everywhere, at all times. No mystery is in any of them. They show their stereotyped smile and their fashionable manner. They are quite obvious. She takes a drive today, time to emancipate. From her handbag she takes a round gilt compact with violets on the cover. She opens it, unclosing her other self, and runs her fingertip around the corners of her mouth, left one, right one; then she swivels a pink stick and dots her cheeks and blends them, changing her shape, performing magic to herself. Pink on the cheeks; black discreetly around the eyes, as red as blood as black as ebony, a seamed and folded imitation of a magazine picture that is itself an imitation of a woman who is also an imitation, the original nowhere, a captive princess in someone's head. Even an immaculately crafted porcelain doll could not have been as lovely. Beauty is given to dolls, majesty to haughty vixens -- but mind, feeling and the crowning grace of fortitude are the attributes of an angel.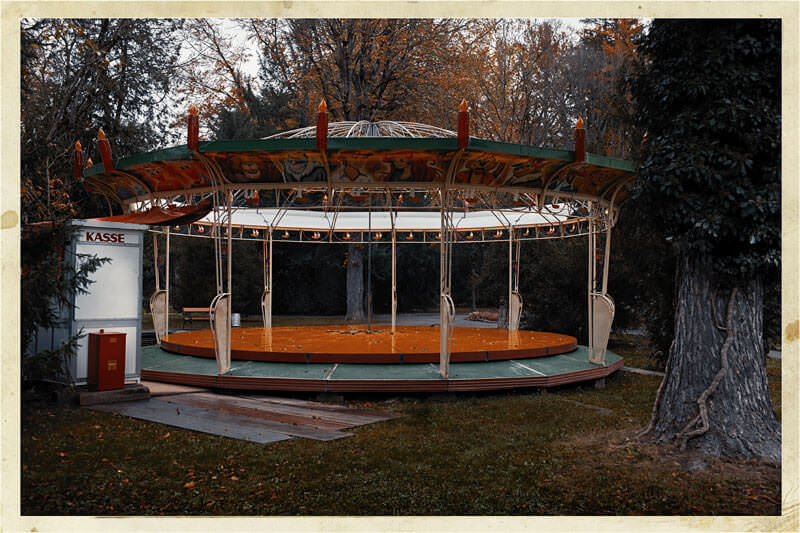 Hippodrome | They Shoot Horses, Don't They?
Open Edition
It's disturbing. Where did everyone go? Children, horses, parents milling around the perpetual motion of the carousel. The people watchers and the people pleasers; all distracted by the magical joy of the amusing park. The spinning of the carousel eases us into the lull of dreamlike wonder, the place of our memories represented by the ticket printed on cheap paper. When the movement stops, we are confronted with reality. The deconstruction of the fairytale whose age-old wisdom is revealed through the dissolution of the disillusion. Absent mothers, always protective, allow for risk-taking and adventure that might turn into emotional growth. The fragile little princess, through suffering, becomes an adult and probably a strong woman. Some would need repeated experiences but the ticket allows only one turn at a time. Some might hope that other carousels will follow, and will be compelled to get up and try the different shapes and dimensions of the various emotional swings. Life demands fulfillment of assigned, preconditioned roles. So the carousel keeps on turning and can lead to emotional conditioning in life. The up's and down's, within predetermined patterns, is permitted, just don't jump off - the carousel offers no exit. Comply. Submit. Discipline, or existential boredom? Emptiness powers the jump, but knowledge gives the power of choice. At some point there was, or will be, a preprogrammed turn where inevitable shouts of joy cherish the dream of the moment where magic invades the little bodies. The choice and the given ride becomes electrifying. From constancy and repetition, surrounded by the sound and lights, the hypnotic effect arises, and emotional dressing is gained -- till the last horse. ~ Deise Lemos Almeida
Washed Out | Blue Doesn't Go With Everything - We Need To Read The Colors To Find Fantasy Again
Open Edition
Creative photographers bring forward to light, to presence, to life, the unseen by others. Photography is an elegiac art, a twilight art. Most subjects photographed are, just by virtue of being photographed, touched with pathos. An ugly or grotesque subject may be moving because it has been dignified by the attention of the photographer. A beautiful subject can be the object of rueful feelings because it has aged or decayed or no longer exists. The very question of whether photography is, or is not, an art is essentially a misleading one. Although photography generates works that can be called art, it requires subjectivity, it can lie, it gives aesthetic pleasure, Photography is not, to begin with, an art form at all. It is a medium in which works of art, among other things, are made. One would think that a photographer finds the images but the truth is the images should find the photographer. This happens when one is receptive, being alert and curious, keeping an open mind. The photographic skill is reflected in the photographer's ability to create an experience of the image and successfully convey it to the viewer in that single frame -- photograph what you know is there, not what you can see.