Needful Things | I'm A Sinner First And An Angel Second And I'm Not Here For Long
Limited Edition of 3 ▪ € 7.000
He sees himself as an artist. He does have an obsessive eye for beauty. Molded to his tastes she allows for the moment of elusive perfection, mirroring his darkest desires, to be captured precisely. It is the beauty of art, he thinks. To allow for feeling, or intuition to be expressed. The little limbs of perfection are positioned in just the right way easier now that the struggling has stopped. The textured silkiness of her hair fanned on the still damp grass, her carmine mouth his alone. He works with a passion radiating from his eyes and an insatiable hunger fueled by the moment. This is a beautiful location. It mirrors a town that does not tell its name or its past, thought the photographer seeking inspiration. That's when he noticed a beautiful little doll nestled in the grass. It sparked his eye, and he started capturing the image. A man's rapid, desperate voice is heard. The sound radiating from a soulless room, mirroring an ugly reality. The voice stems from a bruised and bloodied face. His expression desperate and with the look of murder in his eyes, he tells, bored from depersonalization, how it was his job to protect his younger sister. An entire wall in this place covered with the grainy photographs of missing persons, all but one or two, are beautiful, young women and girls. The police pin the latest one. She was a commodity. An asset. Her trafficker exists in a place where humanity is lost. She was desperate, used and abused in unimaginable ways and, she is not alone. My sister, says the man, was carrying a little doll. ~ Kalahari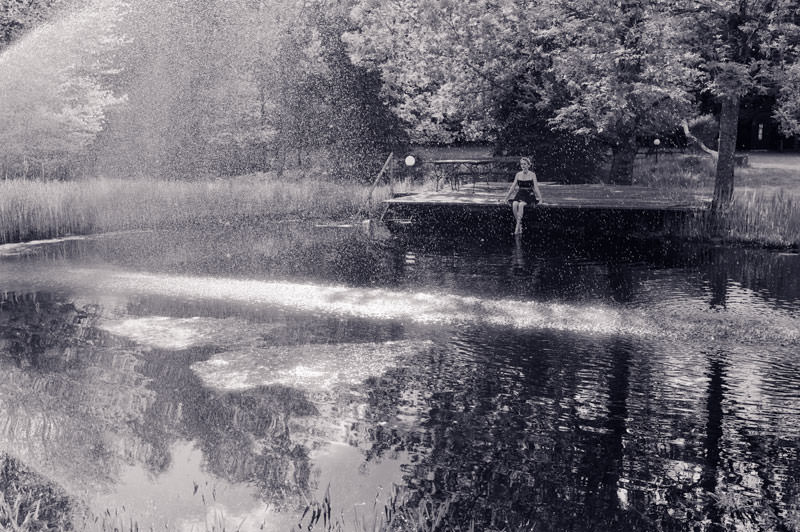 La Piscina | I like The Monologue Even More Than The Duet
Limited Edition of 3 ▪ € 5.000 ▪
2 Left
I live in perpetual expectancy. You come and the time slips away in a dream. It is only when you go that I realize completely your presence. And then it is too late. You numb me. I am saying to myself: here is the first woman with whom I can be absolutely sincere. You could fool me, I wouldn't know it. I can't fool you; and yet I would like to. I can never be absolutely loyal, it's not in me. I love women, or life, too much, which it is, I don't know. I don't know what to expect of you, but it is something in the way of a miracle. I am going to demand everything of you, even the impossible because you encourage it. You are really strong. I even like your deceit, your treachery. It seems aristocratic to me. You make me happy to hold me undivided - to let me be the artist, and yet not forgo the man, the animal, the hungry, insatiable lover. No woman has ever granted me all the privileges I need but you - why you sing out so blithely, so boldly, with a laugh even - yes, you invite me to go ahead, be myself, venture anything. That is where you are truly regal, a woman extraordinary. I laugh to myself now when I think of you.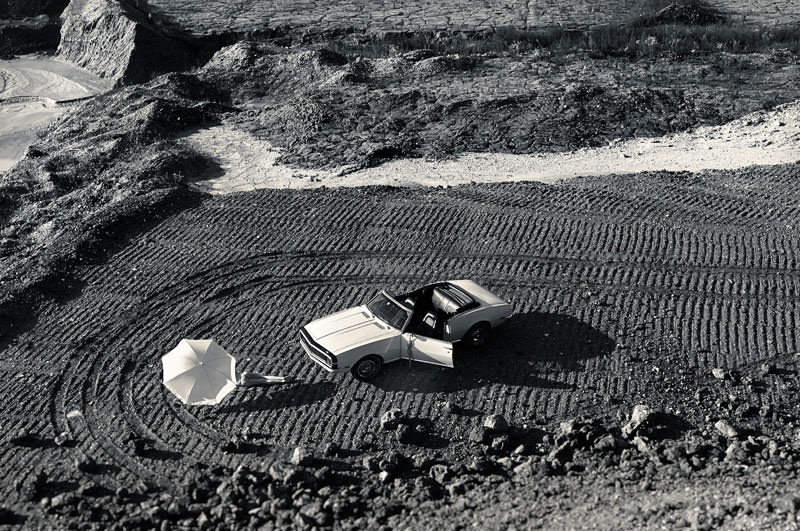 Miss American Pie | The Heartbeat of America
Limited Edition of 3 ▪ € 5.000
Is a dream a lie if it doesn't come true, or is it something worse? 'Wall Street' once has turned into 'Route 66'. The Great Depression answered the financial crash of '29 followed by the 'Dust Bowl', formerly the greatest natural catastrophe caused by man's excess. Homes for sale or rent. Rooms to let - fifty cents. The world has enough for everyone's need, but not enough for everyone's greed. Miss American Pie drove her Chevy to the levee, but the levee was dry. Eight miles a gallon and driving fast, she landed foul on the grass. No James Dean to borrow her a coat. Moss grows fat on a rolling stone and while we were looking down, the jester stole the thorny crown. Jack is nimble, Jack is quick, Jack Flash sits on a candlestick. No angel born in Hell and fire is the Devil's only friend, and the three men we admire most, The Father, Son, the Holy Ghost, they caught the last train to the coast. There we are, all in one place. A generation lost in space. No time left to start again, but them good old boys are drinking Whiskey and Rye, singing "Bye-bye, Miss American Pie, this will be the day that we die."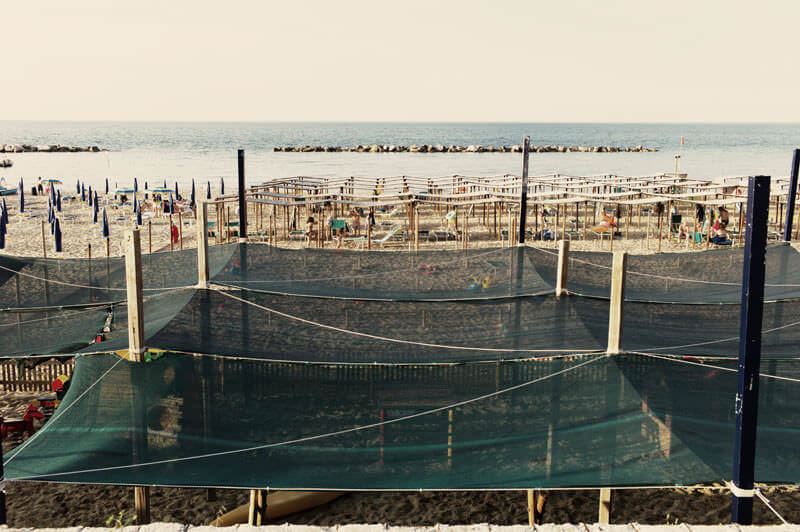 Lido Panfilo | Human Consciousness Strips On An Empty Chessboard
Limited Edition of 3 ▪ € 5.000
There are days, nevertheless, when the sun is out and I get off the beaten path. Now and then, I get to thinking about another way of taking pictures, get to wondering if it would make a difference. I used to photograph landscapes without any people in them but now I picture people who happen to be in a particular place. The Italian beach with its pulsating life is a very rich, fertile ground for the photographer's 'Peeping Tom' aspect. In the upcoming day's foggy morning light, I had put long strips of film rolls out, in geometric patterns, and abandoned them on the shore - just like bread crumbs for the pigeons downtown. I wanted people to find something nice and intriguing to puzzle over. Then, I went back to see if the things were still there, or if anyone would have noticed. I've set the scenery. I set up the cage. The trawl, a photographer's Trabucco, was out and ready to haul. And I waited. And I observed the groups of people, the lounging grace with which they wore their swimwear like robes, their sense of always being on display; parading and cat-walking the strip's sand. Alas, how thin and insecure is that little beach of white sand we call human consciousness.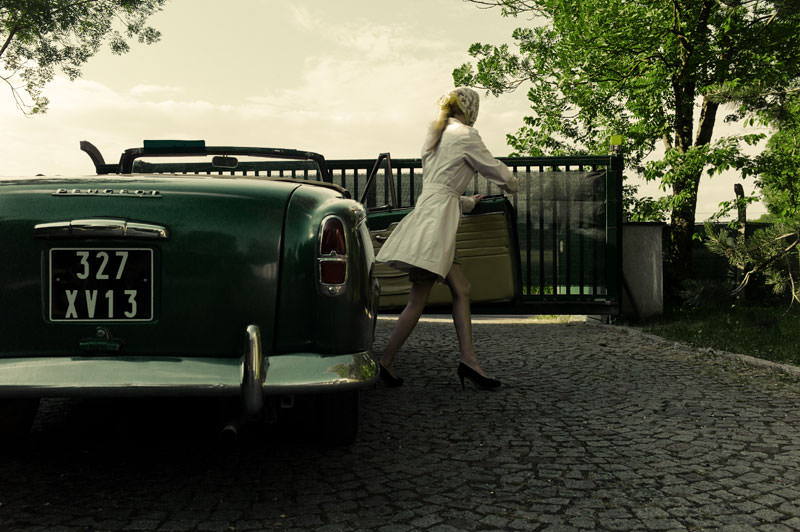 Mrs. Columbo | Where Is Your Wife, Lieutenant?
Limited Edition of 3 ▪ € 5.000
Do you ever wonder? Do you ever wonder if you're the only person that feels like a co-star in your own life story? I'm not afraid to tell you, I do. And it's not even a drama, far less than a saga. My angst is probably self-induced, like a self-inflicted gunshot wound. I'm a passenger behind the windshield of this borrowed ride. My persona, no more than a glorious piece of machinery that's stealing my spotlight. I can feel the tingle in my fingers and see the white of my knuckles, evidence of my death grip on the wheel. There's an ache in my calf that screams for me to let up, the pedal has nothing more to give. But wait, I see! The passenger surely can't be the driver. I'm in the wrong seat. It's time to kick up my heels and let my paparazzo undress me. I feel his prying eyes and temptation overcomes. I have a heated desire to lay myself bare beneath his microscope. To hit my accelerator and fly like the wind, right up to his lens. Let him tell the story of me. Let him define my strength. What will he do with the glimpse of the woman that is hidden behind the myth? Will his camera breathe life into the ghost of me or will the negatives reveal that I'm as shallow as I seem? Nothing more than a silhouette on a screen? ~ Francesca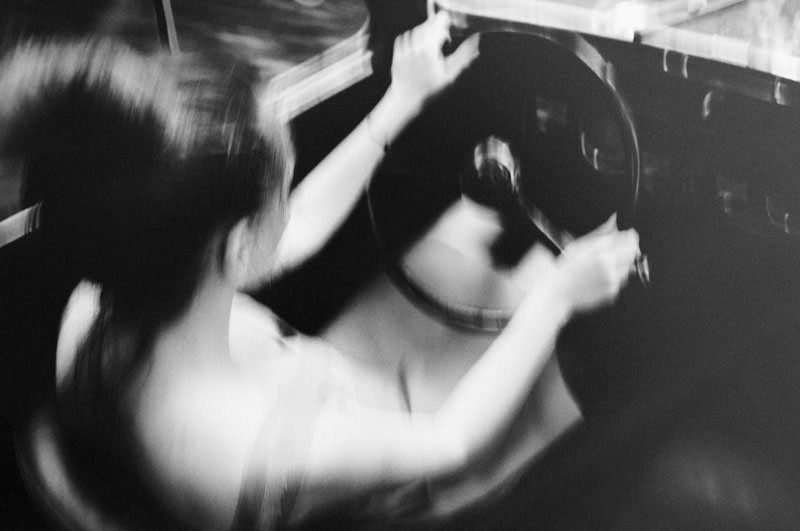 Vertigo | The Pedal To The Metal She Floors It To 140 And Screams
Limited Edition of 3 ▪ € 5.000
He lifted her to heights she'd never known, now her fall from his grace finds her with vertigo. Unable to focus, the world passing in a blur, her mind spinning faster than these blackwall tires. Reeling from the whiplash of his final impact, she leans on an old friend that never looks back. The road never wavers, he shares her desire. Give and receive, a mutual fire. The more she gives he simply opens wider. There are days so breathtaking she must share them with him alone. Let him lead her to places she never dreamed she could go. Nights so lonely she's nowhere else to turn, they ride in comfortable silence, nothing but miles to burn. She always comes back to him when she needs to escape. He eagerly accepts her, never hesitates. Listens intently to her unspoken fears, wipes away each of her lingering tears. Brings her horizons painted just for her eyes and shares with her vistas words can't describe. As daylight wanes and her grip on life fades, he brings the stars into sight and she can finally breathe. Letting out a sigh of liberated relief, she lets the night air of Spring set her free. ~ Francesca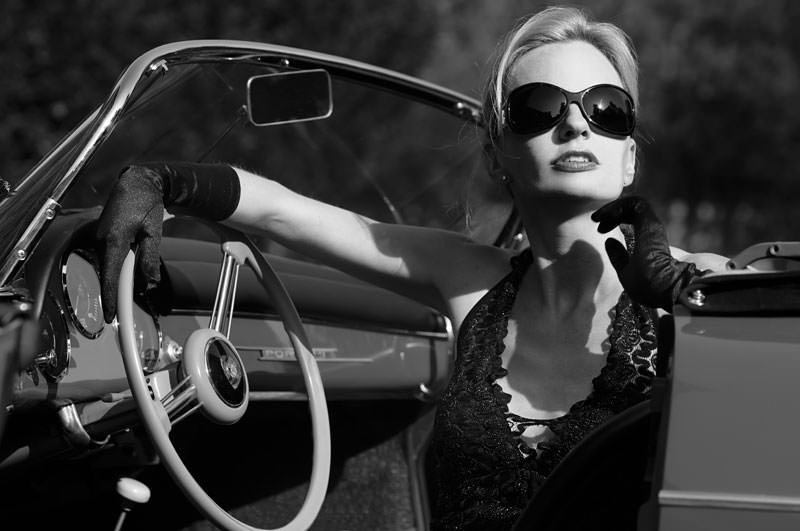 Lady Carrera | I'm Planning On Buying 20 Porsche And Crashing Them All Just For The Extravagance
Limited Edition of 3 ▪ € 5.000
There are some girls, that never become women. And some women that never become ladies. Females are innately the more vulnerable species, though saying so out loud just pisses them off. But it's the truth. Leading with emotion, hearts on sleeves, timid and subservient due to low self-worth; low self-esteem. Those that are happy to remain girls don't question their inner strength. They have not been tempted by the fruits of their own minds, by the ache of their untouched souls, by the places deep within the female body that once touched, must be touched again and again, or she'll fade away. Those girls kneel before life, without the call to submission, but simply because that is where they fit comfortably in their own existence. What makes a woman a woman, is the ability to allow the call of her inner Goddess to be heard by all parts of her being. Finding her inner masochist, her inner witch, her inner Aphrodite, by allowing temptations of the mind and flesh to seep into her soul. That woman craves the strength her power instills in her. And she craves even more a man that can take her power and make her even stronger, by relieving her of it. The burden of power can be heavy for a female, and sometimes a woman needs to be a girl. And as for the woman that may never be a lady, she is unique. Some women can turn off the inner beast, present themselves with a certain level of reservation, in the right company. But some, those truly wild creatures, are of the rawest natural state. Those are the women that need to be tamed, by one that holds their best interest, within his reins. ~ Francesca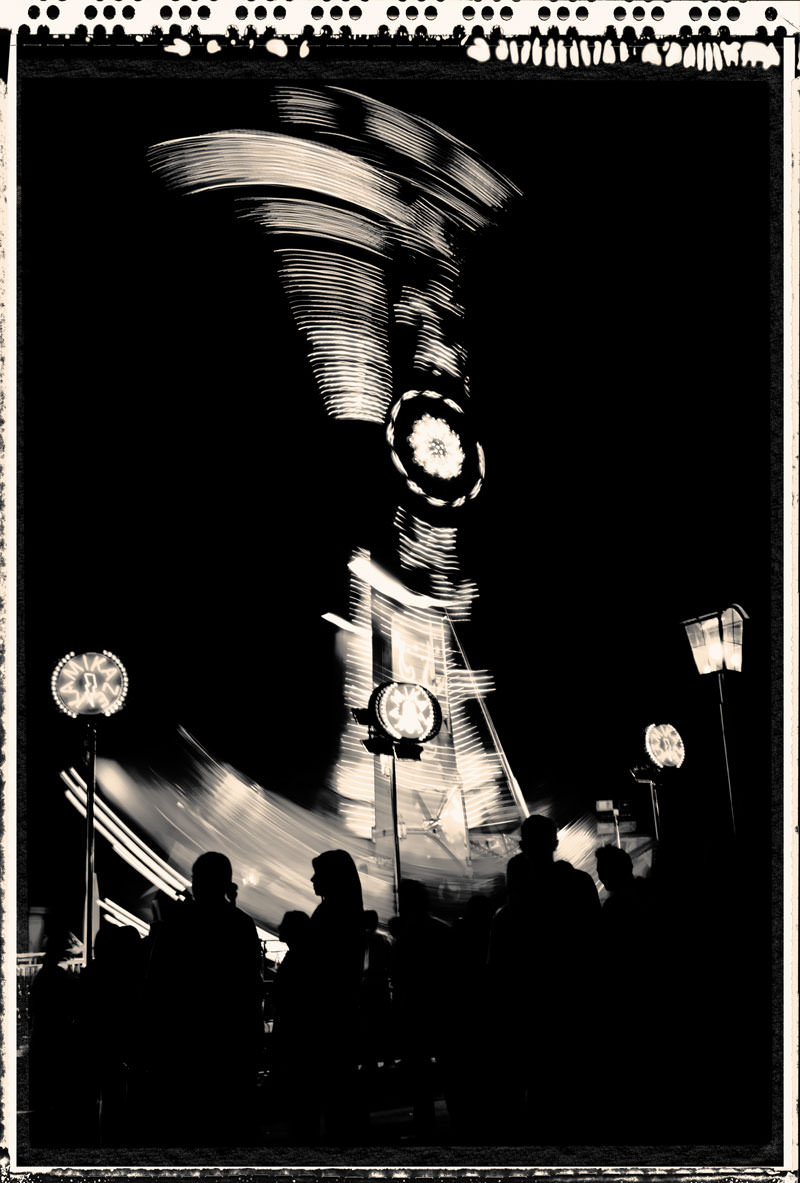 The Carousel | The Light Of The Bright World Dies With The Sun
By night each thing creeps back into its own nature within the shelter of the dark and even the most commonplace and familiar objects take on another character. People group themselves differently - they draw closer together, as if in fear - but down there, at the carousel, the nights are bright and nobody believes in the Devil. Like a wheel of fortune, the carousel starts to spin. Step aboard and we will fly through the sky. Rien ne va plus. Laughter illuminates the darkness. All over there lights were coming on in the purple-blue dusk. Colored lights blink on and off, racing across the deepening sky. Shadows follow, joyful, laughing sprites. Long twirling ribbons of light, red, green, violet, all flashing like fire. The street lights looked delicate and frail, as though they might suddenly float away from their lamp posts like balloons. Everything was beautiful. It was hard to tell which was real and which was a reflection, as if there were two displays, above and below, going on simultaneously. And the light-painted wagons go up and down. We're captive on the carousel of time. We can't return; we can only look behind from where we came. And go round and round and round in the circle game. The seasons change, things change, but the old carousel is always here. It reminds people of the good times.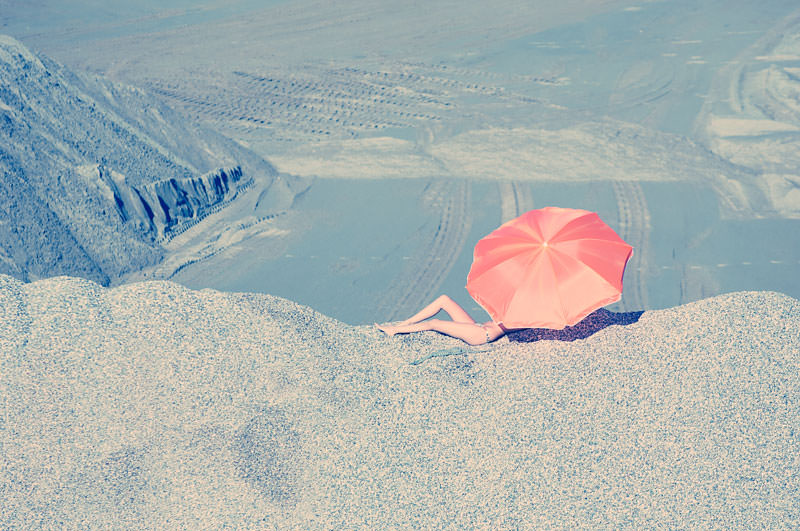 Polaroid Tanning | From Point To Line To Plain
Limited Edition of 3 ▪ € 7.000 ▪
2 Left
In spite of all the advances of civilization, the woman has remained as she came out of the hand of nature. She has the nature of a savage, who is faithful or faithless, magnanimous or cruel, according to the impulse that dominates her at the moment. Art should be functional. And art should tell a story. The art of storytelling, a narrative that places you in the situation of every photograph, allowing the viewer to be as closest to the soul of the subject as possible. The distinctive feature of the photographer is his ability to surprise and to exceed our expectations. But who really knows what is on in the photographer's mind when work is created? Decipher me or I will devour you! The female bloom, nearly stripped, but never obvious, nor offering little, rides lightly on the time's line where space opens into the high plain's depth. The feminine form factor, represented by the curves of elegance and playfulness, positioned in a barren, male landscape, symbolizing life's portraiture of relationships. The joining of the two human universes, male and female, merged in nature's perfect Fibonacci harmony.
Beach Dolls | I Have A Huge Collection Of Barbies Scattered On Beaches All Over The World
Limited Edition of 3 ▪ € 5.000
While photographing some colorful and fanciful shaped beach dolls at dawn, stagnant in my work, I looked down the curving shore and, in the distance, I saw a human figure moving like a dancer. As it got closer, I noticed that the figure was that of a young man and that what he was doing was not dancing at all. The young man was reaching down to the shore, picking up small objects, and throwing them into the ocean. He kept on bending and throwing as he walked the endless stretch toward me. As he came near, I could see that he was throwing starfish, abandoned on the sand by the tide, back into the sea. When he was close enough I asked him why he was working so hard at this strange task. He replied that the tide is going out and that the sun is up and would dry the starfish and they would die. I said to him that I thought it was foolish and that he should realize that there are miles and miles of beach and there are starfish all along every mile. One man alone could never make a difference. He smiled as he picked up the next starfish, and while hurling it far into the sea he said: "Well, it makes a difference for this one!" I abandoned my work on the beach dolls and spent the morning throwing starfish.