Needful Things | I'm A Sinner First And An Angel Second And I'm Not Here For Long
Limited Edition of 3 ▪ € 7.000
He sees himself as an artist. He does have an obsessive eye for beauty. Molded to his tastes she allows for the moment of elusive perfection, mirroring his darkest desires, to be captured precisely. It is the beauty of art, he thinks. To allow for feeling, or intuition to be expressed. The little limbs of perfection are positioned in just the right way easier now that the struggling has stopped. The textured silkiness of her hair fanned on the still damp grass, her carmine mouth his alone. He works with a passion radiating from his eyes and an insatiable hunger fueled by the moment. This is a beautiful location. It mirrors a town that does not tell its name or its past, thought the photographer seeking inspiration. That's when he noticed a beautiful little doll nestled in the grass. It sparked his eye, and he started capturing the image. A man's rapid, desperate voice is heard. The sound radiating from a soulless room, mirroring an ugly reality. The voice stems from a bruised and bloodied face. His expression desperate and with the look of murder in his eyes, he tells, bored from depersonalization, how it was his job to protect his younger sister. An entire wall in this place covered with the grainy photographs of missing persons, all but one or two, are beautiful, young women and girls. The police pin the latest one. She was a commodity. An asset. Her trafficker exists in a place where humanity is lost. She was desperate, used and abused in unimaginable ways and, she is not alone. My sister, says the man, was carrying a little doll. ~ Kalahari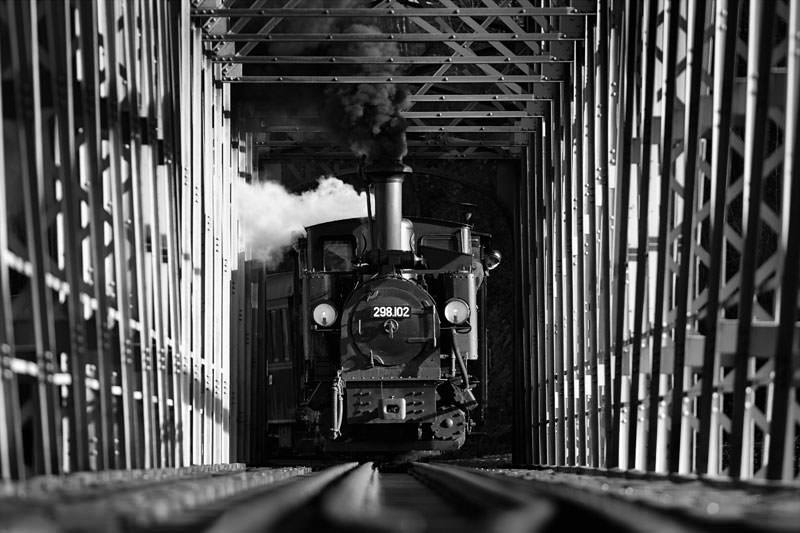 Steam and Steel | If You Miss The Train I'm On You Will Know That I'm Gone
Limited Edition of 3 ▪ € 5.000
I lie down on many a station platform; I squat on many a bench; the landscape glides past the waggon's windows with its villages, their thatched roofs like caps, pulled over the white-washed, half-timbered houses, its corn-fields, gleaming like mother-of-pearl in the slanting light, its orchards, its barns and old lime trees. It becomes disturbing, mysterious, and familiar. I stand at the rattling window and hold on to the frame. The train stamps and stamps onward. The names of the stations begin to take on a meaning and my heart trembles. These names mark the boundaries of my youth. Early youth is a baffling time. The present moment is nice but it does not last. Living in it is like waiting in a junction town for the morning train; the junction may be interesting but some day you will have to leave it and you do not know where the train will take you. Sooner or later you must move down an unknown road that leads beyond the range of the imagination, and the only certainty is that the trip has to be made. In this respect early youth is exactly like old age; it is a time of waiting before a big trip to an unknown destination. The chief difference is that youth waits for the morning limited and age waits for the night train.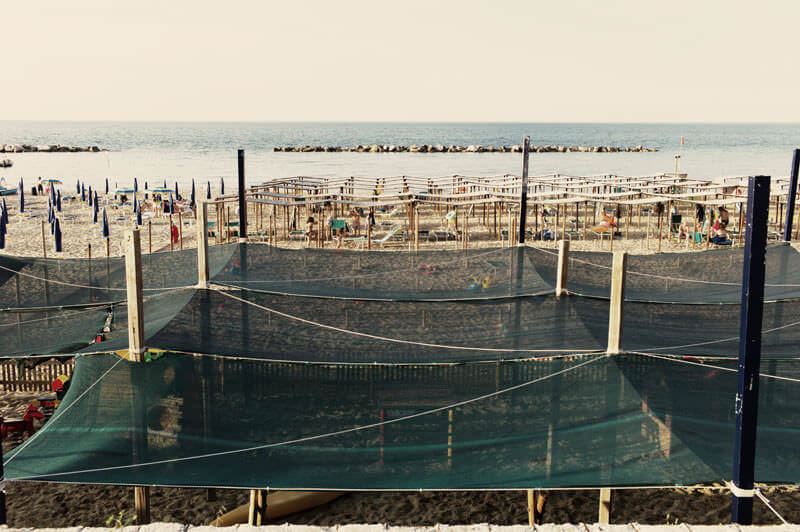 Lido Panfilo | Human Consciousness Strips On An Empty Chessboard
Limited Edition of 3 ▪ € 5.000
There are days, nevertheless, when the sun is out and I get off the beaten path. Now and then, I get to thinking about another way of taking pictures, get to wondering if it would make a difference. I used to photograph landscapes without any people in them but now I picture people who happen to be in a particular place. The Italian beach with its pulsating life is a very rich, fertile ground for the photographer's 'Peeping Tom' aspect. In the upcoming day's foggy morning light, I had put long strips of film rolls out, in geometric patterns, and abandoned them on the shore - just like bread crumbs for the pigeons downtown. I wanted people to find something nice and intriguing to puzzle over. Then, I went back to see if the things were still there, or if anyone would have noticed. I've set the scenery. I set up the cage. The trawl, a photographer's Trabucco, was out and ready to haul. And I waited. And I observed the groups of people, the lounging grace with which they wore their swimwear like robes, their sense of always being on display; parading and cat-walking the strip's sand. Alas, how thin and insecure is that little beach of white sand we call human consciousness.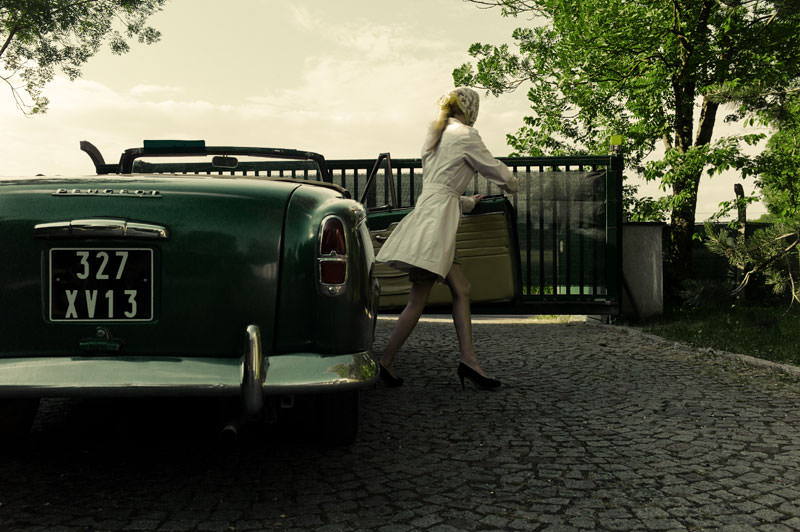 Mrs. Columbo | Where Is Your Wife, Lieutenant?
Limited Edition of 3 ▪ € 5.000
Do you ever wonder? Do you ever wonder if you're the only person that feels like a co-star in your own life story? I'm not afraid to tell you, I do. And it's not even a drama, far less than a saga. My angst is probably self-induced, like a self-inflicted gunshot wound. I'm a passenger behind the windshield of this borrowed ride. My persona, no more than a glorious piece of machinery that's stealing my spotlight. I can feel the tingle in my fingers and see the white of my knuckles, evidence of my death grip on the wheel. There's an ache in my calf that screams for me to let up, the pedal has nothing more to give. But wait, I see! The passenger surely can't be the driver. I'm in the wrong seat. It's time to kick up my heels and let my paparazzo undress me. I feel his prying eyes and temptation overcomes. I have a heated desire to lay myself bare beneath his microscope. To hit my accelerator and fly like the wind, right up to his lens. Let him tell the story of me. Let him define my strength. What will he do with the glimpse of the woman that is hidden behind the myth? Will his camera breathe life into the ghost of me or will the negatives reveal that I'm as shallow as I seem? Nothing more than a silhouette on a screen? ~ Francesca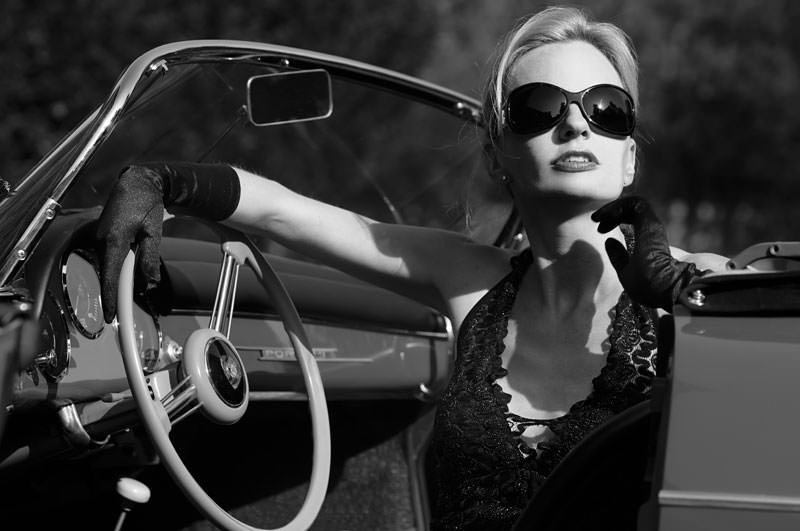 Lady Carrera | I'm Planning On Buying 20 Porsche And Crashing Them All Just For The Extravagance
Limited Edition of 3 ▪ € 5.000
There are some girls, that never become women. And some women that never become ladies. Females are innately the more vulnerable species, though saying so out loud just pisses them off. But it's the truth. Leading with emotion, hearts on sleeves, timid and subservient due to low self-worth; low self-esteem. Those that are happy to remain girls don't question their inner strength. They have not been tempted by the fruits of their own minds, by the ache of their untouched souls, by the places deep within the female body that once touched, must be touched again and again, or she'll fade away. Those girls kneel before life, without the call to submission, but simply because that is where they fit comfortably in their own existence. What makes a woman a woman, is the ability to allow the call of her inner Goddess to be heard by all parts of her being. Finding her inner masochist, her inner witch, her inner Aphrodite, by allowing temptations of the mind and flesh to seep into her soul. That woman craves the strength her power instills in her. And she craves even more a man that can take her power and make her even stronger, by relieving her of it. The burden of power can be heavy for a female, and sometimes a woman needs to be a girl. And as for the woman that may never be a lady, she is unique. Some women can turn off the inner beast, present themselves with a certain level of reservation, in the right company. But some, those truly wild creatures, are of the rawest natural state. Those are the women that need to be tamed, by one that holds their best interest, within his reins. ~ Francesca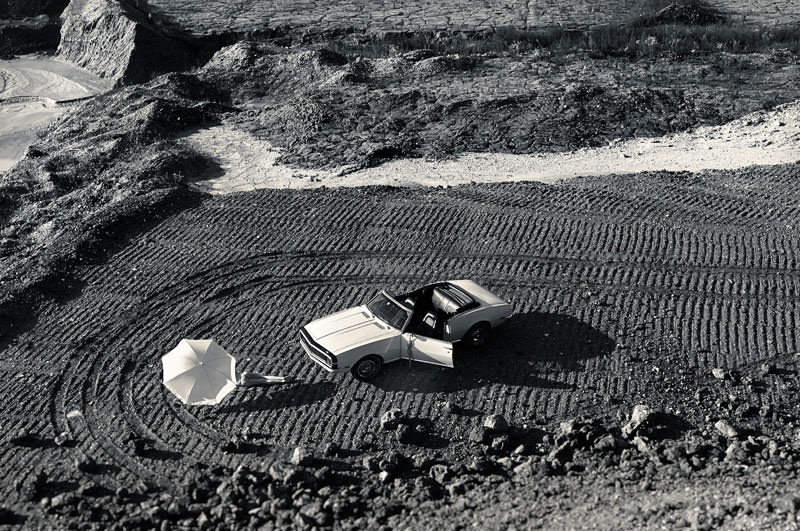 Miss American Pie | The Heartbeat of America
Limited Edition of 3 ▪ € 5.000
Is a dream a lie if it doesn't come true, or is it something worse? 'Wall Street' once has turned into 'Route 66'. The Great Depression answered the financial crash of '29 followed by the 'Dust Bowl', formerly the greatest natural catastrophe caused by man's excess. Homes for sale or rent. Rooms to let - fifty cents. The world has enough for everyone's need, but not enough for everyone's greed. Miss American Pie drove her Chevy to the levee, but the levee was dry. Eight miles a gallon and driving fast, she landed foul on the grass. No James Dean to borrow her a coat. Moss grows fat on a rolling stone and while we were looking down, the jester stole the thorny crown. Jack is nimble, Jack is quick, Jack Flash sits on a candlestick. No angel born in Hell and fire is the Devil's only friend, and the three men we admire most, The Father, Son, the Holy Ghost, they caught the last train to the coast. There we are, all in one place. A generation lost in space. No time left to start again, but them good old boys are drinking Whiskey and Rye, singing "Bye-bye, Miss American Pie, this will be the day that we die."
Beneath The Leaves | Sometimes You Can Tell A Large Story With A Tiny Subject
Limited Edition of 3 ▪ € 5.000
It's about that moment. The perfect moment. The allure is in the detail. The stillness. The light. Light is the way the story is told. It is the narrative. Certain moments of light have a poetic condition that fascinates. It has a transformative quality and has the power of turning the ordinary into something scintillating. It interests. Feel the nostalgia that exists somewhere between the beauty and sadness. The tension of the moment. Come closer, look. Time is a relentless melt that the photograph testifies to. Moments should be breathed, tasted a bit like a taste of wine I guess. It might be called liquefied Viagra. An incredibly sexy nose of smoke, black fruits, cappuccino, and toasty wood is followed by an expansive, terrifically concentrated wine with a sumptuous texture, no hard edges, beautifully integrated acidity and tannin, and a long, 35-second finish. It must be tasted to be believed. It tastes like the back of a fucking L.A. school bus for they probably didn't de-stem, hoping for some semblance of concentration, crushed it up with leaves and mice, and then wound up with this rancid tar and turpentine bullshit. Fuckin' Raid. Passion is the spice of true living. Time is hungry and greedy, insatiable but photographs steal its moments. This might render time frozen and mute, but don't be fooled. They are delightfully naughty. They dare to flirt with the monster of time. They allow us to savor and so slow it. Go back to it again and again. Let a photograph affect you and don't anticipate. It will resonate long after you walk away.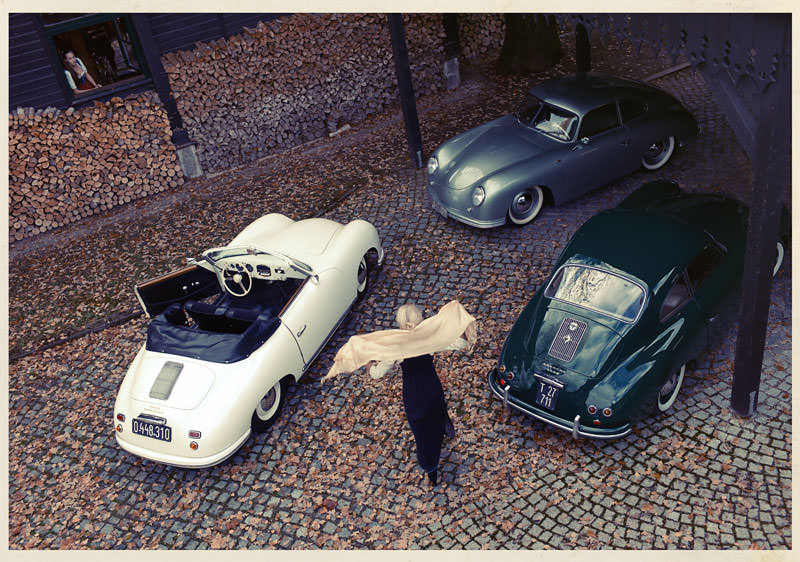 356, Brick Lane | I Spread My Wings And The Airstream Does The Rest
Limited Edition of 3 ▪ € 5.000
Observe, if you will, our curious cardinal upon the window sill. A more magnificent creature, impossible to find. Yet she looks out on the courtyard with lust in her eyes. What could it be that she covets so hungrily? Is she imagining passion or leaning toward envy? Fallen leaves and brick laced street create a breathtaking portrait indeed, but her eyes are drawn to classic beauty. Each fine machine commanding her attention. After all, they've turned heads for decades, no matter where they go. A form originated from their creator's own feel of a woman. Unique curves, distinctive purrs, there is nothing more thrill inducing than a moment inside such a one-of-a-kind ride. Push her to the limits and you soon will realize: the problem is not getting cool air to her rear, it's getting the hot air away from her. But our pretty bird is focused elsewhere, her soul whispering desires only her body can hear. A cloak of white silk, wrapped around elegance and light; imagining the glow beneath the sophisticated guise. Her mind drawn to the thought of ivory thighs. Blush finds her face, her chest overwhelmed with beats and she silently wishes to be seen and received. ~ Francesca
No Woman No Drive | Riding In Your World Seems A Bit Dangerous
Limited Edition of 3 ▪ € 5.000
A week and a day on dusty tracks. Tough hardcore racing. Tired eyes, but still wild at heart. Dirty, hungry, worn out, but never without a lipstick and always with a little smile for the curious photographers. Little girls with dreams become women with vision. My sister has always been the reckless one. I am timing her laps as she pushes herself beyond the limits of speed and safety in this damned car. She has just made her fastest time and knows this. Part of the thrill for her is that this machine built by men for men is so accommodating to her commands. Daddy never cared that we were girls and he exposed us to every passion of his: physics, mechanics, racing, poetry, music and much more. Mom taught us empathy and to use our intuition. Sista has always been a fast driver, even before she could afford a fast car. It was impatience as much as anything: chafing at the fact that one could not actually do anything while driving except to drive. Riding a hot car is a lot like hot sex to her, or a lot like Sista keeps thinking it should be: a total body experience, overwhelming, to all the senses, taking you to places you have never been, packing a punch that leaves you breathless and touches your soul. But two-hundred forty horsepower is not enough to move her anymore. Enough to move her body, yes, but not her soul.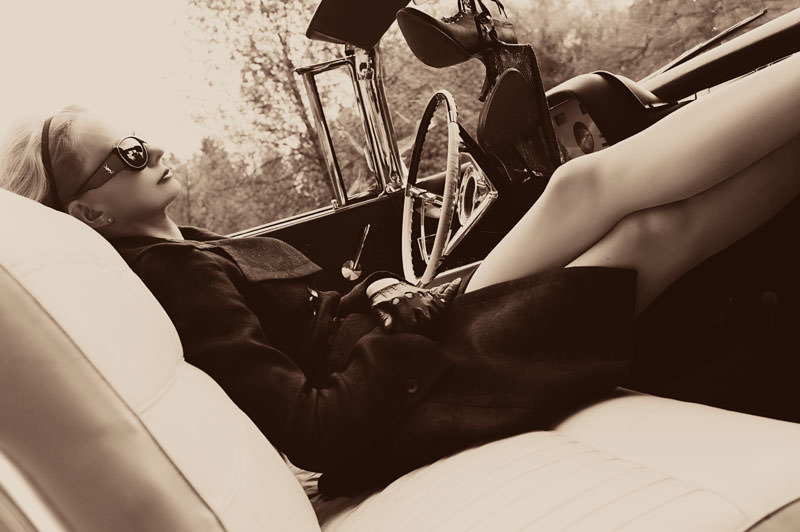 Daguerre'd | I Got An Eight-Track Tape And A Spare Tire In The Back But That's Flat
I drove all night and arrived at yesterday. Or could it be the day before? The daguerre'd past can grow foggy for a girl that does not check rear-view mirrors. Planning for this trip never occurred to me, so here I am pondering what I will do with this rare chance at rewriting my story. I knew it was a trip I would have to undertake, my heart would not have it any other way; this stubborn part of me that refuses defeat, that stays here, that refuses to leave, to fade. I feel him here in this place, a lingering phantom. Oh, I might say many things, but I very well may turn this car around and go find a new company. After all, we already tried this, didn't we? I think I will venture out on my own. Maybe there is something in yesterday that I missed the first time around. It would be a shame to waste this opportunity. Although, I would have to drive far to find a day that does not have his scent. I am not sure if the road will ever lead away from him. I will not fight destiny, if I end up on his street, I will take love's gift to me. For now, I am laid back. I will stay in this moment and soak up yesterday's sun, feeling his revenant eyes on my bare thighs, our hearts on the run. ~ Francesca