La Ragazza Con La Valigia | She's A Highway Canvas Making Her Life An Art
Limited Edition of 3 ▪ € 5.000
That which comes naturally is often magnified exponentially, for better or for worse, without us even realizing it. In Cicciolina's case, worse seemed to own most days. Waking to the taunting sneer of the sun as it celebrated freedom with a shining smile on its face, she rose from the bed on the wrong side as if to challenge the fates. Gathering up her effects, not in the least bit concerned of waking her lifeless companion or giving explanation, she stormed from the stale room, not quite big enough for two. Setting off to find a new adventure, keys in hand, she took to the open road with needs and no plan. Now she sits roadside, her thoughts as dark as her vixen eyes. No need to thumb a ride, she finds a spot in the shade and lets her curb appeal woo the right prey. The sultry breeze sticking angelic hairs to her damp neck only adding to her appeal. Seated on her case of secrets, waiting to catch the eye of the right passerby. After all, this case was not meant for leisurely spells. It was hard and heavy, not easy to carry. Often times she chose men and cars just because they could accommodate it, and avoided the same if they couldn't. Dragging it beneath the shade of the little car, she sat in the dirt and kicked off her shoes. Pulling things from within placing them by her side, unpacking her memories, all the things that she hides. The delicate pearl-gripped pistol that she had never fired but she kept anyway because it felt good in her hand. Mementos from cities where she could never return, pieces of her past that any smart woman would burn. She kept them all, tucked among the silk and lace, her favorite, a dagger that had a special place. ~ Francesca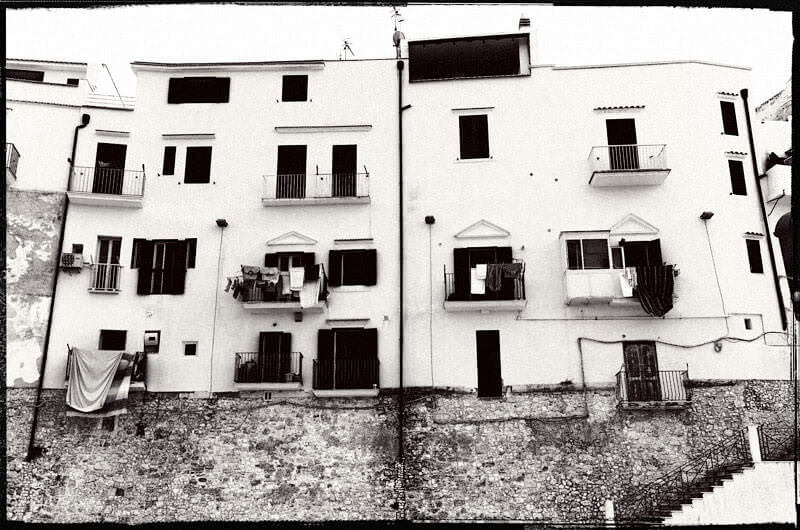 Invisible Lives | Open The Venetian Blinds And Kiss The Air Goodnight
Limited Edition of 3 ▪ € 5.000
And I see the houses of the human race perched on the edge of the sea, shipwrecked in their false neighborliness. Cold has a thousand ways of moving in the world: on the sea, it gallops like a troop of horses, on the countryside it falls like a swarm of locusts, in the cities like a knife-blade it slashes the streets and penetrates the chinks of unheated houses. Many miles away there is a small stairway leading upwards to flats unfolding like a book; every single life is an encyclopedia, a library, an inventory of objects, a series of styles, and everything can be constantly shuffled and reordered in every way conceivable. Each of us is the object of the other's reading, one reads in the other the unwritten story. Separating the individual human chapters, rain gutters scar over the house's facade by leading off, like veins, the myriads of the tears not cried. There are no lighted ground-floor windows, each with a woman combing her hair, but at night, putting your ear to the ground, you can sometimes hear a door slam. The place is deserted - the cemetery is the home of those who are not here; come in! And thus, when some people happen to find themselves together, meetings, seductions, copulations, orgies are consummated among them without a single word exchanged, without a finger touching anything and almost without an eye raised.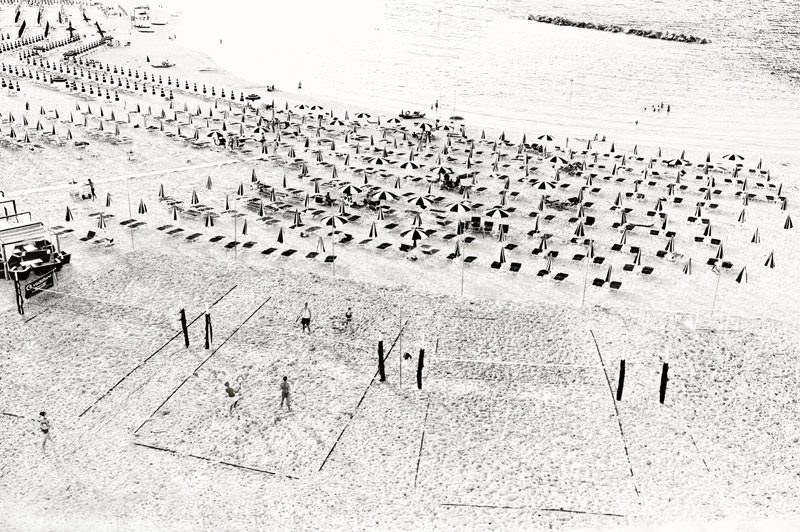 Cirque Du Soleil | Polka Dots Swept Ashore
Limited Edition of 3 ▪ € 5.000
Seeing a mother in her beach chair, reading a book under an umbrella by the water's edge while her children play beside her and she was suddenly and strangely reminded of being four years old at the beach, crying when the wind came up and blew away the castle she had made. Her mother had told her she could make another one if she liked, but it hadn't stopped her crying because what she had thought was permanent was not permanent after all, but only made out of sand that vanished at the touch of wind and water. Beauty - what is beauty, forsooth? Form and color, that is surface only. Fortune - what is fortune? Nothing is ever a pleasure or a real profit to him who has to labor for it. Truth - you die in the pursuit, and the sea beats the beach as it did a thousand years ago. Some people might have a shallow understanding of what it means to be alive, but you don't need a whole lot. Barefoot on a beach, being in the water and smelling that salt air and hearing the seagulls. Free in the soft sands of the beach by the sigh of the sea out there, with the fallopian virgin warm stars reflecting on the outer channel fluid belly waters. The beach becomes a kind of Utopia. The place where all your dreams might come true.
Rider On The Rain | Could Ya Give Me A Lift, Mista?
Limited Edition of 3 ▪ € 5.000
Be ever mindful, dear Sir, that not all pretty faces have pretty intentions and not all lone travelers are lonesome. She was in the process of straightening her sundress and trying to appear not to notice him when she caught his attention and his foot found the brake. The car skidded on the gravel for a few feet before coming to an abrupt stop almost kissing her dress. She bit her full lip to resist the urge to grin, cut her obsidian eyes and lowered her delicate chin. The introductions were short as she was so exhausted and overcome from these hours on the road, helpless and stunned. He rose valiantly to the call of shining knight, scooping her up into his chariot to her carnal delight. Little did he know, this clueless stranger, that nothing going through his mind was a mystery to her. She knew what he was thinking, she knew that he was like all the others. A bee drawn to her nectar, not keen enough to realize that the more beautiful the flower, the sharper the thorn. She took great care to assure that her hem rode up just enough to keep him distracted, to shake him a bit, for his nervous chatter was quite revealing. He was not a knight after all, that much she knew. He would prove his worth eventually, his true colors would show and she would be free to take control. He never saw the glint of the blade, as the stars blinked as to not witness and her dagger set him straight. And so, dear knight of the road, take care when a sweet hitchhiker attracts you on the crossroad - your name might already be written on Hell's gate! ~ Francesca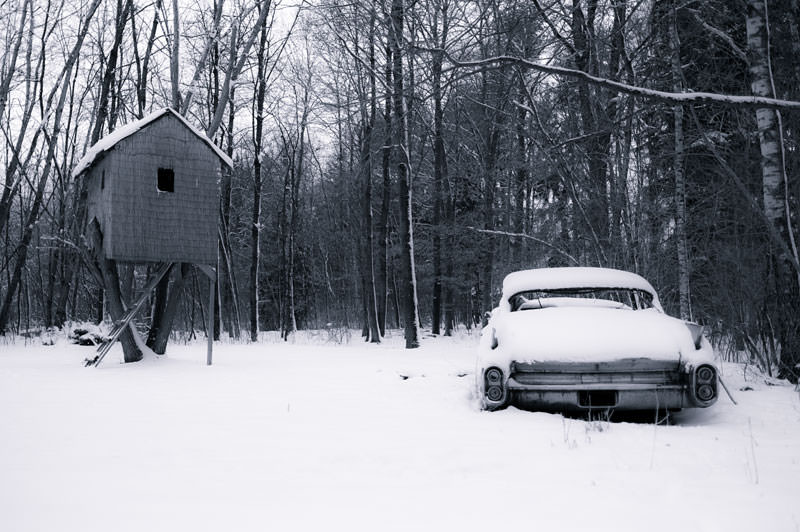 White Trash | Detroit's American Dream Without Miss Saigon
Cars are like rolling diaries, metal and plastic and paint tableaux of the last years of their lives. Every dent, every drooping slice of chrome, has a story behind it. She was born in nineteen-sixty and I heard it said that if you can remember anything about the sixties, you weren't really there. She could spend a lifetime trying to remember good times past, could maybe even hear her tires scream 'Drive me wild', but the thing that makes them glory days is the fact that they are done. It's over now and she has settled down, forgotten but not gone. That is when I met her and, well, she had been passed around a bit. Her soul is bowed down to the dust and her belly is stuck to the ground. A garden gnome, that is what she has become. What a destiny! Somebody in her checkered past had smashed her windscreen, like a person who'd had facial reconstruction, her features never lined up exactly plumb again. Broken trust, creeping rust, worse for wear and stranded alone for evermore. When I framed her she was trembling. A pile of rust, a fuse-popping, mouse-bitten, oil-spilling mess, with the air of shattered beauty that only fallen angels have. "You still have pretty," and by the time I was done, she was exactly as I wanted her.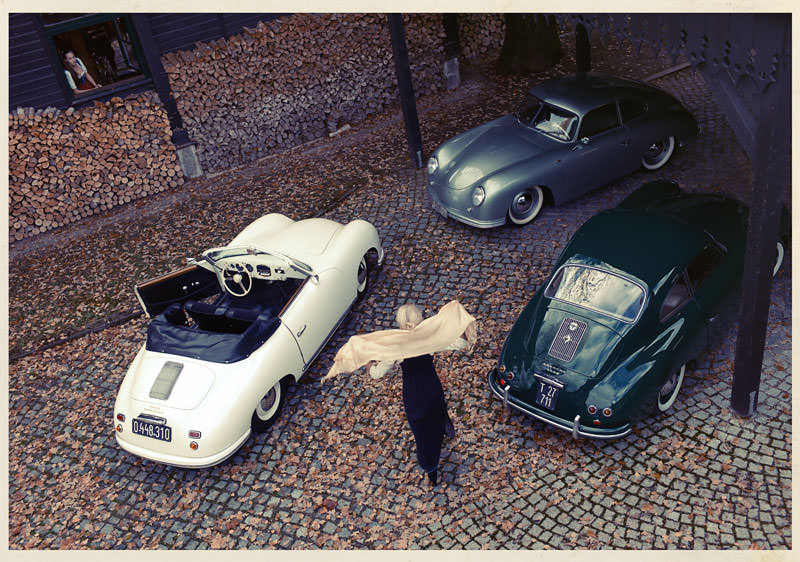 356, Brick Lane | I Spread My Wings And The Airstream Does The Rest
Limited Edition of 3 ▪ € 5.000
Observe, if you will, our curious cardinal upon the window sill. A more magnificent creature, impossible to find. Yet she looks out on the courtyard with lust in her eyes. What could it be that she covets so hungrily? Is she imagining passion or leaning toward envy? Fallen leaves and brick laced street create a breathtaking portrait indeed, but her eyes are drawn to classic beauty. Each fine machine commanding her attention. After all, they've turned heads for decades, no matter where they go. A form originated from their creator's own feel of a woman. Unique curves, distinctive purrs, there is nothing more thrill inducing than a moment inside such a one-of-a-kind ride. Push her to the limits and you soon will realize: the problem is not getting cool air to her rear, it's getting the hot air away from her. But our pretty bird is focused elsewhere, her soul whispering desires only her body can hear. A cloak of white silk, wrapped around elegance and light; imagining the glow beneath the sophisticated guise. Her mind drawn to the thought of ivory thighs. Blush finds her face, her chest overwhelmed with beats and she silently wishes to be seen and received. ~ Francesca
Beneath The Leaves | Sometimes You Can Tell A Large Story With A Tiny Subject
Limited Edition of 3 ▪ € 5.000
It's about that moment. The perfect moment. The allure is in the detail. The stillness. The light. Light is the way the story is told. It is the narrative. Certain moments of light have a poetic condition that fascinates. It has a transformative quality and has the power of turning the ordinary into something scintillating. It interests. Feel the nostalgia that exists somewhere between the beauty and sadness. The tension of the moment. Come closer, look. Time is a relentless melt that the photograph testifies to. Moments should be breathed, tasted a bit like a taste of wine I guess. It might be called liquefied Viagra. An incredibly sexy nose of smoke, black fruits, cappuccino, and toasty wood is followed by an expansive, terrifically concentrated wine with a sumptuous texture, no hard edges, beautifully integrated acidity and tannin, and a long, 35-second finish. It must be tasted to be believed. It tastes like the back of a fucking L.A. school bus for they probably didn't de-stem, hoping for some semblance of concentration, crushed it up with leaves and mice, and then wound up with this rancid tar and turpentine bullshit. Fuckin' Raid. Passion is the spice of true living. Time is hungry and greedy, insatiable but photographs steal its moments. This might render time frozen and mute, but don't be fooled. They are delightfully naughty. They dare to flirt with the monster of time. They allow us to savor and so slow it. Go back to it again and again. Let a photograph affect you and don't anticipate. It will resonate long after you walk away.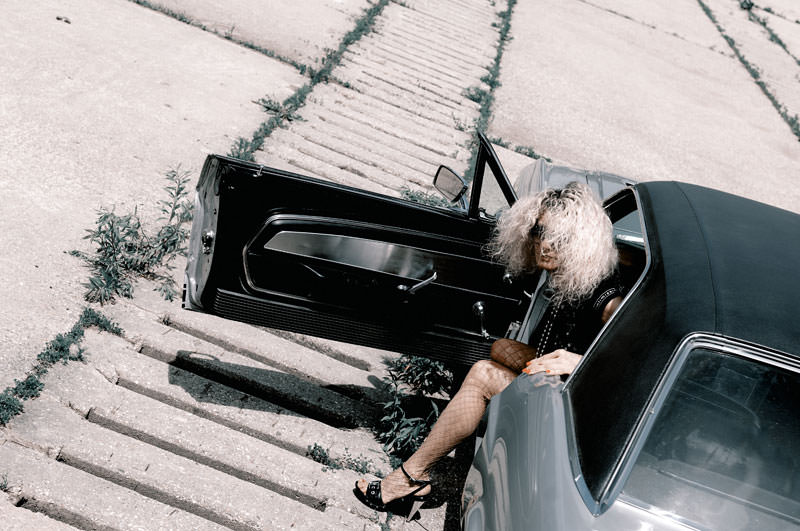 Mustang Sally | You Left Me Without A Coke In The Car
Open Edition ▪ € 300 to € 600
A woman's heart is a deep ocean of secrets, little did I know that when the photographer asked to take my picture he would expose mine. He was supposed to see in pale colors. Do not display these little facts saved for my secret place. In this world I float free, releasing my grip on life and the past. I get to miss all of those of whom I have lost sight, those who will forever have a part of me. Here I face truth's spectrum of love and shadows, I must. If not these shadows will creep into my existence, my conscience and cause the ghost of me to haunt all I touch, this ghost that climbs on the table in her bridal negligee. You may try to raise your arm against her but you will just catch that bridal bouquet so dance with her, slowly, patiently with a lover's embrace. She will turn your terror into a fire of desire. See the beauty of the nonbeautiful and ignite your own wild creature ~ Kalahari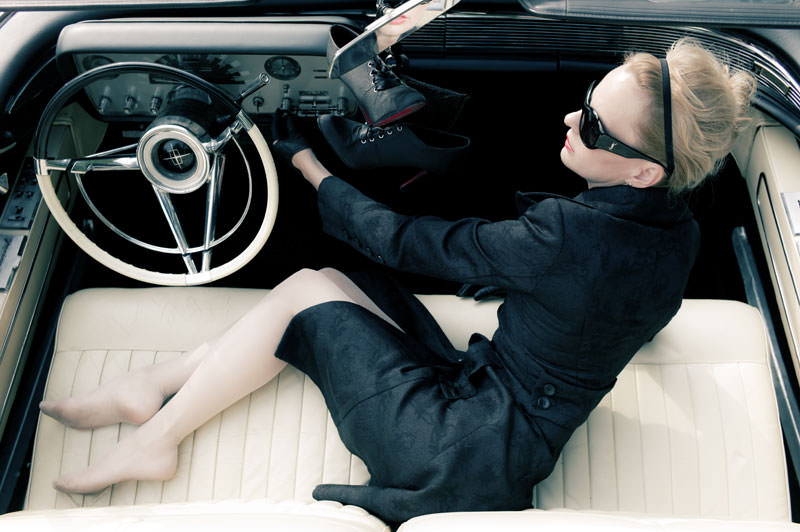 Les Louboutin | Collars Are Buttoned Down So They Don't Flap In Your Face When You're Playing Polo
Open Edition ▪ € 300 to € 600
"I'll stop wearing black when they invent a darker color!" There was an immediately perceptible vitality about her as if the nerves of her body were continually smoldering. She smiled slowly and, walking through her husband as if he were a ghost, shook hands looking him flush in the eye. Then she wet her lips, and without turning around spoke to him in a soft, coarse voice: "If you want to be safe, go back to your tiny house - the night sky is not for you. The road is life, if you want to be torn apart, let's go and you will be broken open and devoured, set ablaze in my fire not leaving well dressed, in finely-threaded clothing that keeps out the cold. I will leave you naked and biting in the backseat. So, come to me, and be healed of the unbearable white and black of all that you are. I will become a raging river, and spill myself upon your thoughts, can you love me under the starry sky, shaved and smooth, my skin like liquid moonlight?" Perception is everything and she drove him to distraction as he intimately pictured her in his dreams. She is the quintessential instinctual criatura and her style is her expression. Her style is her silent speech, a certain flow of mind-to-skin that must be understood. Black has it all, white too, their beauty is absolute. Her style is her sentiment, it is what she shares, it's those intimate words she shares every time she looks into the mirror or every time she looks at her photographs.