La Ragazza Con La Valigia | She's A Highway Canvas Making Her Life An Art
Limited Edition of 3 ▪ € 5.000
That which comes naturally is often magnified exponentially, for better or for worse, without us even realizing it. In Cicciolina's case, worse seemed to own most days. Waking to the taunting sneer of the sun as it celebrated freedom with a shining smile on its face, she rose from the bed on the wrong side as if to challenge the fates. Gathering up her effects, not in the least bit concerned of waking her lifeless companion or giving explanation, she stormed from the stale room, not quite big enough for two. Setting off to find a new adventure, keys in hand, she took to the open road with needs and no plan. Now she sits roadside, her thoughts as dark as her vixen eyes. No need to thumb a ride, she finds a spot in the shade and lets her curb appeal woo the right prey. The sultry breeze sticking angelic hairs to her damp neck only adding to her appeal. Seated on her case of secrets, waiting to catch the eye of the right passerby. After all, this case was not meant for leisurely spells. It was hard and heavy, not easy to carry. Often times she chose men and cars just because they could accommodate it, and avoided the same if they couldn't. Dragging it beneath the shade of the little car, she sat in the dirt and kicked off her shoes. Pulling things from within placing them by her side, unpacking her memories, all the things that she hides. The delicate pearl-gripped pistol that she had never fired but she kept anyway because it felt good in her hand. Mementos from cities where she could never return, pieces of her past that any smart woman would burn. She kept them all, tucked among the silk and lace, her favorite, a dagger that had a special place. ~ Francesca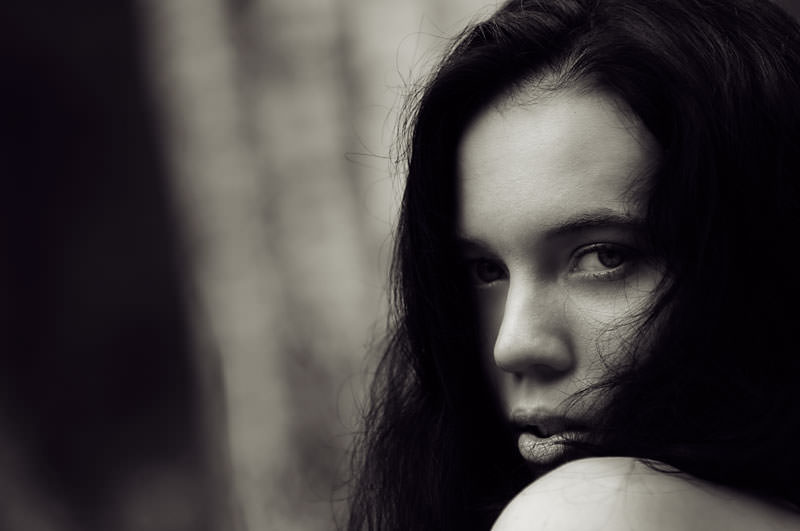 Shy | The Camera Obscura & The Girl Without A Pearl Earring
Limited Edition of 3 ▪ € 5.000 ▪
2 Left
Without the sincerity of your heart you would not be able to capture this moment of my being. What you were looking for, and what you found in me, and what you see, is just the sun at dawn. Shy, I get up with the morning light, innocent and natural. At this moment there is no color to distract us, black and white, so are our souls, motionless. I'm afraid of you; afraid of waking up in a world where man desires with violence. I stay away from your desires. Shy, wild, even rebellious, do not fool yourself - my youth doesn't lack maturity. My hair covers my face as ivy covers the ruins of our ancestral ties. I am a woman. When you photograph me you immortalize our meeting, my eyes take you away from my mouth, I'd like to whisper 'I love you', for I perceive the truth in your heart. I would give everything, give my life, give up any vigilance towards you; but you still make me afraid - I do not understand your world. And I raise my shoulder to hide what I would tell you, yet I know I love you, like water flowing, like the wind that blows. But you cannot realize it; it's because of this distance that I have to put between you and me. That's why you see me shy at first but I really am! ~ Isabelle Couquiaud
Continental Mermaid | Mystery Is A Hidden Laugh Always Ready To Surface
Limited Edition of 3 ▪ € 5.000
There is something predatory about photography, it is the same with love. It allows a glimpse of herself through the trap of the photographer's lens. Through this windscreen, she leads you down a road just far enough to show that she is present, you sense there is more to her than she cares to reveal but this is tantalizing, captivating. She will relieve your burden to hunt, her elegance and mystery causing you to be the envy of all hunters and so she becomes yours and gets entangled in your fisherman's net. Love is peculiar, unfathomable. In wise stories it is seldom a romantic tryst between two lovers, rather it is a combination of understanding and misunderstanding but it is an allure that pulls the photographic eye. There will come a time, however, that you see that part of her. That part that the photographer did not reveal, the skeletal vision that will follow you where you run. She is the one of whom most men are terrified but if you can endure, if you can find kindness somewhere to untangle and embrace her then she will reward you with passion. The hidden mystery of her will voluptuously feed your every want and need, the destination of her remaining forever a million miles away. ~ Kalahari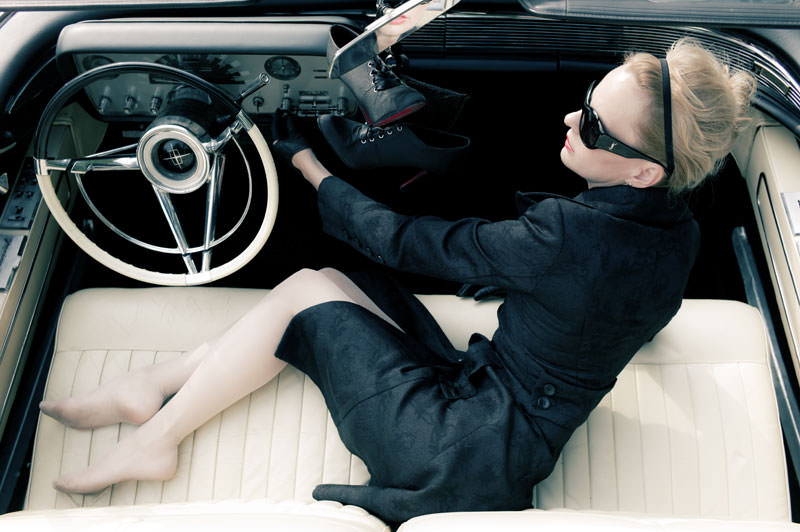 Les Louboutin | Collars Are Buttoned Down So They Don't Flap In Your Face When You're Playing Polo
Open Edition ▪ € 300 to € 600
"I'll stop wearing black when they invent a darker color!" There was an immediately perceptible vitality about her as if the nerves of her body were continually smoldering. She smiled slowly and, walking through her husband as if he were a ghost, shook hands looking him flush in the eye. Then she wet her lips, and without turning around spoke to him in a soft, coarse voice: "If you want to be safe, go back to your tiny house - the night sky is not for you. The road is life, if you want to be torn apart, let's go and you will be broken open and devoured, set ablaze in my fire not leaving well dressed, in finely-threaded clothing that keeps out the cold. I will leave you naked and biting in the backseat. So, come to me, and be healed of the unbearable white and black of all that you are. I will become a raging river, and spill myself upon your thoughts, can you love me under the starry sky, shaved and smooth, my skin like liquid moonlight?" Perception is everything and she drove him to distraction as he intimately pictured her in his dreams. She is the quintessential instinctual criatura and her style is her expression. Her style is her silent speech, a certain flow of mind-to-skin that must be understood. Black has it all, white too, their beauty is absolute. Her style is her sentiment, it is what she shares, it's those intimate words she shares every time she looks into the mirror or every time she looks at her photographs.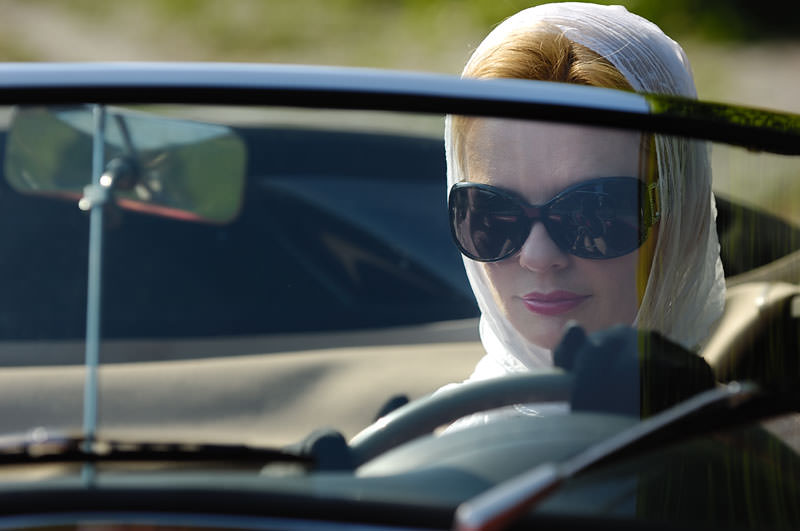 Movie Style | Chinese Porcelain Dolls Are Made Out Of Real Bones
Limited Edition of 3 ▪ € 5.000
Ordinary women never appeal to one's imagination. No glamor ever transfigures them. One can always find them, obtainable everywhere, at all times. No mystery is in any of them. They show their stereotyped smile and their fashionable manner. They are quite obvious. She takes a drive today, time to emancipate. From her handbag, she takes a round gilt compact with violets on the cover. She opens it, unclosing her other self, and runs her fingertip around the corners of her mouth, left one, right one; then she swivels a pink stick and dots her cheeks and blends them, changing her shape, performing magic to herself. Pink on the cheeks; black discreetly around the eyes, as red as blood as black as ebony, a seamed and folded imitation of a magazine picture that is itself an imitation of a woman who is also an imitation, the original nowhere, a captive princess in someone's head. Even an immaculately crafted porcelain doll could not have been as lovely. Beauty is given to dolls, majesty to haughty vixens but mind, feeling and the crowning grace of fortitude are the attributes of an angel.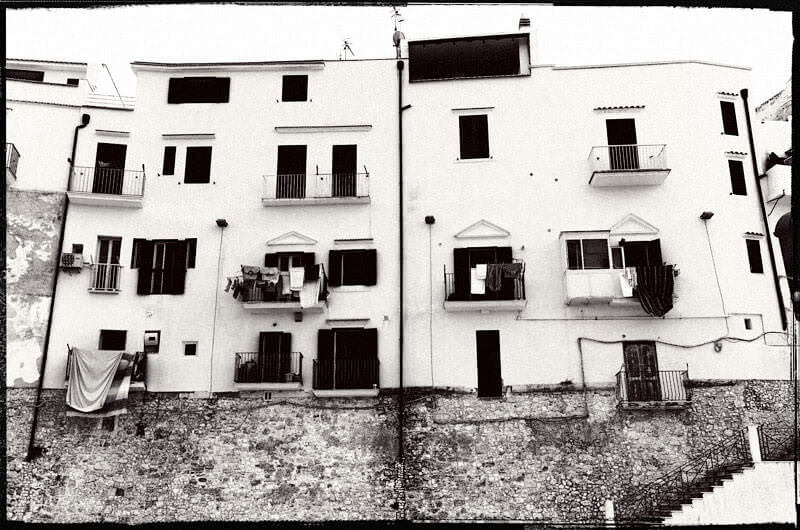 Invisible Lives | Open The Venetian Blinds And Kiss The Air Goodnight
Limited Edition of 3 ▪ € 5.000
And I see the houses of the human race perched on the edge of the sea, shipwrecked in their false neighborliness. Cold has a thousand ways of moving in the world: on the sea, it gallops like a troop of horses, on the countryside it falls like a swarm of locusts, in the cities like a knife-blade it slashes the streets and penetrates the chinks of unheated houses. Many miles away there is a small stairway leading upwards to flats unfolding like a book; every single life is an encyclopedia, a library, an inventory of objects, a series of styles, and everything can be constantly shuffled and reordered in every way conceivable. Each of us is the object of the other's reading, one reads in the other the unwritten story. Separating the individual human chapters, rain gutters scar over the house's facade by leading off, like veins, the myriads of the tears not cried. There are no lighted ground-floor windows, each with a woman combing her hair, but at night, putting your ear to the ground, you can sometimes hear a door slam. The place is deserted - the cemetery is the home of those who are not here; come in! And thus, when some people happen to find themselves together, meetings, seductions, copulations, orgies are consummated among them without a single word exchanged, without a finger touching anything and almost without an eye raised.
Desires Are Already Memories | The More Time Passes The Less Happens
Open Edition ▪ € 300 to € 600
Arriving at each new city, the traveler finds again a past of his that he did not know he had: the foreignness of what you no longer are or no longer possess lies in wait for you in foreign, unpossessed places. When you're young, all evolution lies before you, every road is open to you. The dreamed-of city contained him as a young man; he arrives there in his old age. And nothing was left that could remind him of it, even remotely, nothing except perhaps that cold wall of gray stone or other shops which look like them and the colors of the writing on the shop signs. In the square, there is the wall where the old men sit and watch the young go by. Childhood boredom is a special kind of boredom. It is a boredom full of dreams, a sort of projection into another place, into another reality. In adulthood boredom is made of repetition, it is the continuation of something from which we are no longer expecting any surprise. Desires are already memories. Instead of taking one road he had taken the opposite one, and after long wandering, he had come to be in the place of those men in that square.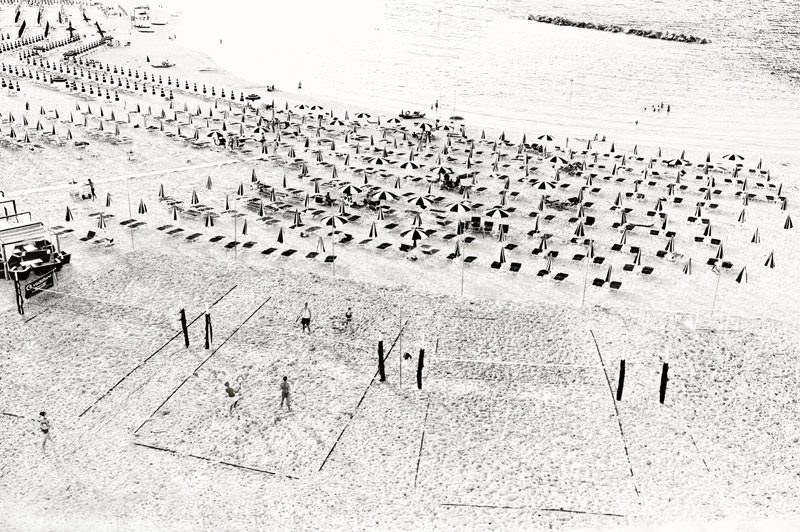 Cirque Du Soleil | Polka Dots Swept Ashore
Limited Edition of 3 ▪ € 5.000
Seeing a mother in her beach chair, reading a book under an umbrella by the water's edge while her children play beside her and she was suddenly and strangely reminded of being four years old at the beach, crying when the wind came up and blew away the castle she had made. Her mother had told her she could make another one if she liked, but it hadn't stopped her crying because what she had thought was permanent was not permanent after all, but only made out of sand that vanished at the touch of wind and water. Beauty - what is beauty, forsooth? Form and color, that is surface only. Fortune - what is fortune? Nothing is ever a pleasure or a real profit to him who has to labor for it. Truth - you die in the pursuit, and the sea beats the beach as it did a thousand years ago. Some people might have a shallow understanding of what it means to be alive, but you don't need a whole lot. Barefoot on a beach, being in the water and smelling that salt air and hearing the seagulls. Free in the soft sands of the beach by the sigh of the sea out there, with the fallopian virgin warm stars reflecting on the outer channel fluid belly waters. The beach becomes a kind of Utopia. The place where all your dreams might come true.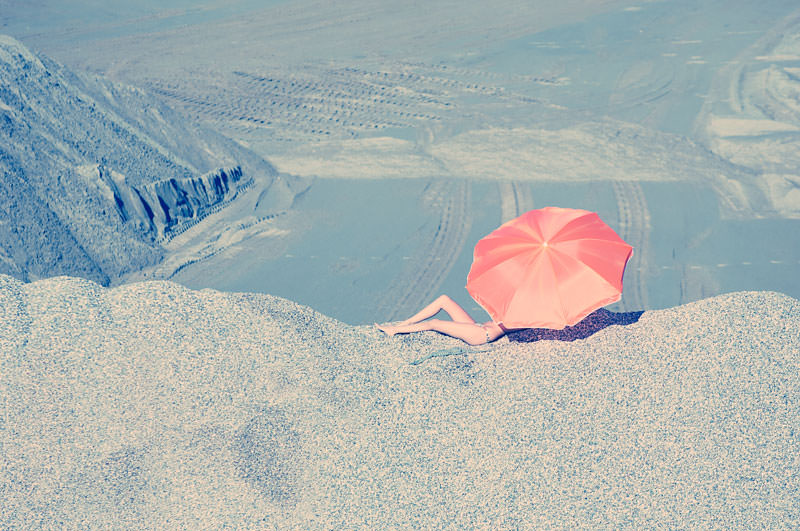 Polaroid Tanning | From Point To Line To Plain
Limited Edition of 3 ▪ € 7.000 ▪
2 Left
In spite of all the advances of civilization, the woman has remained as she came out of the hand of nature. She has the nature of a savage, who is faithful or faithless, magnanimous or cruel, according to the impulse that dominates her at the moment. Art should be functional. And art should tell a story. The art of storytelling, a narrative that places you in the situation of every photograph, allowing the viewer to be as closest to the soul of the subject as possible. The distinctive feature of the photographer is his ability to surprise and to exceed our expectations. But who really knows what is on in the photographer's mind when work is created? Decipher me or I will devour you! The female bloom, nearly stripped, but never obvious, nor offering little, rides lightly on the time's line where space opens into the high plain's depth. The feminine form factor, represented by the curves of elegance and playfulness, positioned in a barren, male landscape, symbolizing life's portraiture of relationships. The joining of the two human universes, male and female, merged in nature's perfect Fibonacci harmony.
Beach Dolls | I Have A Huge Collection Of Barbies Scattered On Beaches All Over The World
Limited Edition of 3 ▪ € 5.000
While photographing some colorful and fanciful shaped beach dolls at dawn, stagnant in my work, I looked down the curving shore and, in the distance, I saw a human figure moving like a dancer. As it got closer, I noticed that the figure was that of a young man and that what he was doing was not dancing at all. The young man was reaching down to the shore, picking up small objects, and throwing them into the ocean. He kept on bending and throwing as he walked the endless stretch toward me. As he came near, I could see that he was throwing starfish, abandoned on the sand by the tide, back into the sea. When he was close enough I asked him why he was working so hard at this strange task. He replied that the tide is going out and that the sun is up and would dry the starfish and they would die. I said to him that I thought it was foolish and that he should realize that there are miles and miles of beach and there are starfish all along every mile. One man alone could never make a difference. He smiled as he picked up the next starfish, and while hurling it far into the sea he said: "Well, it makes a difference for this one!" I abandoned my work on the beach dolls and spent the morning throwing starfish.