Hallstatt Austria | Travel Becomes A Strategy For Accumulating Photographs
Open Edition ▪ € 300 to € 600
Hallstatt is set on piles in one of the Gosau lakes, the Halstätter See. An intricate system of intersecting timber ramps, buttresses and ascending terraces like hanging gardens creates an air of mystery, the eerie beauty of mirage, a village lost in the middlemost of fable. The mountain lanks rise sheer from the lake, leaving no room for a road. There is even so little place for cemeteries that every ten years bones used to be exhumed and removed into an ossuary to make room for new burials. "The minute it popped into view, I knew Hallstatt was my Alpine Oz. It's just the right size, wonderfully remote, and almost traffic-free. A tiny ferry takes you from the nearest train station across the fjord-like lake and drops you off on the town's storybook square. Bullied onto its lakeside ledge by a selfish mountain, Hallstatt seems tinier than it is. Its pint-sized square is surrounded by ivy-covered guest houses and cobbled lanes, accentuated by this catchy little waterfall. It's a toy town. You can tour it on foot in about 10 minutes. No cars allowed unless you ride on long legs in a topless classic roadster."
The Ashcan School | Photographs Shock Insofar As They Show Something Novel
Open Edition ▪ € 300 to € 600
Fleas dream of buying themselves a dog, and nobodies dream of escaping poverty; that one magical day good luck will suddenly rain down on them - will rain down in buckets. But good luck does not rain down yesterday, today, tomorrow, or ever. Good luck does not even fall in a fine drizzle, no matter how hard the nobodies summon it, even if their left hand is tickling, or if they begin the new day with their right foot, or start the new year with a change of brooms. The nobodies; nobody's children, owners of nothing. The no ones, running like rabbits, dying through life, screwed every which way. The nobodies, who are not, but could be. Who do not speak languages, but dialects. Who do not have religions, but superstitions. Who do not create art, but handicrafts. The nobodies, who do not have culture, but folklore. Who are not human beings, but human resources. They, who do not have names, but numbers. The nobodies, who are not worth the bullet that kills them.
High Fashion | Dancing On Water Was Not Built In One Day
Limited Edition of 3 ▪ € 5.000 ▪
2 Left
Now, everything above the horizon is clear to me. I am going to live now among the life maladies. Tomorrow is the result of many yesterdays and comes with a potent, cumulative effect. I am tomorrow what I chose to be yesterday and the day before. It is not possible that tomorrow I may negate and nullify everything that led me to this present moment. Death is behind me and birth too. There's nothing to mourn about death any more than there is to mourn about the growing of a flower. What is terrible is not death but the lives people live or don't live up until their death. They don't honor their own lives, they piss on their lives. They shit them away. Dumb fuckers. They concentrate too much on movies, money, family, fucking. Their minds are full of cotton. They swallow God without thinking. Soon they forget how to think, they let others think for them. Their brains are stuffed with cotton. Play them the great music of the centuries and they can't hear it. Most people's deaths are a sham. There's nothing left to die. Away with lamentation! Away with elegies and dirges! Let the dead eat the dead. Let us dance about the rim of the crater, an expiring trampoline dance, but a dance!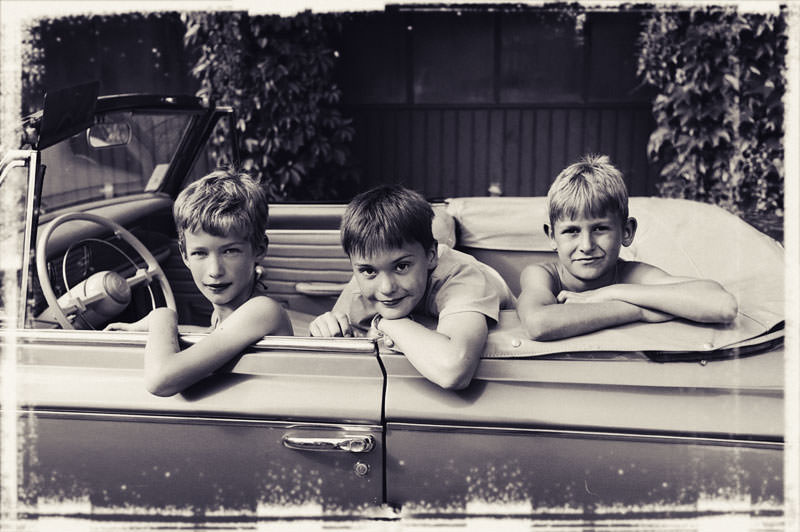 Three Flames | Look For A Man With The Heart Of A Boy And The Mind Of A Conqueror
Limited Edition of 3 ▪ € 5.000
The world is a heap of people, a sea of tiny flames. Persons shine with their own light. No two flames are alike; big flames and little flames, flames of every color. Some people's flames are so still they do not even flicker in the wind, while others have wild flames that fill the air with sparks. Some foolish flames neither burn nor shed light, but others blaze with life so fiercely that you can't look at them without blinking, and if you approach you shine in the fire. There are those of poor spirit and there are those of great spirit. None are without it but the flame flickers pretty low in some cases. The majority of people seem to be nothing but a little flickering flame. You know that when you match them against an individual who is all fire, all radiance. Those in whom the flame of the spirit runs high are extraordinary examples of human beings. If you are great you can stay that way and people will believe in you, swear by you, turn the world upside down for you. But if you are only partly great, or just a nobody, then what happens to you is lost.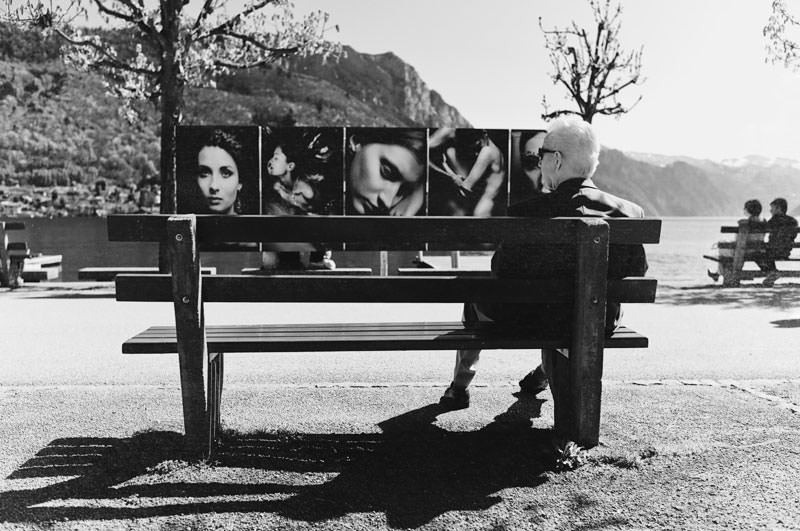 Pictures Of Dorian Gray | Deceptive Images Of Youth Hover Before Us And We Search In Vain For Their Original
Limited Edition of 3 ▪ € 5.000
Youth is one of the great facts of the world, like sunlight, or springtime, or the reflection in dark waters of that silver shell we call the moon. It cannot be questioned. It has the divine right of sovereignty. You have only a few years in which to live really, perfectly, and fully. When your youth goes, you will fade with it, and then you will suddenly discover that there are no triumphs left for you. Time is jealous of you, and wars against your lilies and your roses. Don't squander the gold of your days, listening to the tedious, trying to improve the hopeless, or giving away your life to the ignorant, the common, and the vulgar. Live! Live the wonderful life that is in you! Let nothing be lost upon you. Be always searching for new sensations. Be afraid of nothing. The world belongs to you for a season, how tragic it would be if you were wasted. For there is such a little time that your youth will last. The common hill-flowers wither, but they blossom again. The laburnum will be as yellow next June as it is now. In a month there will be purple stars on the clematis, and year after year the green night of its leaves will hold its purple stars. But we never get back our youth. The pulse of joy that beats in us at twenty, becomes sluggish. Our limbs fail, our senses rot. We degenerate into hideous puppets, haunted by the memory of the passions of which we were too much afraid, and the exquisite temptations that we had not the courage to yield to.
Love Lane | If You're Afraid Of Wolves, Don't Go To The Woods
Open Edition ▪ € 300 to € 600
Driving along the love lane, waiting for the inspiration to find him, he sees the woods and concealed amongst the trees, recognizes a true map of the universe, just as it is, a dirty green that spreads out shapelessly, with narrow paths and screams in the darkness. It all blow's up in the mind of the artistically insane. She is bored, mindless, soulless and ugly in her flawless beauty until that moment of interaction, business connection, lustful love that they are both ignited, just as quickly gone. Creative inspiration is a fucking fantasy come to life. Dark, delicious, dangerous, delightful, ethereal. It has a pornographic effect on him. Ecstasy of the mind, a type of alive that is a fleeting flash of fantasy more palpable than reality he is alive only when stirred. "I fear the death of inspiration, the death of thought that exists in the collective mind of a numbing mass mentality," he thinks. I would rather burn alive with living. The mind of a madman is a dark maze of intensity. The girl, her carmine lips bringing to life his monochromatic existence. She is his to possess. His to capture, to enjoy till it's time for the next one. Ruthless, evil incarnate they dine with the devil who serves red mouths and youth for appetizers. "Souls for dessert," smiles Lucifer as he looks the madman in the eye. ~ Kalahari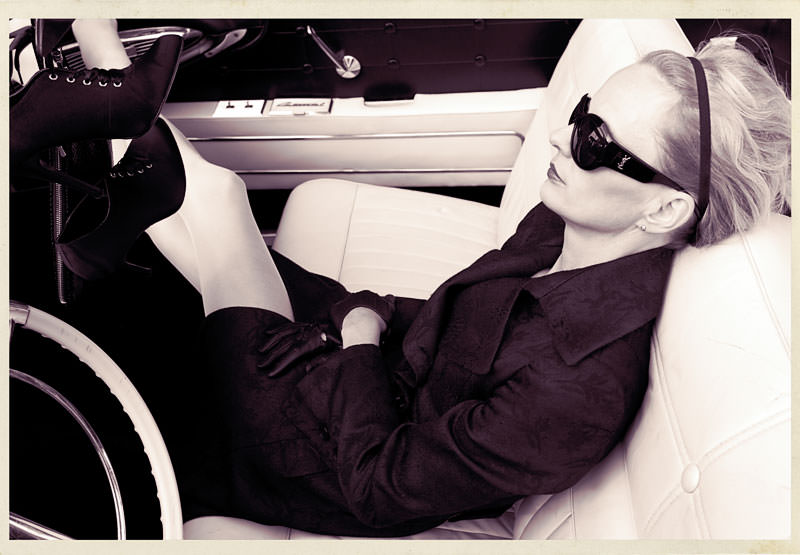 Laura | A Tramp Of A Lady
Open Edition ▪ € 300 to € 600
First time I saw her she was lounging in a car. She had a feline seductiveness that demanded the attention of the men within her territory and the eyes and intelligence of a big cat predator. Your every instinct warned you that she was dangerous, but your every desire demanded that you not take your eyes off her. She was eloquent and witty and, rumor has it, sexually insatiable with a drug habit to rival this desire. One could only gasp at this woman's open challenge to judge her. She was powerful and a serial sexual slayer yet a woman set apart by her elegant grace. She had an air of sophistication and almost superiority but had the rhythm of nature and the body and voice of a siren. She was playing, untouchable, unavailable. She had a seductive elegance about her which makes men want her even more but a dangerous calm masked her face in respect for the depth of her cruelty. She knows how to use her body to draw attention. Visible wealth, her hair and makeup immaculate. Her beauty has, without doubt, served her well and I am sure that a sugar daddy or two takes good care of her. ~ Kalahari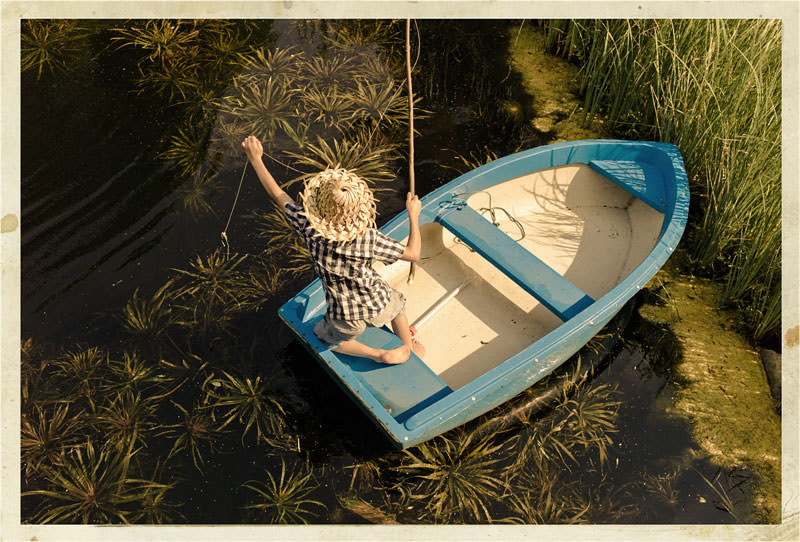 Fishing With A Dotted Line | At The End It's Just A Wave At The Lake
Open Edition ▪ € 300 to € 600
The river reflected whatever it chose of sky and bridge and burning tree, and when the undergraduate had oared his boat through the reflections they closed again, completely, as if they had never been. There one might have sat the clock round lost in thought. Thought - to call it by a prouder name than it deserved - had let its line down into the stream. It swayed, minute after minute, hither and thither among the reflections and the weeds, letting the water lift it and sink it until - you know the little tug - the sudden conglomeration of an idea at the end of one's line: and then the cautious hauling of it in, and the careful laying of it out. Alas, laid on the grass how small, how insignificant this thought of mine looked; the sort of fish that a good fisherman puts back into the water so that it may grow fatter and be one day worth cooking and eating.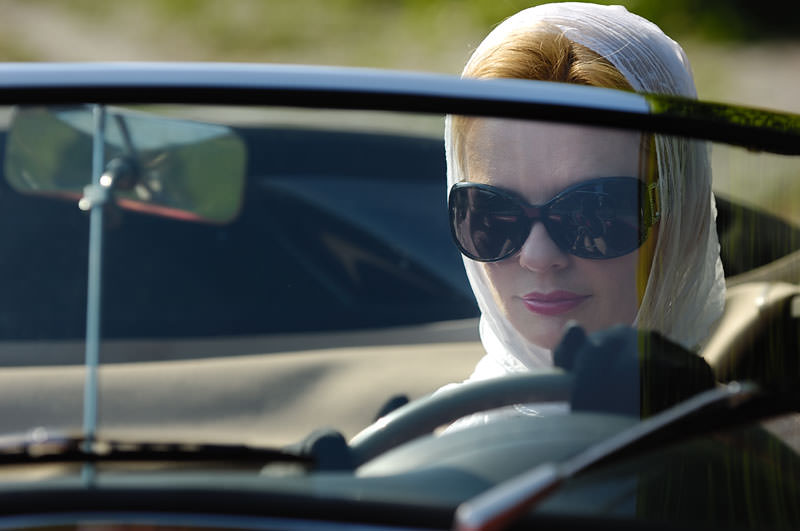 Movie Style | Chinese Porcelain Dolls Are Made Out Of Real Bones
Limited Edition of 3 ▪ € 5.000
Ordinary women never appeal to one's imagination. No glamor ever transfigures them. One can always find them, obtainable everywhere, at all times. No mystery is in any of them. They show their stereotyped smile and their fashionable manner. They are quite obvious. She takes a drive today, time to emancipate. From her handbag, she takes a round gilt compact with violets on the cover. She opens it, unclosing her other self, and runs her fingertip around the corners of her mouth, left one, right one; then she swivels a pink stick and dots her cheeks and blends them, changing her shape, performing magic to herself. Pink on the cheeks; black discreetly around the eyes, as red as blood as black as ebony, a seamed and folded imitation of a magazine picture that is itself an imitation of a woman who is also an imitation, the original nowhere, a captive princess in someone's head. Even an immaculately crafted porcelain doll could not have been as lovely. Beauty is given to dolls, majesty to haughty vixens but mind, feeling and the crowning grace of fortitude are the attributes of an angel.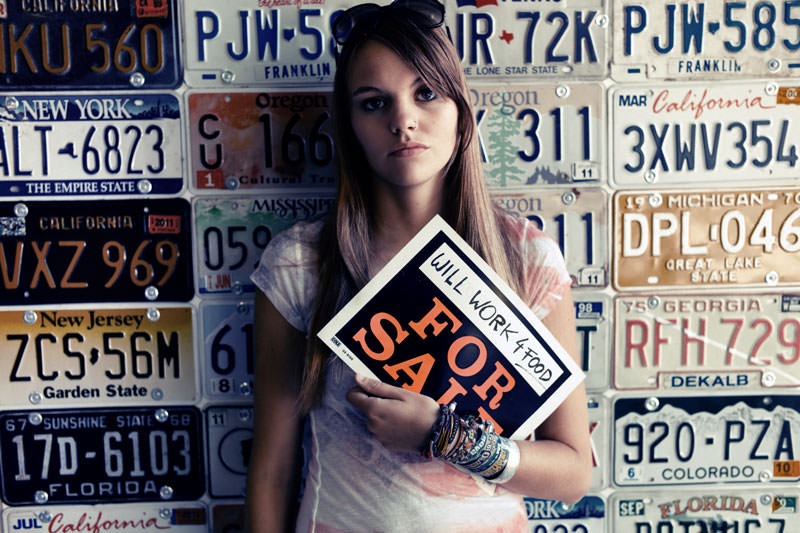 Migrant Girl | Ellis Doesn't Live Here Anymore
Open Edition ▪ € 300 to € 600
Immigrate me! The peopling of America. From California to the New York island. Ellis Island was the symbol of American immigration and was the gateway for millions to the United States. All had hopes for greater opportunity in the New World but the human dream is by no means a requiem for a dream where one has to be asleep to believe it, but rather a dream where you have to be on alert and creative to bring it to full bloom. As Miss Liberty addresses the consumer culture in the American dreams: the 'Dream of Abundance' offering a cornucopia of material goods to all Americans, making them proud to be the richest society on earth. Then the 'Dream of a Democracy of Goods' whereby everyone has access to the same products regardless of race, gender, ethnicity, or class, thereby challenging the aristocratic norms of the rest of the world, whereby only the rich or well-connected are granted access to luxury. Next, the 'Dream of Freedom of Choice' with its ever-expanding variety of goods allows people to fashion their own particular lifestyle and finally the 'Dream of Novelty'.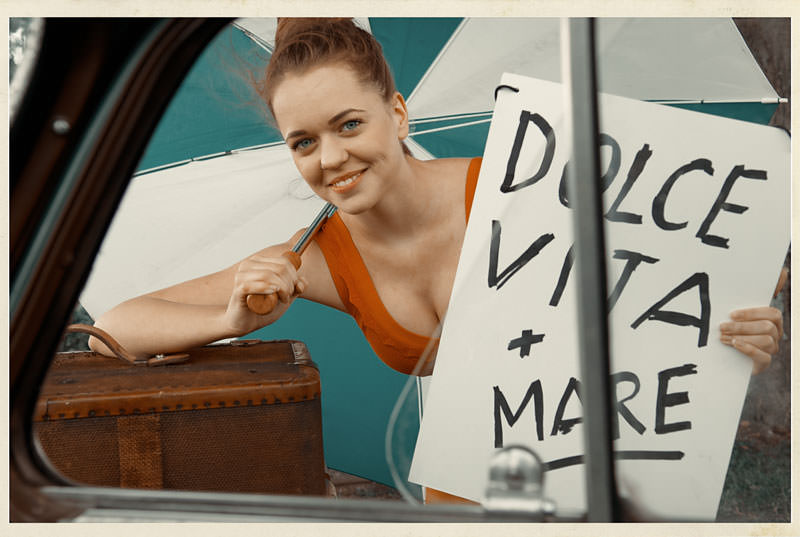 Alle Porte Del Sole | For Each Time She Bends A Lamb Is Taken From The Flock
Open Edition ▪ € 300 to € 600
An angel's face showing up at the crossroad. Cicciolina came from Sicil-y, hitchhiked her way across Ital-y. Hauling her case, thumbin' a ride. Ultimate freedom. An extremist. An aesthetic voyager whose home is the road. She is free in her wildness, she is a wanderess, a drop of free water. She knows nothing of borders and cares nothing for rules. Time for her isn't something to fight against. Her life flows clean, with passion, like fresh water. As for you girls, you must risk everything for freedom, and give everything for passion, loving everything that your hearts and your bodies love. The only thing higher for a girl and more sacred for a young woman than her freedom and her passion should be her desire to make her life into poetry, surrendering everything she has to create a life as beautiful as the dreams that dance in her imagination. You may call her a tramp, a gypsy, but it goes deeper than that. She's not looking for anything. She's not aimless. It's just that her aims are different from most. No longer to be poisoned by civilization she flees and walks alone upon the land to become lost in the wild. And home she wrote: Dear Mom, I've hitchhiked to eternity. I shall not return. Don't be mad.