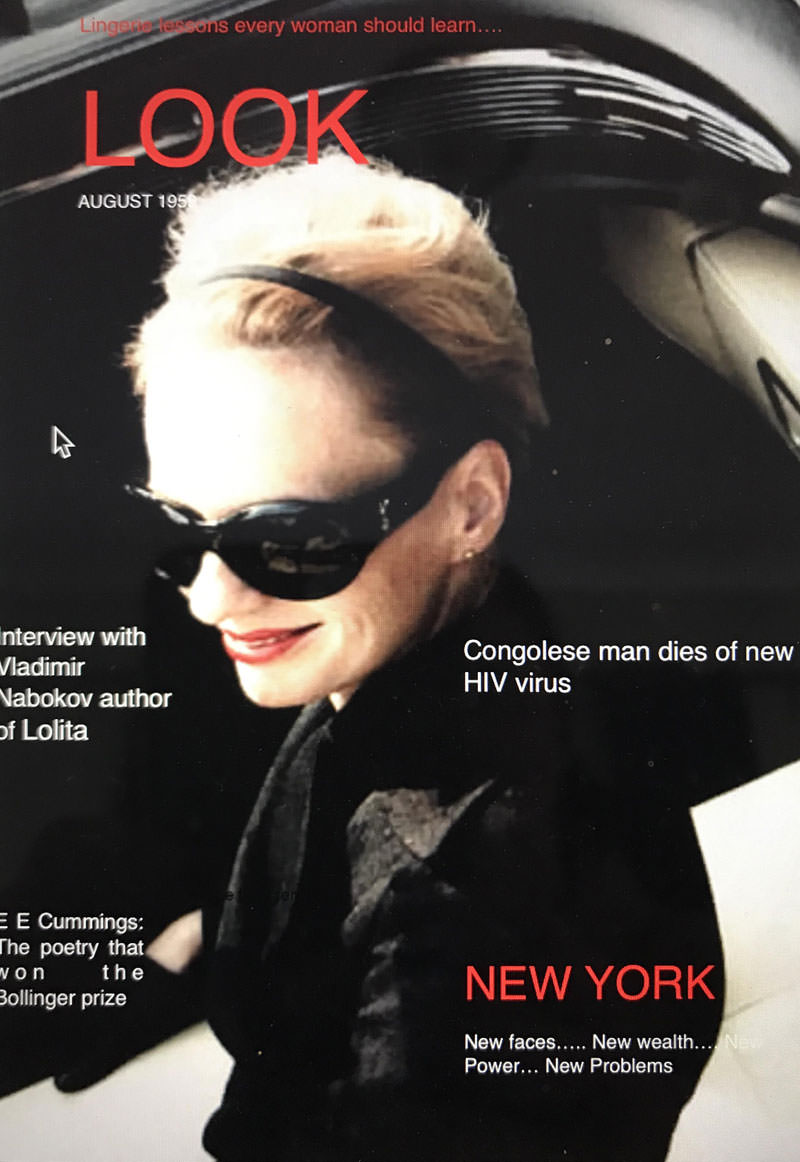 Rape!? | Heaven Knows, Mrs. Allison, What Happened in Allah's Garden - A Rashomoniade Told (Reported) By Kalahari
Photographs by Reinfried Marass
Dear Mr. Cowels,
I am a freelance writer and submit a sample of a story I thought might be of interest to your readers at 'LOOK at me' Magazine.
'Expectations were as high as the guests at the exclusory venue of the stars, but we were not disappointed. Thank you, Garden for serving your gossip-filled amuse-bouche on which we may feast. The evening started with the screening of 'Salome' in honor of the Mistress of the Garden herself Alla Nazimova who was the epitome of diva in the most mouth-watering way. A grand screen displayed the film and was mounted next to the most advanced designed and state-of-the-art swimming pool that illuminates from the inside. Beautiful people demonstrated the young way to wear the new fashion as well as the appealing way to remove it. The pool was alive with nakedness, and the illumination created an illusion of liquid moonlit naked beauty, an effect of transporting the onlooker into another world of wonder. The guest list included some of the biggest names in Hollywood. It was the place to be on the 22nd of August, but of course, any real event hosting real people is not without its darker side. Rumor has it that a guest at this establishment reported a rape. Details are sketchy at best, and the law is tight-lipped, but we believe the accused is a man who was also a guest at the party. He said he is innocent, a victim of revenge. Four accounts of the same event contradict and a fifth just adds fuel to the supernatural mystery of this place and that evening. Who are we to believe? Whose testimony holds ground? How dark and infinite is the potential of our human nature? The truth is elusive despite being clothed in 'Yves Saint Laurent for Christian Dior' designer wear.'
Yours, K
PROLOGUE - A confession.
Imagine a place where all inhibitions dissolve in a glass of Dry Martini. A place filled with beauty and unlimited vices. Somewhere where artists play and create and mayhem reigns. Here guard dogs with the name 'Hound of the Baskervilles' demand law enforcement compliance, and only the privileged few with access can see. I am here to tell you that not only did it exist but it is a place I called home for a while. I am the niece of Sheilah Graham -- goddess of the gossip columns -- who lived here for a time with her 'Great Gatsby' lover. I think I reminded Sheilah of a younger version of herself which is why she allowed me to stay and learn and write at the 'Garden of Allah.' When she left, I was loved or ignored but allowed to come and go.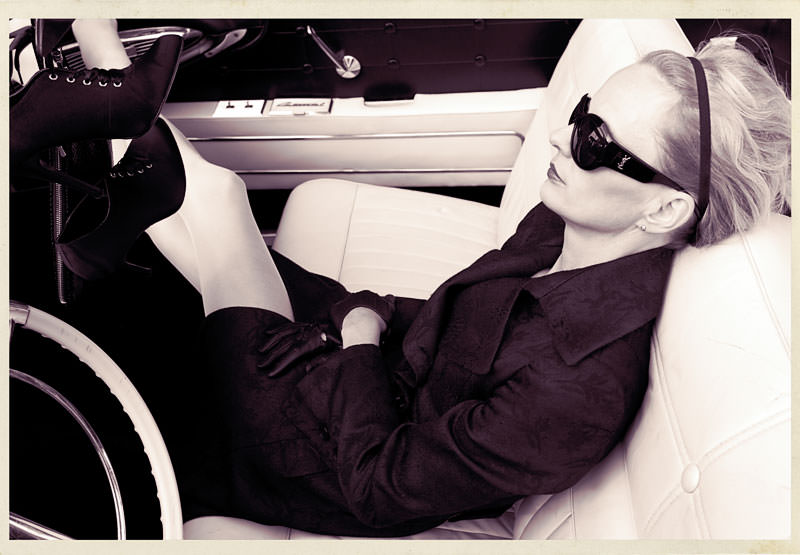 Note: HER on the night in question
It smelled sweet. Incense burnt in the lobby to mask the smell of sweat and alcohol and music prevailed, always music. Sometimes loud, most times rhythmical, sometimes melancholic but a constant presence. My earliest memory was in 1938 of morning notes drifting through the doors from poolside at the room of 'The King of Swing' himself. I would hear that clarinet solo playing a smooth rhythm suitable for the morning vibe. A sluggish pulse of 'sing sing sing,' slowly the drum beat would follow and so the Garden would come to life or perhaps turn to slumber with some guests finally succumbing to their alcoholic, narcotic induced stupors. So typical of the dichotomy of this place. The creative souls hungry for beauty being satiated by the imaginative soul food around them but never knowing when to stop consuming. Always turning to excess, exposing the darker undertones of human nature that prevailed throughout the 32 years that the Garden entertained. Nobody cared. By the 1950's music was the Garden's blood and was explosive and expressive. On balmy evenings the pool would start attracting beautiful bodies like moths to a flame and lovelies would start undressing to songs like Big mama's 'Hound Dog,' both sultry and slow as only they knew how. They were lovely, men and women of beautiful proportions all drunk on their successful lives. Finally, someone would strike up 'What'd I say,' from the 'Father of Soul' himself and the heart of the Garden would be shocked into a beat. Manic laughter with nimble limbs and legs and torsos would mingle with tongues and jewels and drugs incited by the lyrics infiltrating their souls 'Hey mama, don't you treat me wrong, come and love your daddy all night long, all right now, hey, hey'. All eventually yield to the allure of the Garden. Marlene was a favorite for these nights of naked excursions. Her magnificent form and persona ever present even amidst the debauchery or maybe because of it. She was closely rivaled by the presence of the lovely Miss Betty. The first time I saw her, she was lounging on a piano with a seductive, feline smokiness that infiltrated a room and demanded the attention of the men within her territory. She had the eyes and intelligence of a big cat predator and your every instinct warned you that she was dangerous, but your every desire demanded that you not take your eyes off her. Sphinx, Aphrodite, Cleopatra and her. She was their legacy, she drew on their mystery, and she was the personification of femme-fatale. In huge contrast in style but not in personality was the impossible Miss Tallulah. She was eloquent, witty and sexually insatiable with a drug habit to rival this desire. One could only gasp at this woman's open challenge to judge her. She was powerful, intelligent and a serial sexual slayer but even she could not compete with the essence of Alla Nazimova, the alpha female of this wilderness. It was she who initiated, in the early days of the Garden, the perpetual motion of sensual undercurrent that persisted throughout the lifespan of this community, generating its creative energy. This energy fed the desire. The more uninhibited, the wilder, the more unthinkable, and illegal, the better. Nazimova was a nubile queen of the silent movie screen. She knew how to keep the attention of her audience using her body alone, and she could recognize this talent in many young and lithe women for whom she had an unquenchable thirst. Of course, she would enjoy the occasional man as well, but she knew the impact of the female form and would use it to its fullest potential often successfully displaying her beguiling ladies in their prime. Some of them quite well known, big names on the movie circuits. Nazimova set the tone, used the building sexual tension to incite a carnal appetite in her formidable spectators, whose desire, in turn, fed the sensuality of the women and so momentum gathered. Always with impeccable timing, Alla would choose her delicacy for the night, often enjoying her in full view of her audience, as she is swept up by the dominant desire of the moment. This was the only catalyst needed to elevate 'simple sex' to 'sublime erotica.' Sometimes when Ms. Alla Nazimova was in a generous mood, she would invite the men into this inner circle of womanliness and lust, with a luscious result. Alla affectionately referred to her sisters as 'the sewing circle' proving once again that nothing in the Garden of Allah is as mundane as it may seem. It is a place of mystery, intrigue and arousing surprise.
'She' was a woman with gravitas, sometimes seeming too elegant to be a part of the debased sex around her. She is the one who claimed to have been the victim of rape. The woman whose life changed the night of the Garden Gala. She had an air of superiority and sophistication even though she was not as well-known as most of the other guests there. She had the rhythm of nature and the body and voice of a siren, and she could command even the Garden of Allah when she chose to -- for she was the quintessential, cultivated woman.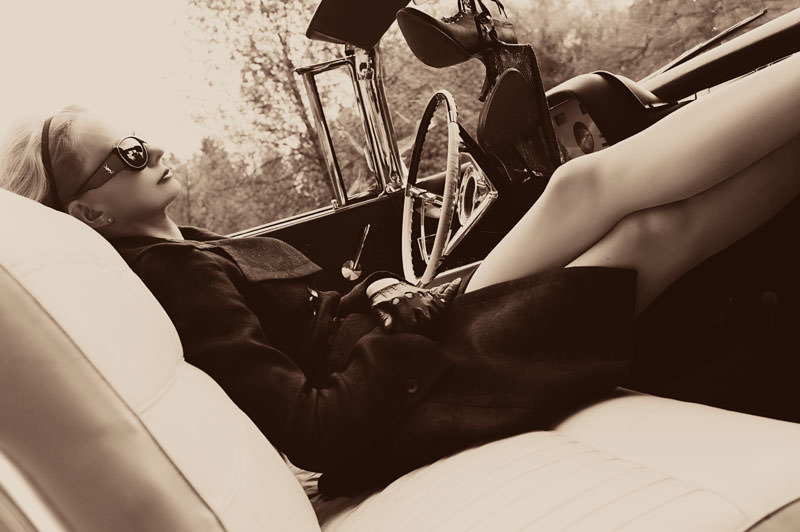 Note: She had an air of indifference, which inflamed the men around her
I was a child in the early years of the Garden, tolerated by the few who noted my existence, protected by the staff from those who had an affinity for younger things and later my wise mouth was all I needed, I learned from the best. I saw many people come and go and my memory of that time was one long, continuous party of the famous and the infamous, hiding from the responsibilities that their celebrity demanded. Slowly the backbone of this little palace could not sustain the ever-growing weight of its reputation, and it was time to close the doors. On the 22nd of August 1959, the Garden would host its last extravaganza. It was then that I discovered that I was a girl with an inquisitive mind and an unstoppable purpose, to search for and tell the real story. This rumored rape has been challenging, the facts elusive, causing me to question my faith in humanity. My intuition suggests that there is much more to this and that this story is more sordid than was initially expected like the Garden of Allah itself, beautified by the people that it hosted but rotten to its core from the human nature it endured.
So I share all my thoughts, my notes, interviews, and investigations with you. I will not withhold anything, and I challenge you to draw your conclusions, to solve the puzzle of this alleged assault with me.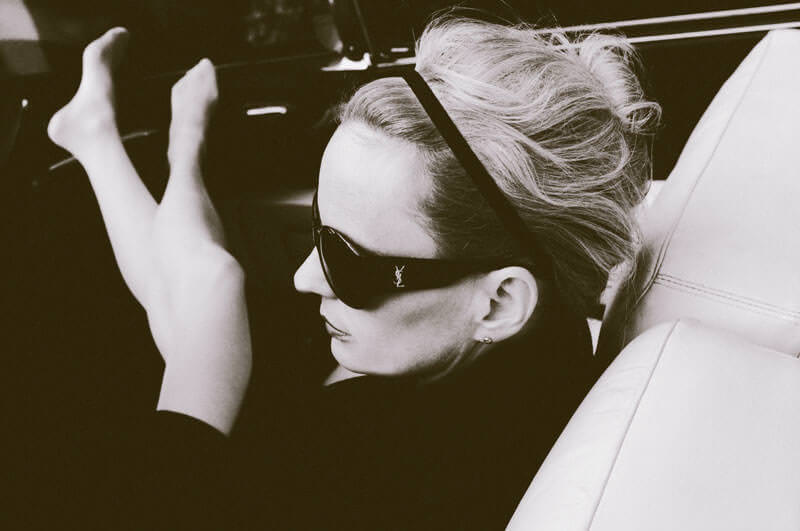 Note: Provocative and deceptively vulnerable – the psyche of man a hobby of hers, men an obsession
The interview with HER:
"It was to be the main event of the year in illustrious Hollywood, the world's entertainment mecca. The Garden's final and finest performance would be attended by all the royals, and they planned to enjoy the players who would be out to impress. The kingpins and the Hollywood queens would luxuriate in their power and position and reap the rewards of their influence.
Imminent rain and anxious enthusiasm saturated the air and caused delectable excitement. A sense of recklessness permeated everyone who dared to attend.
I was feeling the restlessness of the moment. The Garden has been my home, my life refuge. My entertainment. The men here are deliciously manageable and amusing but don't disappoint. I am passionate, and I feed off their desire, it is as powerful as the purest opium.
Thankfully this is insatiable Hollywood who demands her fee of immortality, a fee for which she promises a plethora of pleasure. Immortality. We all know how to reach it the command is simple: 'Be memorable.' The people here are the best of the best, and they use what and who and all that they can get their beautifully manicured hands on to reach this required state of divinity.
I had dressed for a purpose. My black coat powerful, dominant revealing just enough to tempt and I had the attitude of indifference. This carefully balanced contradiction is something I have perfected, and it drives men to distraction which is where I want them to be.
I enjoy commanding men, but I crave the desire of a man who can control me. It's a passion. To submit to a man, his will, his hunger, is intoxicating to a woman who is powerful in her femaleness and I am. I delight in it. I feel its strength, and I sense its potential. A man who desires me enough to want to dominate this is almost irresistible. This man I obey, with delight, but not entirely. A complete submission needs a belief in a human soul that is worthy of trust.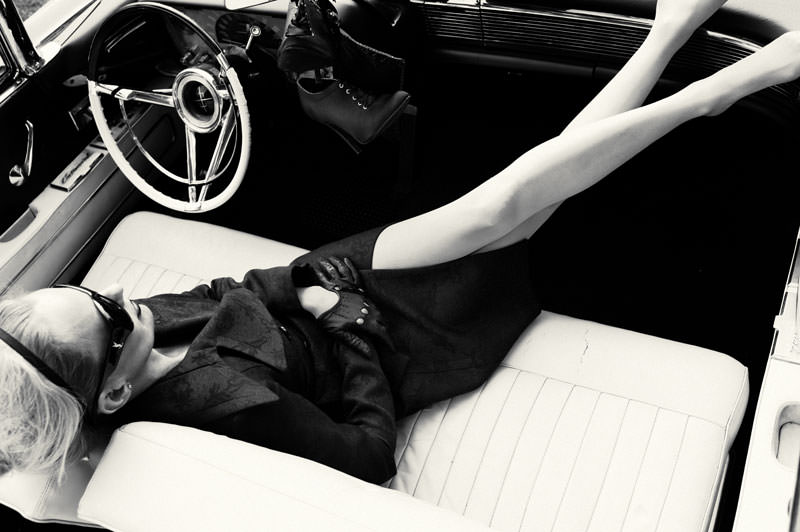 She has a sensual confidence and control and is terrifyingly beautiful
HE was different. I pretended not to notice him when he arrived but he was impressive, except of course for the disappointing girl on his arm. Apart from her, nothing about him was ordinary or predictable. He didn't care about whom to impress or where he was, and he was unknown, just like me. HE could mean trouble for me.
I was at the pool, drinking a Manhattan cocktail because I most certainly do 'Like it Hot' (laughing) and that's when I saw him headed my way.
Despite myself, I approached him. It had started to rain which gave me an idea. I was part of a little impromptu photo shoot in the car park earlier on. It's always a great way to start a night because such a photo shoot makes you feel provocative and seductive, sensual. To be photographed is to be desired and there is something intimate about it. A good photographer takes a soul, and for a professional soul obscurer like myself, I find this a challenge, a duel. It is an experience that delightfully inflames. I like that, and of course, I liked that car. I remembered thinking I wanted to hear this engine and feel its power. I also figured one wild ride in the car would take the edge off.
So we got talking, I borrowed the car keys and offered to show him. That's when things turned ugly.
He had sex with me, against my will, but he had no power over me and rape is all about power. He will suffer for what he has done. (Her eyes have a coldness that I have never before experienced. They reveal a darkness and depth the effect of which is palpable).
I am no victim. I am a woman, and I possess an intuition and a collective power in a mystery that no man can ever understand. Of course, I do also have the means to make him pay (bitter laughter).
No, I do not know the woman he was with.
Noooo, I never wanted to have sex with him.
Yes, I am aware of the implication of these allegations.
And YES ... He raped me. NO means NO in anybody's language."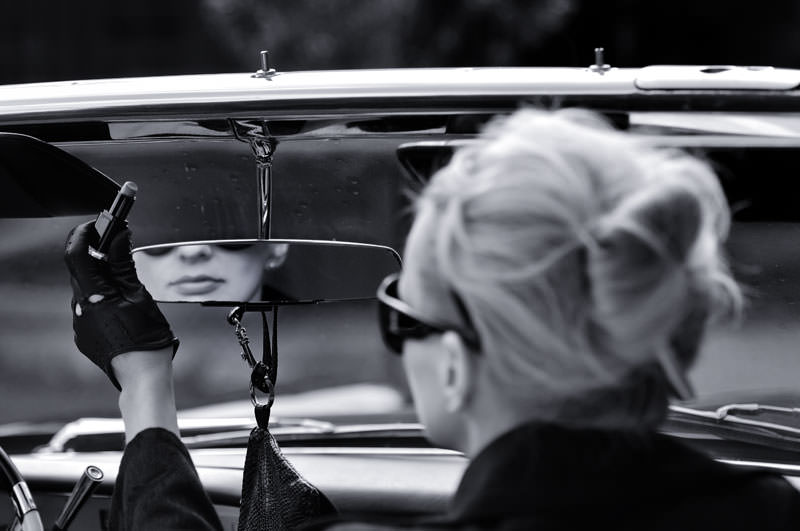 She slowly covers her eyes with her dark glasses and re-applies her lipstick. I know that shade: I think it's called 'Obsession'
Interview with the Photographer: 'The Man With The Camera - f/16 and be(en) there':
He is a resourceful, arrogant but excellent photographer who has a bloodhound nose for a story.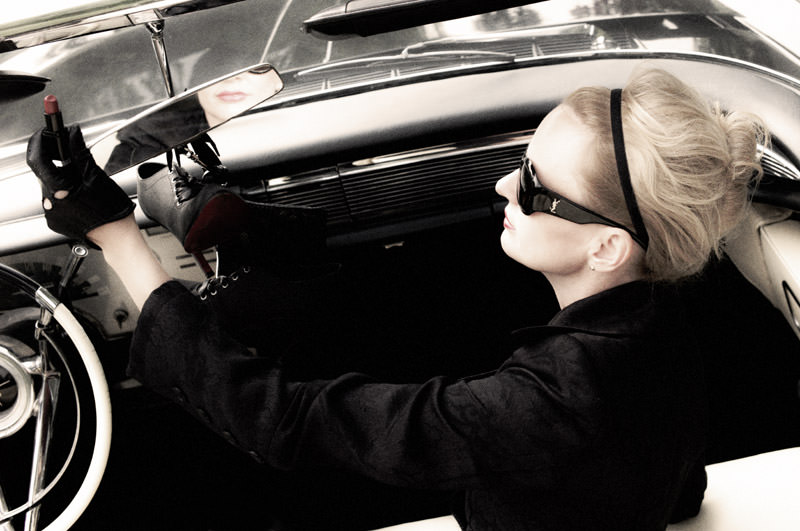 The photograph he recognized as being on the cover of 'LOOK at me' magazine.
"Yes, I recognize her. No, these are not my photos. I remember seeing this one, (tapping on one of the photographs). It was on the cover of the 'Look' - at me - Magazine' last month.
I am a freelancer and the night was not going my way, but I always keep my eyes open. The guests were wild and un-co-operative but doing nothing news or note-worthy, and then I noticed her. She was at the pool remaining aloof and unaffected despite the torrential downpour that hit the party. She was physically exquisite, a photographer's dream and a natural muse. I cannot explain this effect because in my business I have seen it all. I have certainly seen women more beautiful than her, yet none of them had affected me in this way.
I was bewitched for a moment as if under some influence. I remember following a drop of rain running down her face, down her neck and then seeing it being tragically wiped away changing its course and ending what I can only imagine being the gentlest of caresses.
She moved. Headed toward some guy and started sweet talking him. My gut told me there is a story here, so I followed them to the car. Note: I noticed that she had a calculating way of using her body.
What a show. (He has a nostalgic look no doubt conjuring up the image) She was seductive. Beautiful. The sight of her undressing was ravishing, and I have those photos to show for it.
I was mesmerized, it got rough, and she loved it.
Yes, she willingly climbed into the car's seat.
I am still investigating the story with the potential of a newspaper sale. I look forward to competing with you on this one my lovely (His condescending smile shows he doubts my ability to compete with him, the bastard. Challenge accepted.)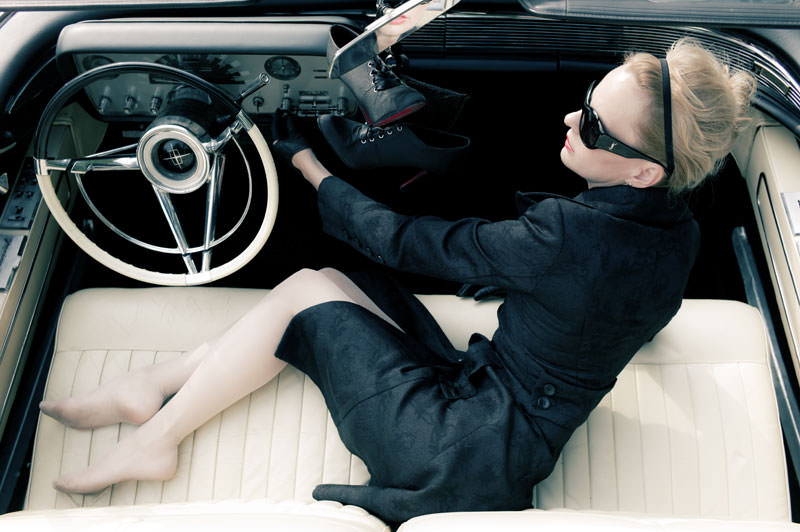 Because I like you I will share some information I have been able to gather.
There was another witness. He is the valet and was part of the extra, temporary staff employed on the occasion of the party and claims to have seen a little and heard a lot. Have a look at my notes ...
It was the night of the party, and I was asked to work late. I do this happily as the extra money is always helpful. I have a wife and kids at home and let's just say the guests of the Garden may be wealthy, but they are usually too drunk to be generous. I was in the car park, on a smoke break, when I saw this woman in a black coat and an authoritative man walk to a car.
I remember the car. It was a Lincoln Continental MK III, latest model, a beautiful piece of machinery.
Their attraction was contagious. I never get to taste the sweet parties that happen in The Garden, I just see these people enter the property, but her I saw. Forgive me, the briefest sight of her partial nakedness, her ivory skin as smooth as silk, this image was hypnotic and is branded on my mind.
I don't think this was a rape ... and ... Ok ... I never actually witnessed the event, I just heard it.
It was after the sex that they started arguing. She then just started laughing. I watched him leave, and he looked like a dead man walking. I know what it feels like to face the wrath of a beautiful woman and I must be honest, I felt for the guy.
Uhmm ... I was there where I was not supposed to be because I occasionally relieve the guests of the burden of extra cash and gadgets they misplace in their vehicles (Grinning).
... and that is all I got from him.
Do I think it was rape?... no. I mean I had to be discrete and didn't have a front row seat, I could be mistaken but anyway, would I document a rape?
Good luck on this one darling. I will see you at the printing press." (He smacked my ass as he turned to leave! The arrogance is infinite and my indignation filters into my mouth, I taste it. My only consolation is the advantage I have at being underestimated).
Interview with the 'Other Woman':
I do not know her, but she fits a mold. Visible wealth, wearing a Coco Chanel original for the occasion, her hair and makeup immaculate. She is curvaceous and knows how to use her voluptuous body to draw attention. Her beauty has, without doubt, served her well and I am sure that a sugar daddy or two takes good care of her. Her beauty is superficial but, to be frank, she has very little substance. Those women are the most dangerous of all.
"Yes, I was his guest at the party. This place would be teeming with producers, talent scouts, directors, actors. These occasions can launch an acting career, and I made sure that I would not miss out (a satisfied smile).
I was determined to look good, and I did. We were the envy of everyone there drawing jealous attention as we arrived and this was good. What was unacceptable was a public argument and him dumping me for some tramp on the night.
He had mentioned her when we arrived. I remember his reaction when he saw her slowly sipping her drink. She had him mesmerized in an instant. Without exchanging even one word with her, he was affected like never before. He did not know who she was and he did not even care. Something changed in him.
It was then that the rain started. I loved the sensation of the water running over my body and, for an instant, I closed my eyes and forgot. The rain drenched my dress, but the deluge did nothing to dampen the mood of the night. I needed to get my guy back on my track, so I suggested that we go to a room that he had managed for us at the estate.
A 'friend' of mine gave me some powder ... I asked nicely (a seductive little smile). I offered him a line, and I had some too. That stuff makes me feel super-sensual, confident. He became more aggressive than usual, and this was a definite passion-killer, he was rough, forceful. I told him "Go to Hell," and he just laughed and replied: "with pleasure, baby."
I can explain why he was rough, and I can also explain why he left the room, he was thinking about HER. He wanted her, I was sure of it. A woman's intuition is a helpful tool, and his thoughts were a flashing neon sign. I got dressed again and followed him to the pool.
It was maniacal. The band continued playing, but the movie had to stop because of the weather. There were bodies everywhere in differing stages of undress and dance.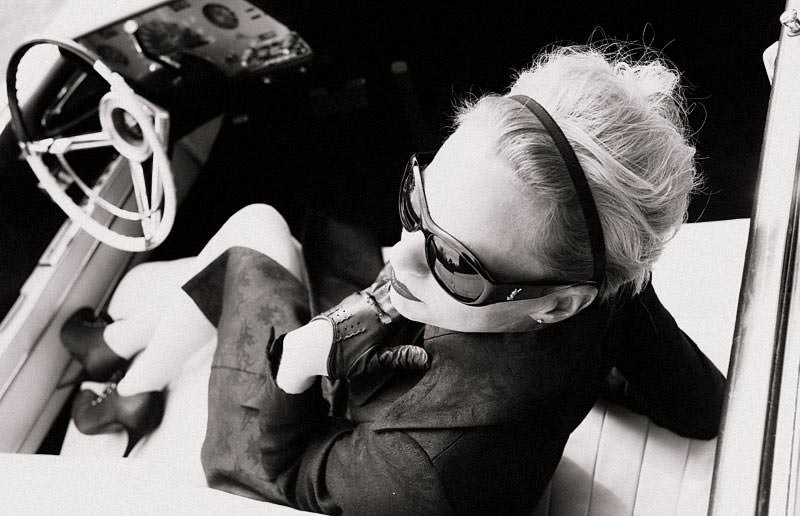 Note: The other woman' recognized 'HER' in this photo and identified her as the one that was raped.
Yes, that is HER. This tart of a woman was all over him, it was embarrassing. She had been playing him all along. I know a competitor when I see one.
I saw them leave together. I saw her take car keys from a jacket and I followed them -- from the bar to the car.
It was while I was watching them that I figured I should forget this and get back to business. I was at the party, and it was time to work the floor. This guy, beautiful as he was, had served his purpose. I would leave in the morning on the arm of a producer even if I had to drug him to do it, but something in their Demeanor changed. It made me stay a little longer. Their conversation turned heated and not in a 'loving way.' She slapped him, and that's when he shoved her into the front seat. She started struggling, and he didn't stop. It looked like rape to me, but, ok, I'm not sure. I'm not into that rough shit, so perhaps some people would find that a turn on, not me. I share what I saw with you because I want you to make him pay for what he does to women. Oh, a strange thing happened, she started laughing. I remember being perplexed by this, and it seemed so out of place. It sent a chill down my spine."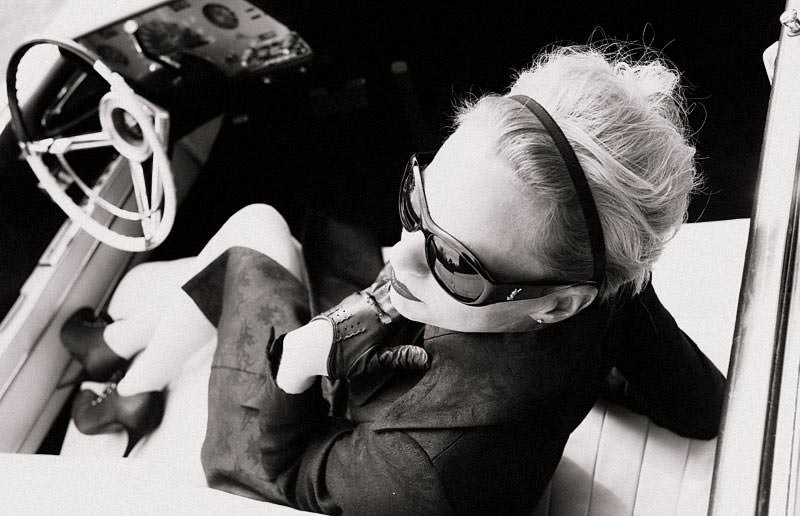 Note: I have a reluctant admiration for this woman.
The interview with HIM:
He is perfection personified and spoke perfect English with only the slightest of accents. His clothes, his smile, his body all hypnotic but his expression is like a vice-grip around the throat. I get it. This man can manipulate a woman by his presence alone, it's palpable, electric and this together with his obvious intelligence makes him unpredictable.
"I know women, how they think, what they love, their desires and their passions. Possess them. Treat them with just the right amount of force to make them want more, I say. Love you ask? (genuine bitter laughter) love is for the mindless, that is my only unbreakable rule: never stay. No woman will be my keeper. This is business my beautiful (my heart races despite myself).
I have never met a woman that I wanted that I have not conquered, I have also never left a woman unsatisfied. They come to me willingly, those are the rules (laughter) It's a game, and I am the master. (I feel his control. I understand denying this man is not easy.)
I am used to being in control. I get what I want, usually what I want presents itself willingly and effortlessly which is nice, but sometimes it feels good to work for a reward. (He smiles) but I will not be refused.
I'll give it to her; she was easy to underestimate. It started like all the others, she was playing, untouchable, unavailable, and I was hungry. She had a seductive elegance about her which made me want her even more, it was not long when I realized, and I hate to admit this, but she influenced me. She ignited a flame within me that would not be quenched. It was at the first moment that I caught a glimpse of her face that I realized that I had to have this woman. She would be the sweetest thing to taste and taste I must! Taste I will!
Note: The photo in which he recognized the car.
Yes. That is the car. She guided me to it. She said she wanted me to take her on a 'wild ride.' I think she liked the idea of knowing me in this black auto. It was an offer I could not refuse?
Yes, she climbed into that front seat on her own accord. She wanted me as much as I wanted her. There was no doubt.
No, I did not rape her.
I was rough, and that's the way she liked it. I tried my best to feed her appetite. As I said, I aim to please and be remembered of course (he smiles, and I blush).
We had a great time until I told her this was not a long-term thing. She turned on to me, and a dangerous calm masked her face. I will never forget that smile, just like the one in this photo. For the first time, I encountered someone with the same cold, passionate ability to get her way as I did. I have respect for the depth of her cruelty. She devised this story of 'rape' to get even with me. I think it's safe to say the woman did not appreciate the brush-off. I have nothing left to lose, and I keep nothing from you."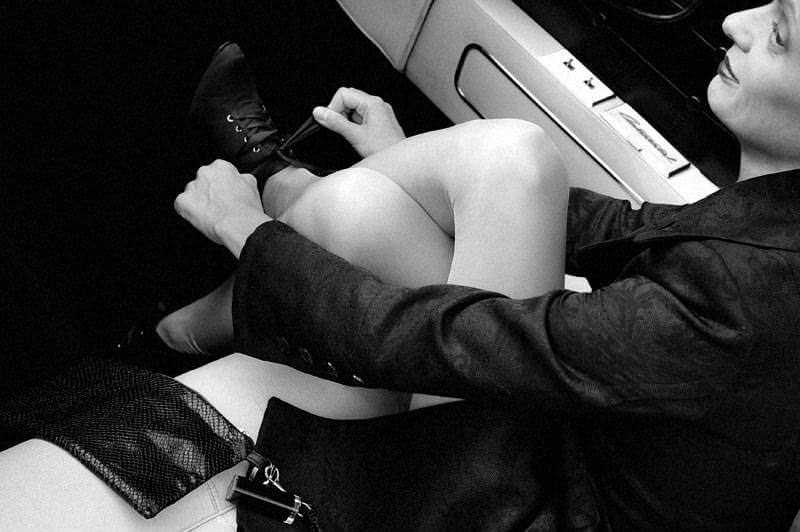 Note: He was affected when he noticed her expression on this photo.
Reflections: I have the disbelief of a victim. Never before have I encountered such cold-hearted passions and ego's before and why did I respond to them the way I did? I felt drawn to their nature, and yet I cannot understand it. What does the fact that I engaged in this darkness reflect about my soul? Who do I believe? Who is telling the truth? What happened on that night? There is nothing more enticing than the truth of a thing like this that lingers just outside the borders of one's logic.
Note: I had a strange encounter on the grounds of the Garden, and I don't quite know what to make of it. (Was it even real?) I realize that sharing this threatens my credibility, but I reason that I must reveal all I know. This would be the truth. Withholding something would mean influencing a decision, a verdict, in some way and that would be unacceptable. So, while I am not superstitious, I share a message from Nazimova who has been dead for almost ten years. Do with the following what you want.
Statement from a Ghost:
The cottage looked insignificant and was situated in a secluded part of the estate. I stepped onto the porch and knocked on the door curious and expectant, but that's where all familiarity ended. As I entered through the doorway, I moved into a primal world. I was greeted by a large and powerful, bare-chested African man. (I smiled because he was easy on the eyes). He led me down a corridor into a dim, candle-lit room that had a distinct, sweet smell. Marijuana. Volumes of marijuana clouds drifted throughout the small space. Never bodes well for me and I had the almost immediate urge to start giggling until my eyes found the woman that materialized before me, the site of her alone quelled any urge to be silly. I will admit, I was astonished. I approached her with my eyes averted as immediate, direct eye contact is a sign of disrespect. The moment our hands touched in greeting, I was permitted to look at her face. I did so slowly, my eyes following a path from her warm tapered fingers to her delicate wrist. She had satin-smooth, toffee-colored skin and was naked from the waist up. I appraised her with the critical eye that only a woman has, grudgingly admitting her perfection. Her dreadlocks were covered with a red dye and framed her breasts. She moved with no modesty and had the confidence and elegance of a dancer as she wordlessly guided me to a table and indicated that I sit at it, on a floor mat, opposite her. Her lips were full and painted red. She had a wise smile, but her eyes were what captivated. They were an emerald green. The moment we engaged I was tempted to apologize for the truths I know she saw in the very depth of my soul. I was unable to look away. Only then was I aware that we were not alone in this small space and the men started a very low, hum. An ancient rhythm. This vision before me prepared a mixture (I am sure it is some form of psychedelic drug). She unsheathed an intricately decorated dagger and dipped it into the bowl then she very slowly licked the blade drawing a drop of blood from her tongue. After what felt like an eternity but was probably only a moment, her eyes rolled back in her head and then refocused, and a woman's voice with a Russian accent greeted me. My head was reeling, and my palms were sweating, but I was receptive to her words. This is what she said:
"My name is Alla Nazimova and this place I call an eternal home. I have come to tell you to be aware of the two people that you investigate so well. They are both as ruthless as I am, and will devour a morsel like you. All is not what it seems here in this paradise. Be warned, my pretty (the woman raises her hand and caresses my cheek, trailing her thumb across my lips). They are both to blame. I witnessed their intimacy. They deserve each other and will someday be joining me here. (She laughs)" she then slumps onto the table and looks to be in a deep, peaceful slumber. I feel hands on my elbows, and I am lifted off the floor and gently escorted to the door."
Reflections:
I am bemused by these contradictions, this event, but I anticipate the answers. I have a distinct sense that the facts within my notes are enough to solve this mystery, so I contemplate these things. I have come to realize that in some way these people believe the lies they tell themselves. It may seem to be in our nature to lie to ourselves as much as to the people we interact with; it is what I sense about the people I spoke to, about myself. I feel everyone had a reason to deceive, something to hide or an ego to feed. A part of me believes HIM when he says he did not rape her. (Is this because I want to?) Consideration is that sex was too available that evening for the need to aggressively take it against someone's will, but that brings me back to the motive behind rape. I keep thinking rape is not about desire and all about power and I do feel he wanted to dominate her, he wanted to exert his power over HER, but a thought lingers. I cannot shake it. If the valet's testimony holds any truth, then who holds power? And who is the victim? As for her, I cannot fathom how a woman could use the horror of rape as a tool for revenge so she could not possibly have done this, but there is this seed of suspicion. She had a coldness about her, and she did admit to wanting herself to be memorable on that night. She is obviously intelligent and let's be honest, as vile as the act of rape is, when it happens to celebrities at their place of play, nobody forgets. Everybody talks. So I doubt, but beyond a doubt, my reactions are the hardest to accept. I see a reflection of human nature that has a darkness that seems not only unfathomable but at times infinite yet I continue in my belief that a human soul exists, why? It is this beautiful irony: Recognition of the potential for the evil in our very own nature frees us to forgive this in others.
The Guest List:
All person's fictitious disclaimer: the characters appearing in this story are fictitious. Any resemblance to the real persons, living or dead, is purely coincidental except for the celebrity reference in the "Garden of Allah": loose reference under purely fictional circumstance is made to the following people who were actual guests of the establishment:
'The king of swing' – Benny Goodman (Musician)
'Marlene' – Marlene Dietrich, actress
'Ms. Betty' – Lauren Bacall, actress
'Ms. Tallulah' – Tallulah Bankhead, actress
'Great Gatsby' – F. Scott Fitzgerald, writer
Sheilah Graham - Columnist
Alla Nazimova - Actress, Founder of The Garden of Alla
'The King of Soul' - Ray Charles, musician/singer
'Big Mamma' – Willie Mae Thornton, Singer
– while used in the story they are not reported to be actual guests at the 'Garden of Allah.'
And 'The Photographer' to which a slight character reference is made to the photographer known as 'Weegee'. The circumstance surrounding this character is again entirely fictional.
References:
Rashomon: An award-winning 1950 Japanese film. From its first scene shot at the Rashomon gate in a torrential downpour, the viewer is captivated and drawn into the dark mystery of human nature. A priest and a woodcutter have the expression of disbelief as they attempt to form an acceptable explanation for an event that took place days before. A third man arrives on the scene and becomes absorbed into the sordid tale that caused such anxious perplexities. The event in question occurs after interactions between a bandit, a samurai, and his beautiful wife that result in the death of the samurai. At the court, four contradicting accounts of the event leave doubts as to who murdered the man and if the alluring woman was a victim of rape or not. A groundbreaking masterpiece earning its place as a classic by challenging the approach to almost every aspect of film-making at the time. From its style of story-telling, using flashbacks and contradicting first person addresses to its cinematography creating sensual imagery utilizing only natural light, daring to film the sun which until then was considered taboo in the industry. The director, Akira Kurosawa, demanded everything from his young, passionate and dedicated crew with a formidable result. This film is timeless, raw, passionate and authentic and takes the viewer on a journey into the human psyche with a staggering result.
The Outrage: A Western remake of the original Rashomon movie featuring Paul Newman as a delicious villain accused of rape and murder but the viewer is left guessing as to the truth behind the event because of the contradicting witness accounts. It's a perplexing and slightly uncomfortable psychological tease challenging the viewer's perspective on morality and desire.
Garden of Allah: How incredible that this place truly existed. It was a Hollywood estate bought by the controversial Ms. Nazimova who converted it into a hotel by adding about 25 chalets surrounding this magnificent, state-of-the-art swimming pool. Its appeal was the privacy it promised and the mayhem it encouraged, but I am sure we can thank this place for facilitating many exceptional artistic creations.
LOOK Magazine: A fabulous bi-weekly, general- interest magazine that later rivaled "LIFE." It was popular in 1959. This magazine favored photographs, and it was published in Des Moines, Iowa from 1937 to 1971.
Laura: MOVIE ............ A woman who commands respect and gets what she demands. The mighty and mystifying woman who cried 'rape' to immortalize her image and memory. I think, at the cost of a soul. There is proof of her unforgivable deed in my notes as I am sure you have found.
Heaven Knows, Mr. Allison: A beautiful story about a soldier and a nun, stranded together on a Japanese occupied island in the South Pacific during WWII. It reflects the beauty and challenges of human nature and interactions with a bit of action in between. Perfect for a date night.
Man with a Camera: An 1950's American TV show featuring Charles Bronson as a former WWII combat photographer who gets asked to investigate and photograph various events because of his natural ability to solve a crime or mystery.
Weegee: A nickname for the photojournalist Arthur (Usher) Felig who was known for his street photography. This man would intercept police communications or follow ambulances to get photos of events or tragedies and crimes and subsequently sell them to the newspapers. He also made short films and worked with directors such as Jack Donohue and Stanly Kubrick. He had a famous quote: "F/8 and be there" which he allegedly used explain his work, but it is common knowledge that he, in fact, preferred the F/16 speed which is why we adapted the quote in this text.
About the Author
As a 'yummy mummy' of a few young children, I do get asked "What's for supper?" quite often to which I reply "Spaghetti Bolognaise." Served with a glass of local South African produced 'Plaisir De Merle Cabernet Sauvignon 2003' for me – it's prescription. I can also tell you that I have a master's degree in physiotherapy and taught biomechanics at our local university for a while, I loved that, and I do also enjoy research but don't do much of that now, it's a time thing. 'Kalahari' is a pen name I use because it refers to a place that I would love to see. I long to experience the silent solitude, magnitude, and beauty of that desert. I love everything wild and would happily spend nights in a tent with minimal creature comforts to experience nature. I love poetry - but not in a formal, academic way. I am currently reading 'Zen and the art of motorcycle maintenance' as well as 'Madness' by Roald Dahl, depending on the mood. And I live for music. I constantly wear earphones - one of the things about me that drive my husband to the edge of sanity. I have always had a love for words and phrases, but these particular words (a phrase from my beloved Maya Angelou) ignite a spark in me: " ... comes songs of such exquisite sweetness that the heart falters in its labor and the body is quieted into awe." On the topic of passion, I have a new one. It's photography [...]
'Kalahari' is a pen name I use because it refers to a place that I would love to see. I long to experience the silent solitude, magnitude, and beauty of that desert. I love everything wild and would happily spend nights in a tent with minimal creature comforts to experience nature. I love poetry - but not in a formal, academic way. I am currently reading 'Zen and the art of motorcycle maintenance' as well as 'Madness' by Roald Dahl, depending on the mood. And I live for music. I am proud of the title 'mom' and wife and call South Africa home. I have always had a love for words and phrases, but there is a woman who has a manner of expression that ignites people. She was a poet, author, and inspiration to every phenomenal woman, Dr. Maya Angelou. I share a phrase of hers that affected me: " ... comes songs of such exquisite sweetness that the heart falters in its labor and the body is quieted into awe." On the topic of passion, I have a new one. It's photography. I have a lot to learn about this form of expression, but a good photograph compels me to tell its story. I am grateful to anyone who would take the time to read about me. I have to thank the photographer who allowed me to use his photographs to 'get creative with.' He helped develop my love for story-telling and expression through written words. He has helped me with this story and has an endless patience for which I am grateful in a way I cannot adequately express.
**Ken jy die geheim van die Kalahari woestyn?" Afrikaans is the language of my forefathers. Its link to the villains of Apartheid South Africa renders its very existence controversial and is therefore a perfect introduction to the person I am: a daughter of Africa, albeit the black-sheep of the family. In the words of Milo Todd "Maaan. Your ancestors sucked, right? And it turns out you benefitted from their crimes against humanity and common decency and such. You wouldn't be where you are today if it wasn't for generations of hate and oppression in your favor, even if you don't have much to your name these days. (Imagine if you didn't even have that). Nobody likes finding this stuff out, especially if you have been trying so hard to be a good ally and struggling to succeed in life in general. But the best thing you can do in light of that is to recognize it, come to terms with it, and vocalize why it was so wrong". So yes. It was wrong and I will forever bear its scar. I do however love the continent of my birth. Her people, her treasures, her wisdom and this, in some strange way, this is despite her ruthlessness. Extraordinary people call my Africa 'home', some you may know. "Without forgiveness there is no future" Desmond Tutu. "There is nothing like returning to a place that remains unchanged to find the ways in which you yourself have altered". Nelson Mandela. To continue in the thoughts of this incredible man whose memory brings tears to this white, African, woman's eyes, it has been said that you go to South Africa to lose yourself so as to find a different sense of yourself again. So I think you either hate or love this place. Africa is dangerous and passionate and won't accept indifference. I love the natural Africa. I love its contrast, its unforgiving nature because to me that is honest. I have never been to the Kalahari (it's a semi-desert spanning mostly across parts of South Africa, Botswana and Namibia) but I long to go. I know the African bushveld, it is alive and the sound gives this away. The bushveld also has a distinct and pleasant smell. A warm childhood memory is triggered when I smell the bushveld after a rainstorm. I wonder how the desert differs. Is it silent? Is that overwhelming? The desert is challenging, hard. To survive you must be smart and ingenious. Perhaps a little lucky. This appeals to me. The desert is full of contrast and I think that generates appreciation. I have experienced the harsh, dry heat of Africa. It is so overwhelming that to breathe is an effort, but can you imagine the joy a rainstorm brings? You feel the electricity the air is charged. Lightening. Incredible flashes of anger. I have been exposed to lightning while hiking in the Drakensberg mountains, so aggressive that I had to lie flat on my back so as not to get hit. The strikes are all around you. It is frightening and exhilarating all at once, and with lightning comes rain. Heavy drops of plopping rain, and then the heavens open up and you are soaked to your bones in crystal clear water. You experience the extremes in temperature, heat to ice cold with the wind that bites at your wet clothing. It is harsh. Unforgiving. Is the desert rain the same? It must be even more intense. Kalahari: the name is derived from the Tswana word Kgala, meaning "the great thirst", or Kgalagadi, meaning "a waterless place" and yet animals have adapted and thrive here, even some of Africa's most dangerous cats feel right at home. 'A desert is a place without expectation' said Nadine Gordimer and I would like such a place. There is no expected way to look, or speak. There is no subliminal advertising, no WiFi or cell phone reception and no modern day. Its timeless and natural in its rhythm and beauty. I sense the mystery of it, and it teaches me to see the beauty in the seemingly ordinary. So I'm a privileged, educated daughter of Africa who has now become a wife and mother. A woman who has discovered a passion for expression through the written word. I am always humbled when exposed to a creative mind and I love the intrigue of the photographic eye, but this is a recent thing. It is photography that has ignited my creativity and it will therefor always have a special meaning for me. I hope you enjoyed my story, for some inexplicable reason it is important to me that you do. ***I say 'sharp sharp!'
** A rhyme - - "Do you know the mystery of the Kalahari? / What is the secret of the Kalahari desert?")*** Sharp [Shahp] is often doubled up for effect (sharp sharp!) and means 'goodbye' or that everything is great. It is South African slang.
About the Photographer
Reinfried Marass, Austrian, professional photographer, born 1960 in Vienna. I am a traditional photographer who celebrates 'a still photograph still being a photograph' -- unaltered and truthful with the analog touch. A body of work that is varied yet distinctive with a classic and passionate style. Diverse photography with a vision on each image, created to take on a journey and to give a glimpse or private insight into a life, a moment, a history. Each image tries to be special, unique and very memorable. Timeless. There are elements of photography that remain despite the modernization of the art, it all reverts back to the photographic eye and the ability to capture the image.
The camera can write poetry. In visual storytelling, a narrative places the viewer in a world within a single frame, a set of images or in a small photo essay. The story that is portrayed could be fiction or fact but it always should add depth. The written word and photographs complement each other. A title, sub-title and a narration - a micro novella - assists to decipher a photograph's sometimes heavily encoded visual language. It also creates depth, the narrative reveals the complex and hidden layers of included metaphors in many of my photographs. Photographs should most certainly challenge and intrigue. The best photographs continually speak but without revealing all their secrets, they are like sophisticated women and they are truly addictive because the addicted viewer shall be rewarded.
Film makers have numerous frames in a second. They have minutes or hours, actors and background music to tell a story. As a photographer, you have a single frame only and you have to trust the image to tell the story. Photographs can never be an accessory to the story, they must contain it so the best pictures contain a whole war within one frame.
I don't strive for the perfect image. I prefer photographs with some imperfections, mostly they are more simpatico. Perfection is a boring end and is dishonest if we are to believe that photography reflects life.
A photographer should be able to interchange various genres and styles. A photographer should remain unpredictable and so always stay true to your promise to take the viewer on a suspense-filled journey of discovery.
I take a photograph because it's there, and I'm there and because I can do it. It's a passion. A life's journey seen through the lens, for all to see and feel as they each will, personally.
In my opinion, a camera is a mirror of a photographer's soul, reflected in the work done. The 'click' of the camera signs the work. My work is signed with a heartprint -- without heart, photographs would be mere images.